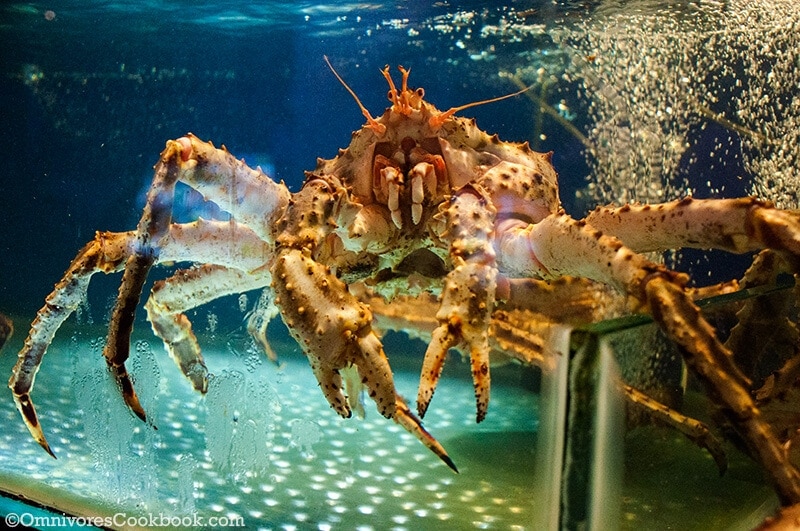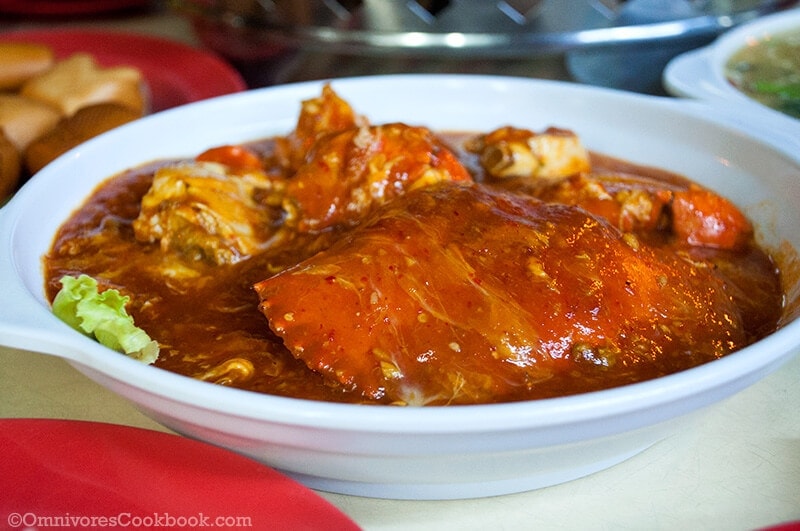 I finally got taste of the famous chili crab in Singapore! Yay!! The crab was covered under a thick tomato and chili flavor sweet savory sauce. The crab was with shell, but already been taken apart and had the inedible parts moved. Crab meat was very very soft, juicy and fat. And when I dipped crab leg with plenty of delicious sauce and put into my mouth, I just tasted heaven. I'm not a crab lover, but when I had this dish, I just couldn't stop eating it. I had to apologize to my colleague who took me to this place, that I finished most of the dish… Do not miss this one if you come to Singapore. If possible, let a local people show you the place or find a neighborhood restaurant online. The price of crab soars to ridiculous level if you unfortunately picked a touristy restaurant.
I just back from a short business trip in Singapore and it was my first time to this country. The guide book was right, it indeed is a place for foodies. Although it's a very small country, food in Singapore packed with so many choices and you can find a good place to eat at every corner of the street. You can easily find high quality Malaysian, Thai, Vietnam or Southern Chinese food. There are also many Japanese, Italian and French restaurants with reasonable price. Dining environment is quite different than Beijing. Instead of large and air conditioned restaurants, Singapore is full of street food and small restaurants with open air seats.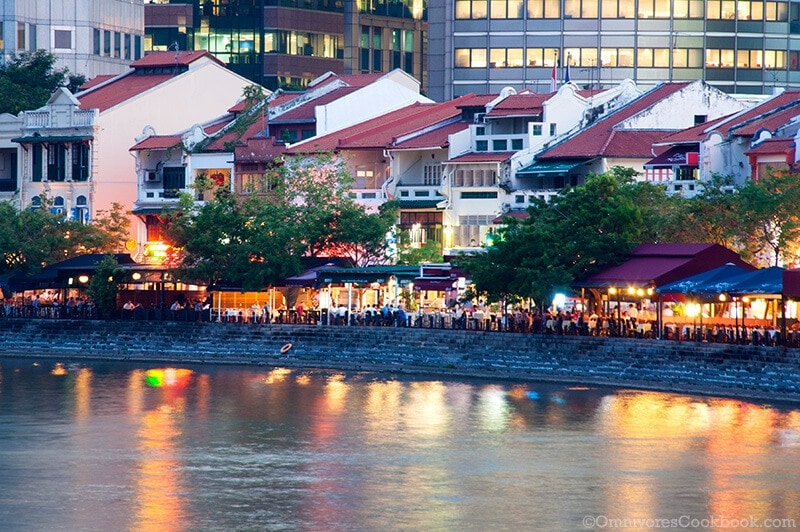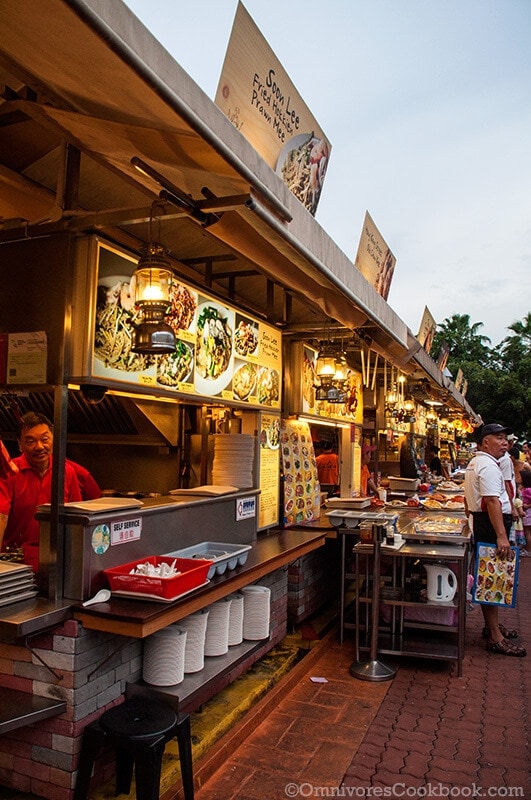 The picture above was one of the food street I've been to, near Boat Quay. It was a bit touristy, but the food and price were quite similar to the most of places. It has around 10 food stands, serving different cuisine at each one, for example, Indian, Chinese, Indonesian etc. and there're drink and dessert stands at the end. Price is pretty good, around SGD6 – 8 (USD5 – 6) for a main dish and around SGD2 (USD1.6) for a nice fruity drink. For restaurants, price for meal is higher,  but you could easily have a nice meal for around USD12 – 16.
The picture below is roti prata I had at food stand. It is a very thin flour pancake cooked over flat grill, and an egg was cracked on top. It stuffed with a thin layer of chopped chicken and potato, serve with vegetable curry. The pancake is very soft yet crispy, and tastes great itself. The stuffing and curry add nice spiciness to the whole dish. It's very nice and filling dish for lunch or dinner.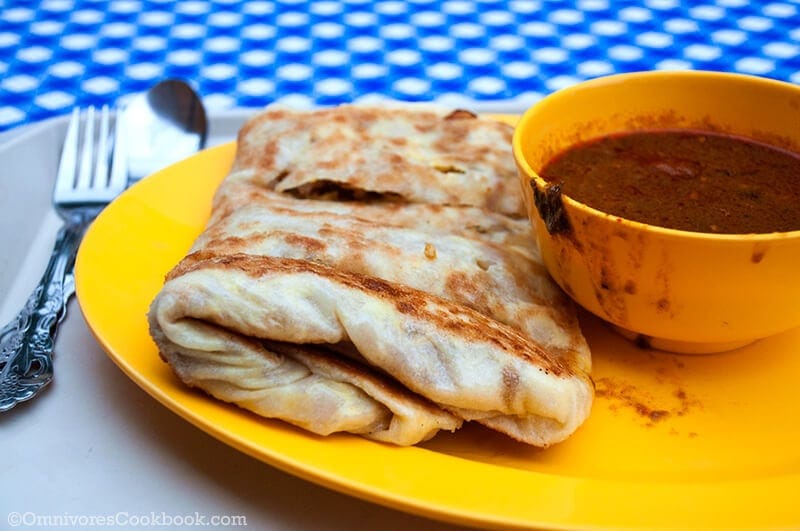 I had chicken, beef and shrimp satay at Lau Ba Sat, a famous food street. Satay is marinated meat grilled on a skewer, served with sweet spicy peanut flavor gravy. The meat is seasoned with turmeric, which gives it a golden color.  It's a nice appetizer or snack, make my mouth watering when I smell the nutty sweet garlicky sauce. Satay always sell by half dozen or dozen at most food stands.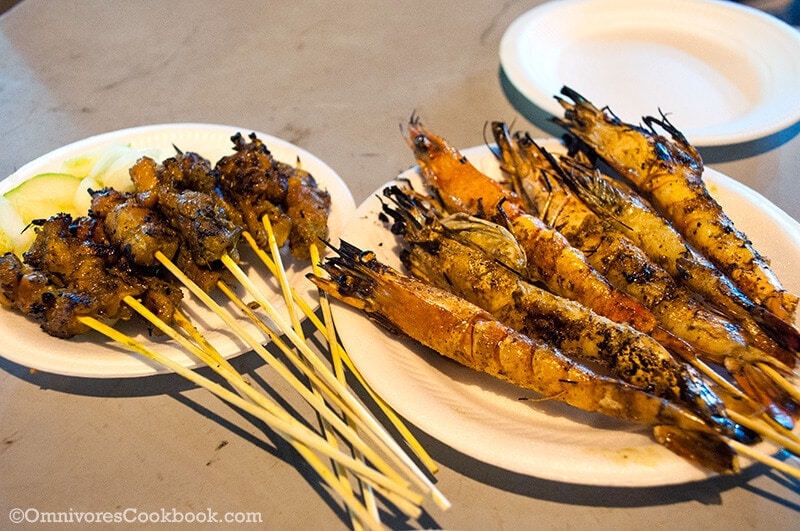 You could find tons of noodle dishes at so many restaurants in Singapore. It is difficult to choose which one to order, since there're so many, but you could hardly choose the wrong one.
The picture below is Singapore noodles, one of my favorite dishes. The stir fried rice noodles contains bean sprout, small shrimps, and Chinese cabbage, seasoned with curry powder, soy sauce and chili pepper. The dish is light, appetizing, and healthy. I had it with fresh coconut juice and satay, near a open air restaurant along Singapore river. The view was pleasant and the food is yummy. Although it's still hot outside, but I could feel the breeze come from the river. Great reward for a long hard day.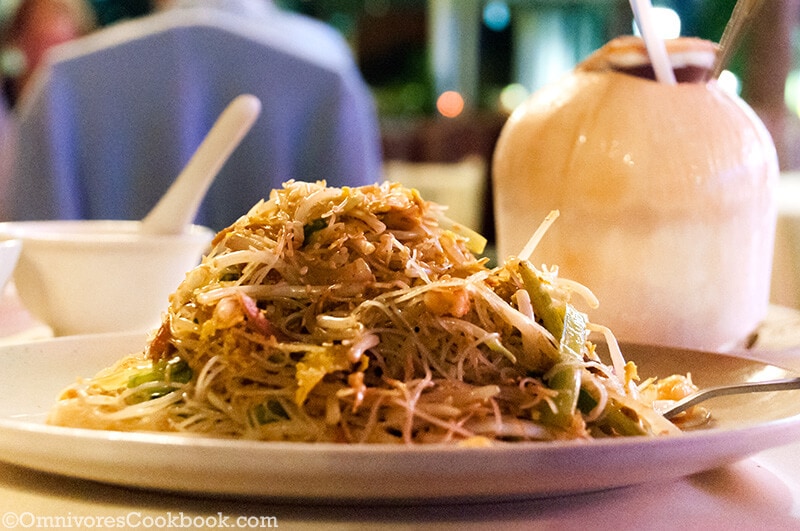 Fabulous view along Singapore river.
This is another my favorite noodle dish, Pad Thai. It's a stir fried noodle with egg, shrimps, bean sprout, seasoned with tamarind pulp, fish sauce, garlic, chili pepper and palm sugar, and served with chopped peanuts and small lime wedge. I had this dish at a Thai restaurant in a shopping mall. I also had tom yum goong soup and Thai grilled pork for the meal. I have to say, that was the best tom yum goong soup I ever had.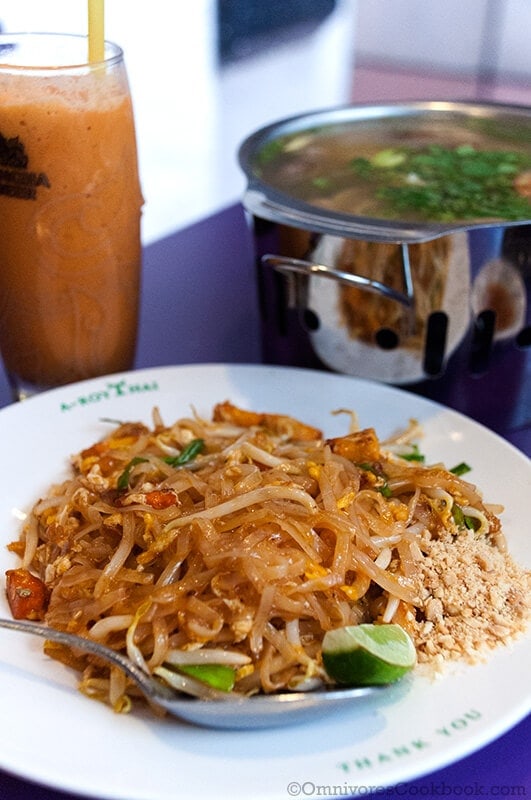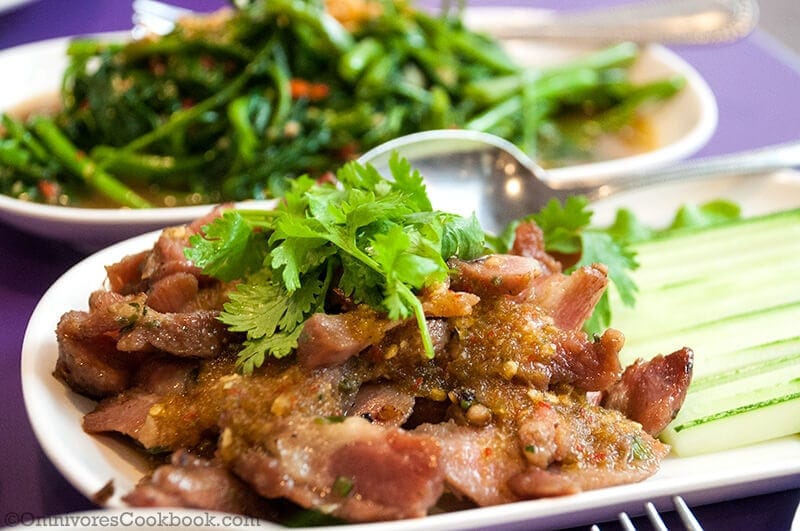 Here comes the famous Hainanese chicken rice. Though it is said the dish is Chinese origin, I seldom see it in Beijing. And most of chicken rice I used to have was plain and flavorless. But this one was different. The roast chicken was soft and juicy, with soy sauce flavor. The best part was the rice. The rice was nicely soaked with chicken stock and infused with pandan leaves flavor. The rice is light, not greasy at all, contains nice amount of spiciness and saltiness. The rice was really tasty by itself and I didn't have enough. I cannot wait trying to recreate this dish at home. I had this one at a food corner, with a chicken soup and small plate of sauteed green vegetables, which only cost around 7 dollars.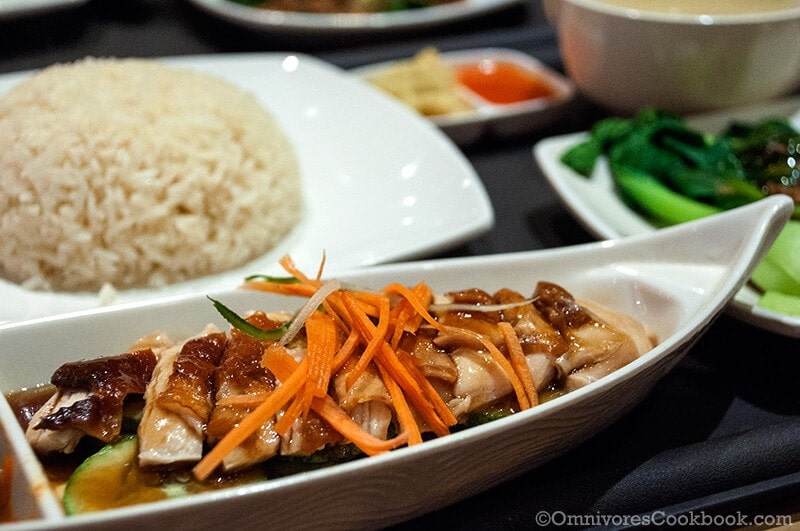 This is one of my favorite drinks in Singapore – lychee black tea. The cold drink contain half lychee juice, half black tea, and several big and fresh lychees on the bottom. If you go to any food stands, try this one with the local snacks. It's a nice refresh for a hot and humid night.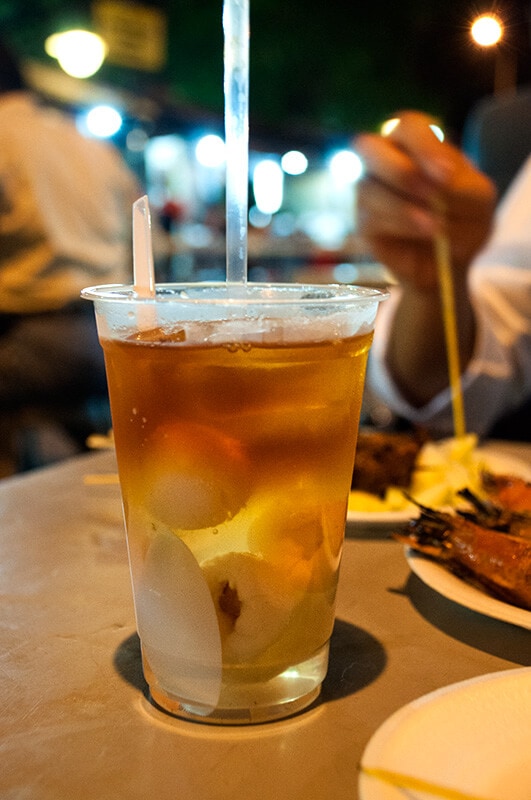 A bit beyond food, the last picture was took opposite of Marine Bay, when the laser show was going on. The show only lasts 10 minutes, and not everyday. So I consider I was pretty lucky that when I was walking on the opposite side of Marine Bay, the show just started. The show I came across was from 9:30 to 9:40. If you want to watch it or take pictures, you could wait at an open air restaurant or bar on the west side of the casino, across the river. There are several nice ones located on the place that you could have a nice view of the show. Or you could go to north west side of the casino, along the river. There're some good spots that you could rest for free and enjoy the view of the skyline of Singapore river.
This is all about my new adventure of tasting food in Singapore. Now I have some new inspirations of recipe and I'm looking forward to try them out.