Eight spice edamame is an addictive snack that you can serve as an appetizer or accompaniment to beer.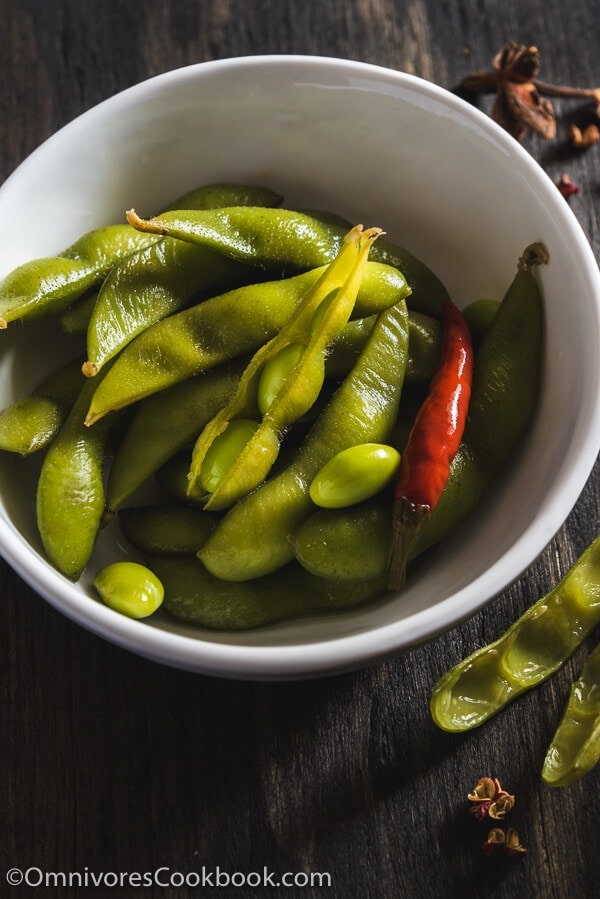 We always keep a bag of edamame in the freezer. Whenever I'm looking for a healthy side dish for dinner but have run out of fresh veggies, I simply microwave the edamame, add a pinch of salt, and serve it as a snack.
I came across this delicious Chinese style boiled edamame recipe the other day. I was hooked immediately. It uses traditional Chinese flavorings, just like in stock making, to infuse the edamame with aromatic flavors. If you read through the recipe, you'll see the components of Chinese five spice, plus a few more. The end result is a more well-rounded taste, with a balanced and savory broth that doesn't contain a lot of salt.
Cooking Chinese style edamame is very simple. Bring the spice broth to a boil, cook the edamame for 6 minutes, then leave the peas in the broth to cool and marinate. When you're boiling the spices, you'll be amazed at how fragrant the boiling liquid smells. Once the cooking is finished, you will be tempted to try out the edamame. Be patient! Let it soak in the broth for at least 30 minutes, or overnight in the fridge. Let the spices blend well and infuse the edamame with their flavor. You'll have wonderfully fragrant beans that are tender and bursting with flavor.
You can drain the edamame before serving, but I personally like to serve them in the boiling liquid. It is a bit messy to eat, but also tastier. The edamame pods will hold a few drops of the aromatic water, like soup dumplings, that burst in your mouth when you bite into them. You won't be able to stop eating once you've started.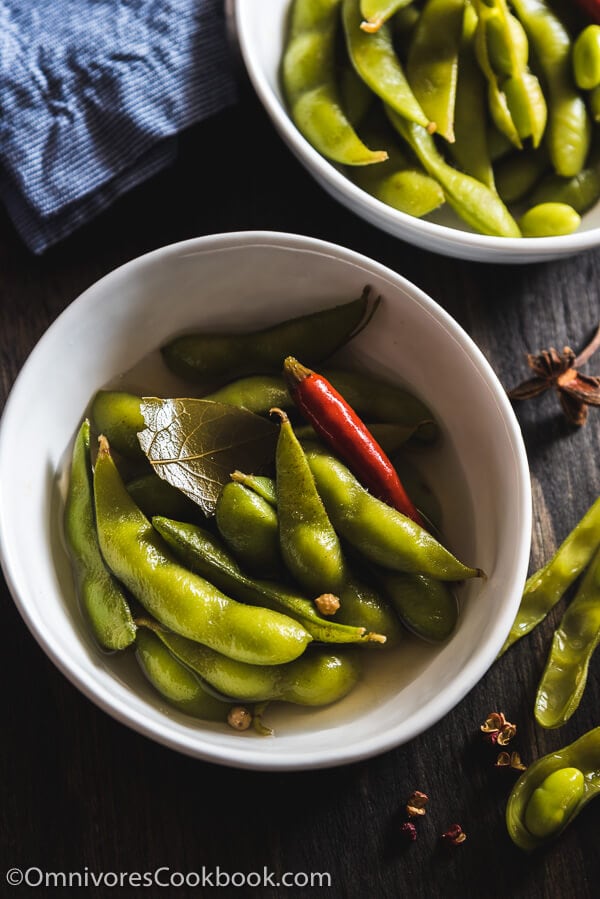 To store the edamame, simply cover them with the boiling liquid and store them in the fridge. They will stay good for a few days. Note, I recommend you remove the powerful herbs, such as the star anise pod and cinnamon stick. They tend to become overwhelming if steeped for too long.
You can serve this dish as an appetizer or side. I also love to munch on them with cold beer when I'm grilling outdoors. It a great snack that goes perfect with beer. It makes the grilling even more fun, and a bit healthier, too!
Do you like my recipes? Sign up our weekly newsletter to get the latest updates delivered to your inbox and a FREE e-cookbook that contains my top 30 most popular recipes!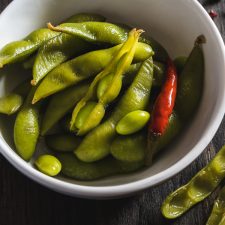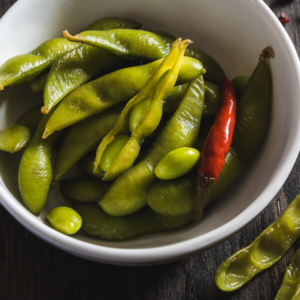 Eight-Spice Edamame
Eight spice edamame is an addictive snack that you can serve as an appetizer or accompaniment to beer.
Print
Pin
Rate
Ingredients
1

pound

fresh

or frozen edamame (in the pod)

2

green onions

, halved crosswise

4

chili peppers

, dried

2

teaspoons

fennel seeds

1

thumb ginger

, sliced

1

teaspoon

Sichuan peppercorns

1

pod star anise

1

cinnamon stick

1

bay leaf

1

tablespoon

salt
Instructions
If using fresh edamame, rub and wash by hand. Rinse several times. Drain and set aside. Skip this step if using frozen edamame.

Add 4 cups water into a small pot with all of the ingredients except the edamame. Cook over high heat until bringing to a boil. Add edamame. Boil until the edamame is just cooked through but the texture is still a bit crisp, 6 to 8 minutes. Remove the pot from the stove immediately. Stir a few times. The edamame will continue cooking with the residual heat, and continue to turn tender.

Let edamame soak in the broth for at least 30 minutes. Or in the fridge overnight.

Serve at room temperature or warm as appetizer or snack.