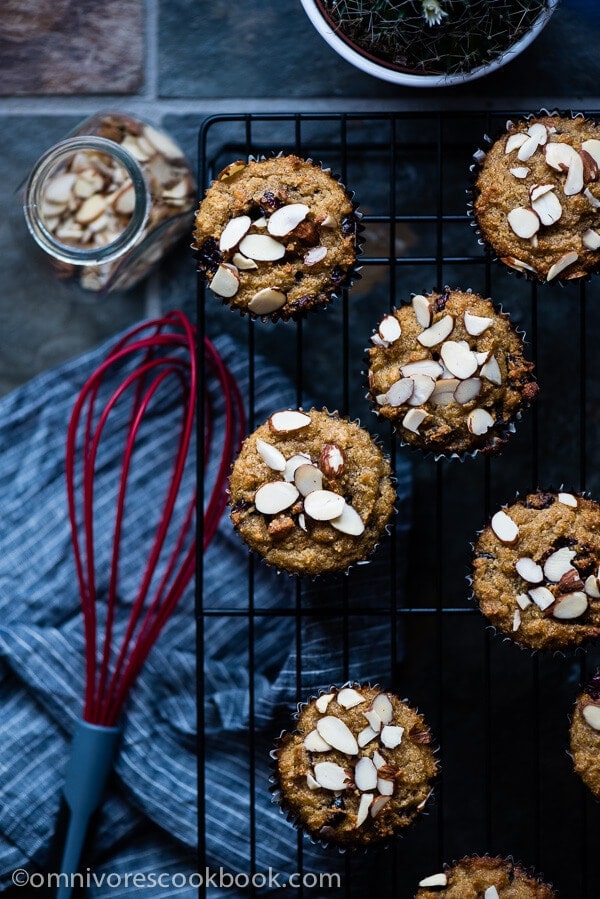 These cranberry coconut flour muffins have a scrumptious, creamy, and moist texture, with only 175 calories per muffin!
Have you ever cooked with coconut flour? I started to experiment with it lately and soon fell in love with it! Coconut flour is light and soft in texture and has a great fruity and sweet aroma. Beyond its pleasant flavor, coconut flour is gluten-free and contains more fiber and protein than wheat flour. (You can read a bit more about coconut flour here.) It is a perfect ingredient to add both sweetness and nutrition to your daily meal, by replacing a portion of wheat flour with it.
I have been experimenting with the flour in both savory and sweet dishes. Among them, my favorite has been the cranberry muffins. They have a tender, moist texture, are not too sweet, and have a nutty aroma. For such a scrumptious muffin, it only contains only 175 calories. Pretty good, huh?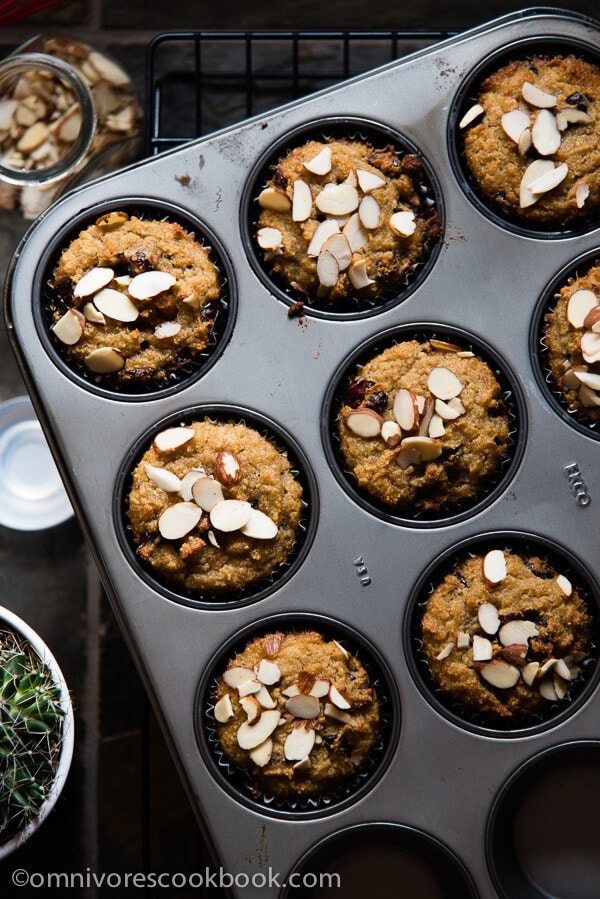 The idea for this recipe came from my family's favorite type of bread. My mom frequently cooks a cranberry whole wheat bread with lots of nuts. It's a staple at my parents' house and they finish a big loaf of it every two days (strange dietary habit for a Chinese family, I know!). The bread contains no fat, little sugar, plenty of dried berries, and tons of nuts. It has a crispy surface and fluffy texture. It is an awesome bread that is full of nutrition.
When I got the coconut flour to play with, I decided to use this idea – the combination of dried fruits and nuts. To make the muffins really healthy, I replaced the butter with coconut oil,  and used whole wheat flour, yogurt, and honey. The muffins turned out so moist and tasty that I immediately finished three of them in one sitting.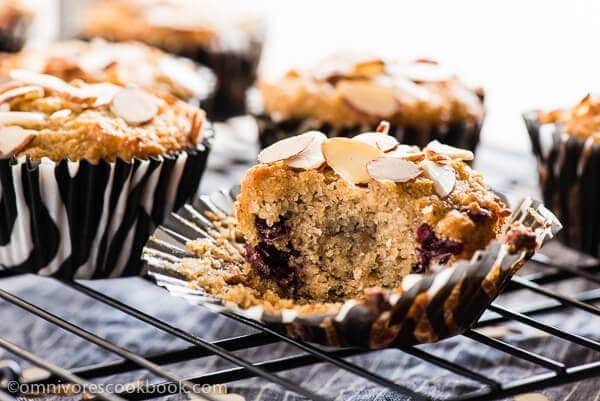 It was quite challenging to create this recipe because coconut flour requires different treatment from the usual wheat flour. It requires more egg to hold the muffins together, but you don't want them to taste too eggy. To create the moist texture, you need a good amount of oil and liquid ingredients, but must also take care not to make the muffins greasy or soggy.
Most of the existing coconut flour muffin recipes do not blend in other types of flour. Their goal is to create a gluten-free recipe. I, on the other hand, am aiming to create a healthy and delicious muffin that rises a bit better and has a great texture, so I ventured to blend in some whole wheat flour. I baked several batches to tweak the ratio until I got a texture I was satisfied with.
If you want to learn more about coconut flour, especially to create gluten-free dishes, definitely check out this list of 105 recipes by Empowered Sustenance. The collection is a great source to get you started.
If you cannot find coconut flour in your neighborhood, you can purchase it from Nuts.com and get it delivered to your door. They have a great selection of baking products and dried fruits, too.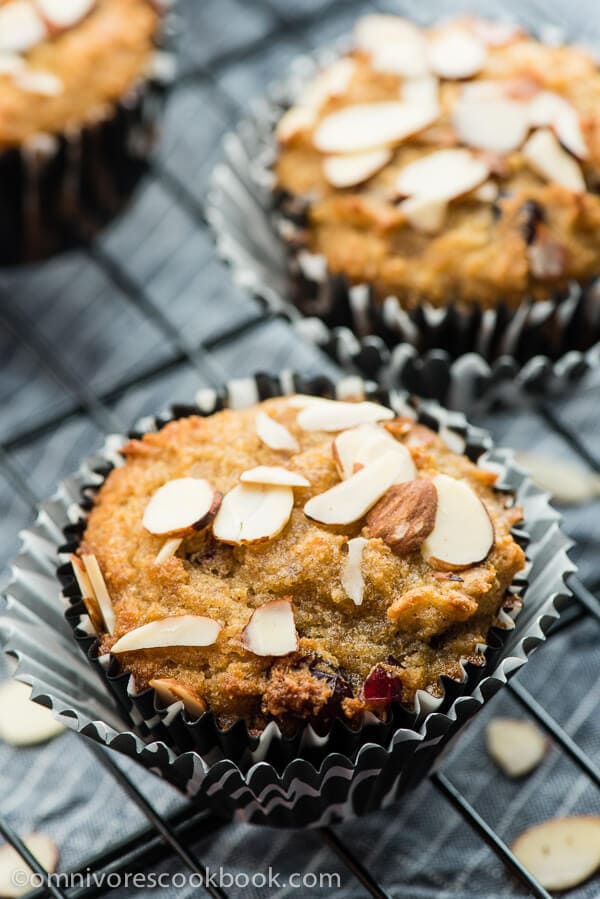 If you bake these coconut flour muffins, don't forget to take a picture and tag it #omnivorescookbook on Instagram. I looking forward to seeing your photos!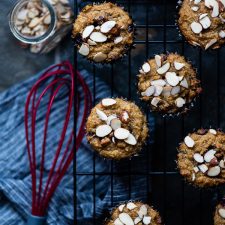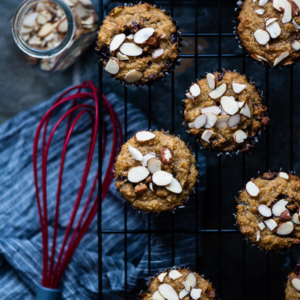 Ingredients
1/2

cup

sifted coconut flour

1/4

cup

sifted all-purpose whole wheat flour

1

teaspoon

baking soda

1/4

teaspoon

salt

4

eggs

room temperature

1/4

cup

coconut oil

melted

1/4

cup

honey

1/4

cup

Greek yogurt

room temperature

1/2

cup

reduced-sugar dried cranberries

2

tablespoons

sliced almonds
Instructions
Preheat oven to 180 degrees C (350 F). Line muffin pan with paper cups.

In a large bowl, sift in coconut flour and all-purpose whole wheat flour (see footnote 1). Add baking soda and salt. Mix well with a spatula.

Beat eggs in a large bowl. Add coconut oil (see footnote 2), honey and Greek yogurt.

Add the flour mixture into the coconut oil mixture. Mix well with a spatula (see footnote 3).

Add dried cranberries to the batter and mix again.

Add batter to each paper cup until the cup is almost filled. Scatter almond slices on top.

Bake at 180 degrees C (350 F) for 25 minutes, until a toothpick inserted into the middle comes out clean and the muffins are slightly crisped on the surface.

Transfer the muffin pan to a cooling rack and allow to rest for 20 minutes before serving.

Store the muffins in an airtight container for up to a day at room temperature or up to 3 days in the fridge. If storing in the fridge, let muffins returns to room temperature before serving.
Notes
1. Sifting the flour is really important here. Because coconut flour is light and fluffy, you will end up using double the amount needed if you scoop the flour from the container. If you don't have a flour sifter, simply place a measuring cup in a big bowl and use a small strainer to sift the flour into the measuring cup until the flour overflows. Then use the back of a knife to level the flour.
2. Coconut oil has a melting point of 24 degrees C (76 F). If your room is warm enough, the coconut oil should be a transparent liquid already. If the oil is clotted, place it in a glass bowl and heat it as you preheat the oven, until the oil melts.
3. If the eggs are not returned to room temperature while you blend in the coconut oil, it will cause the oil to clot again. But as long as you mix the batter evenly, if won't cause a problem during baking.
The nutrition facts are calculated based on 1 of the 8 muffins generated by this recipe.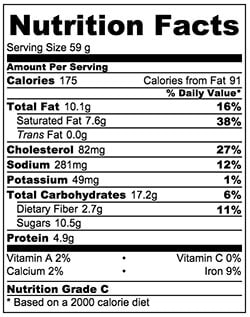 More recipes you might like: