Celebrate summer with these cheesy, juicy, crispy BBQ sausage bites!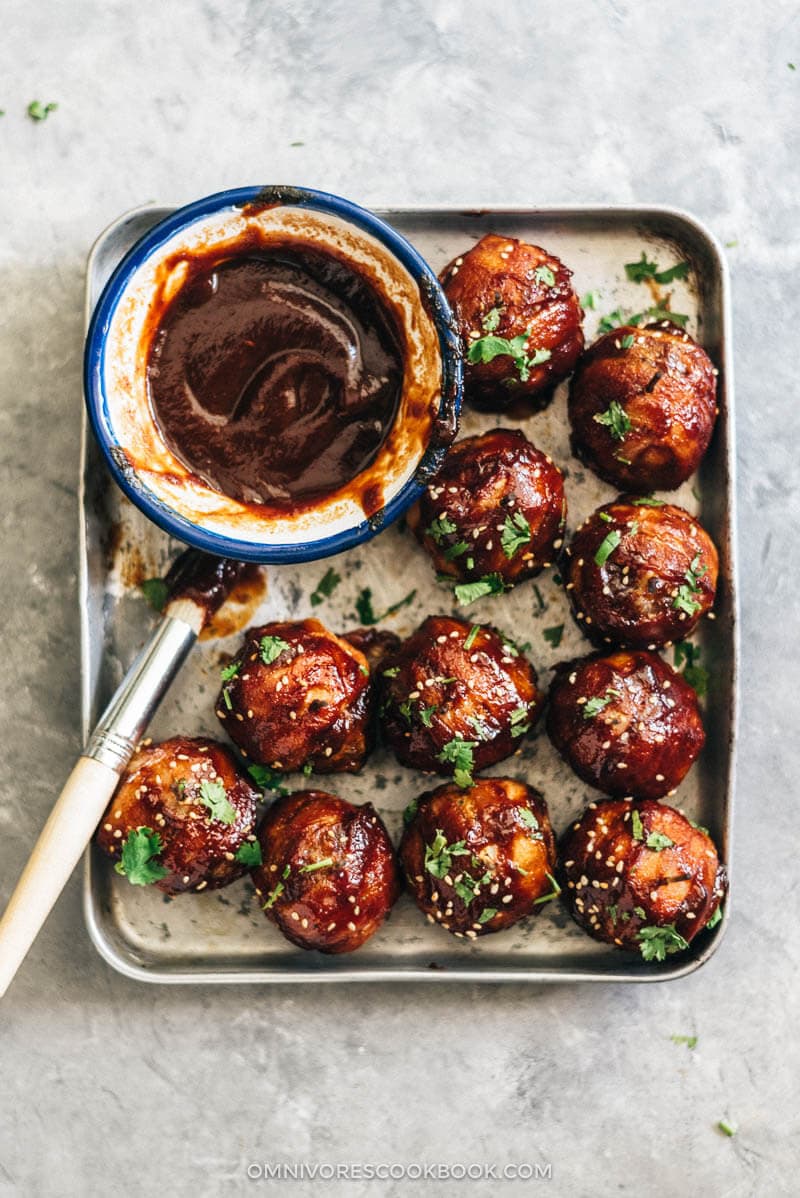 Occasionally I get questions from readers such as "How do you find all the time to chop and cook for Chinese food everyday?"
The answer is, I don't.
Let's face it, real-deal Chinese cooking requires a lot of prep time and it's not very practical to do it on a daily basis.
Back in China, we did make a lot of dishes from scratch, because there aren't many products available to make shortcuts. After moving to the US, I gradually learned about more food brands and how easy it is to cook with them. Nowadays we hoard jars of pickled artichoke, sun dried tomato, and canned fish for making salads. And I use jarred tomato sauce and bottled BBQ sauce to whip up a quick dinner or when hosting a casual backyard party.
Here is a glance of what we actually eat during the week (pictures from top-left to bottom-right):
Pan fried chicken with jarred tomato sauce
Sautéed mushrooms with canned Greek eggplant
Roasted brussels sprouts with Spam (my favorite…)
Corned beef from the grocery store for St. Patrick's Day

Delicious shortcut for summer grilling
Today I want to bring you a fun recipe made with Kingsford® Original Smoked Hickory BBQ Sauce. I'm a loyal fan of Kingsford and I've been using their charcoal since I first started grilling. I was so excited when I heard they just announced their own line of BBQ sauce and was invited to try out one of their recipes.
What I love about their sauces are:
The sauces are made with real ingredients and are gluten-free. You won't find chemical additives in the ingredient list.
The sauces have a fantastic balance of spices and work great on all sorts of ingredients.
Their smokiness is heavenly! I bake chicken thighs with them for weekday dinners and the results are as wonderful as grilled ones.
I used the sauce to create these cute little cheesy BBQ sausage bites. It contains everything I love: juicy sausage and melty cheese wrapped with crispy bacon, brushed with a smoky sauce. These sausage bites are so fun to make, easy to prepare ahead, and perfect for a summer grilling party.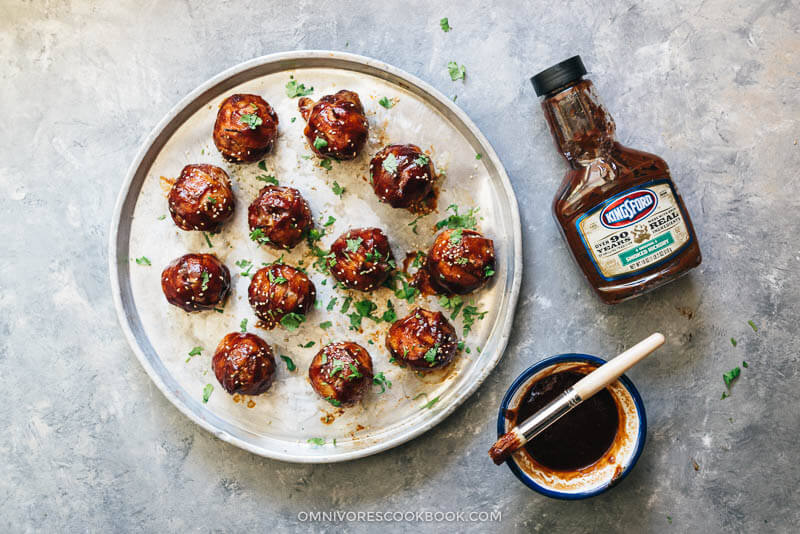 What I've learned from cooking for a crowd
Back in Beijing, I never hosted a grill party, because most people live in apartments and do not have access to grilling equipment. I was invited to my first grill party right after moving to Austin, and I took it very seriously when my husband announced the event to me.
Since everybody brings food, I only needed to prepare 2 to 3 things. I decided to make the Chinese signature BBQ dish – lamb skewers, along with some grilled wings.
I remember running to multiple grocery stores trying to find the right cut of lamb – leg meat with a good amount of fat attached. Then I cubed, skewered, and marinated them in homemade sauce. I butchered the wings and designed a different marinade sauce for them. I also tried to prepare appetizers as an accompaniment, but was stopped by my husband who said it would be too much food. And I also packed every single spice needed so I could finish up the grilling right at the party. It took me hours to plan, prep, and shop.
I was stunned when I arrived at the party. Other people had brought bags of tortillas chips, Greek salad from the store, jarred pickles, and simple sandwiches made with cold cuts. I resisted until going home to ask my husband, isn't everyone supposed to cook something interesting?
Turns out, it was me who didn't understand the American way to have a party. Picnics are for connecting with people and having some fun, rather than forcing my cultural identity on people I just met.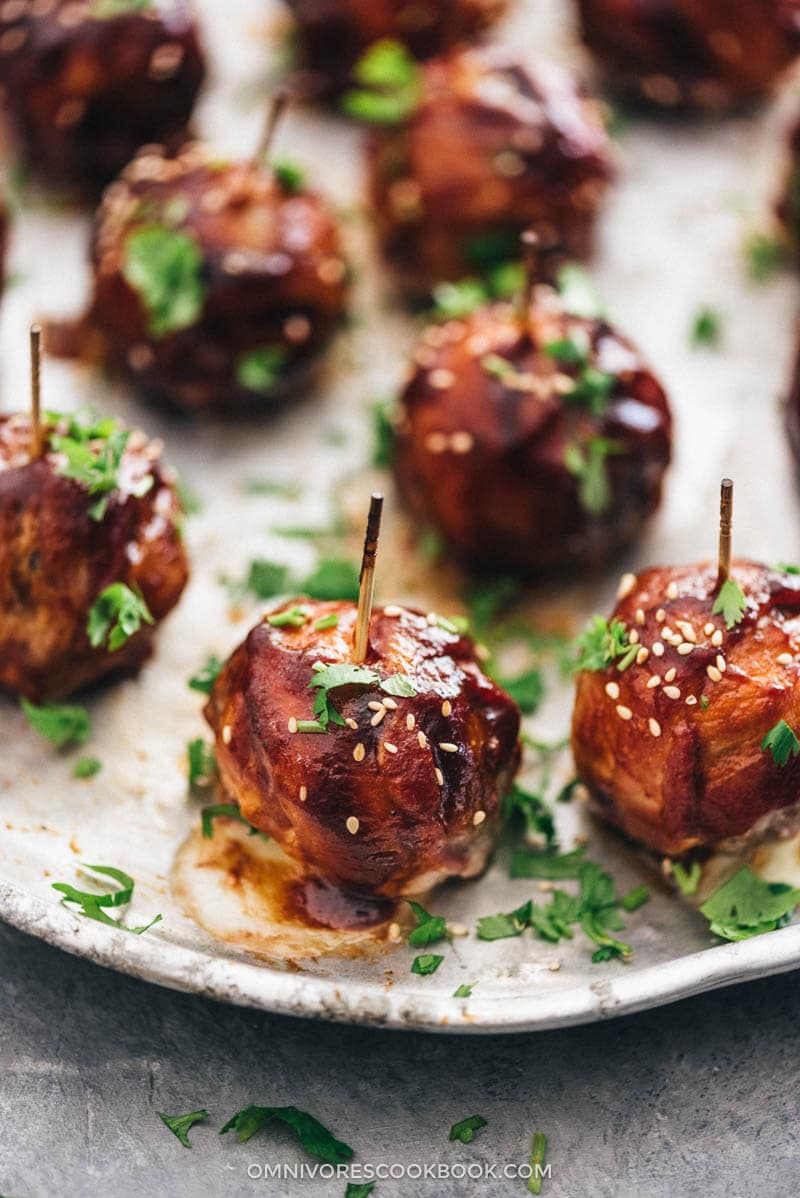 Killer grilling party platter for this summer
Fast forward to 2017 I've been living in Austin for two years and have been to and hosted more parties. Whenever I host a gathering or cook for a dinner party, I still tend to over-prepare. That Asian part of me is too deeply rooted in me and difficult to change… However I've got a much better idea of what my American friends like eating and how to host a party like a local.
Last weekend I invited a few friends over for our small grill party and put together a platter using the BBQ sausage bites I'd just learned, along with a few other random things thrown into the mix. I love serving tapas-style food at a party, so everybody can find something they like. Plus it cleans out my fridge 😉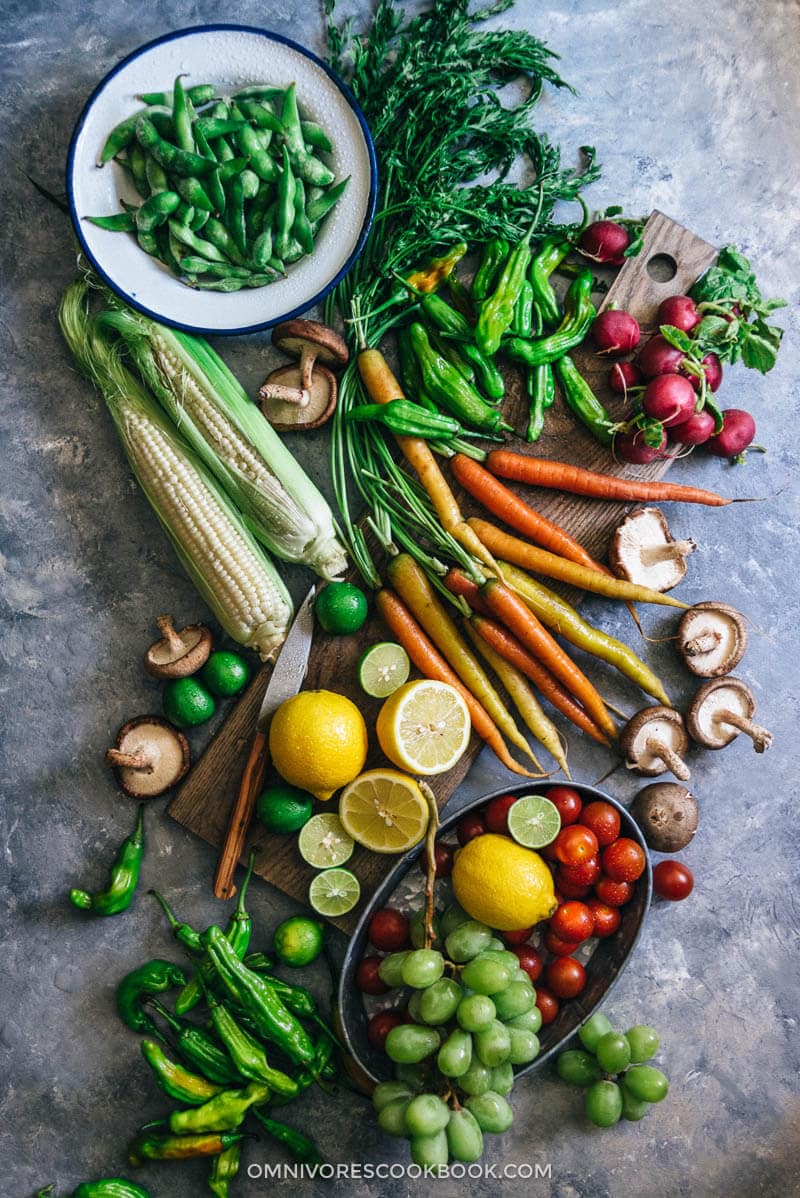 Here are the things I did to prep the grilling:
Boil the corn ahead so I could simply sear them on the grill to add smokiness
Microwave frozen edamame, and toss with salt
Assemble these cute cheesy BBQ sausage bites
Assemble shrimp skewers with pineapple
Grab whatever raw vegetables I have from the fridge, serve raw if possible, or toss with oil and salt before grilling
Prepare some snacks to serve, such as crackers, cream cheese spread, and pickles.
So when all my friends arrive and I'm ready to grill, the bulk part of the platter is done. I simply need to fire up the grill, cook the sausage bites at the side away from the direct heat while searing the vegetables over the open flame.
Things to grill:
Cheesy BBQ sausage bites (indirect heat, 22 minutes)
Boiled corn (direct heat, sear for 2 to 3 minutes)
Shrimp skewers (direct heat, 2 to 3 minutes per side)
Vegetables (direct heat, 3 to 5 minutes, or until tender)
The party was a big success! Everybody enjoyed the food and finished everything I cooked. Just as I expected, the sausage bites were the most popular item among the crowd. Once again it proved that serving melty cheese and crispy bacon at a party will never go wrong 🙂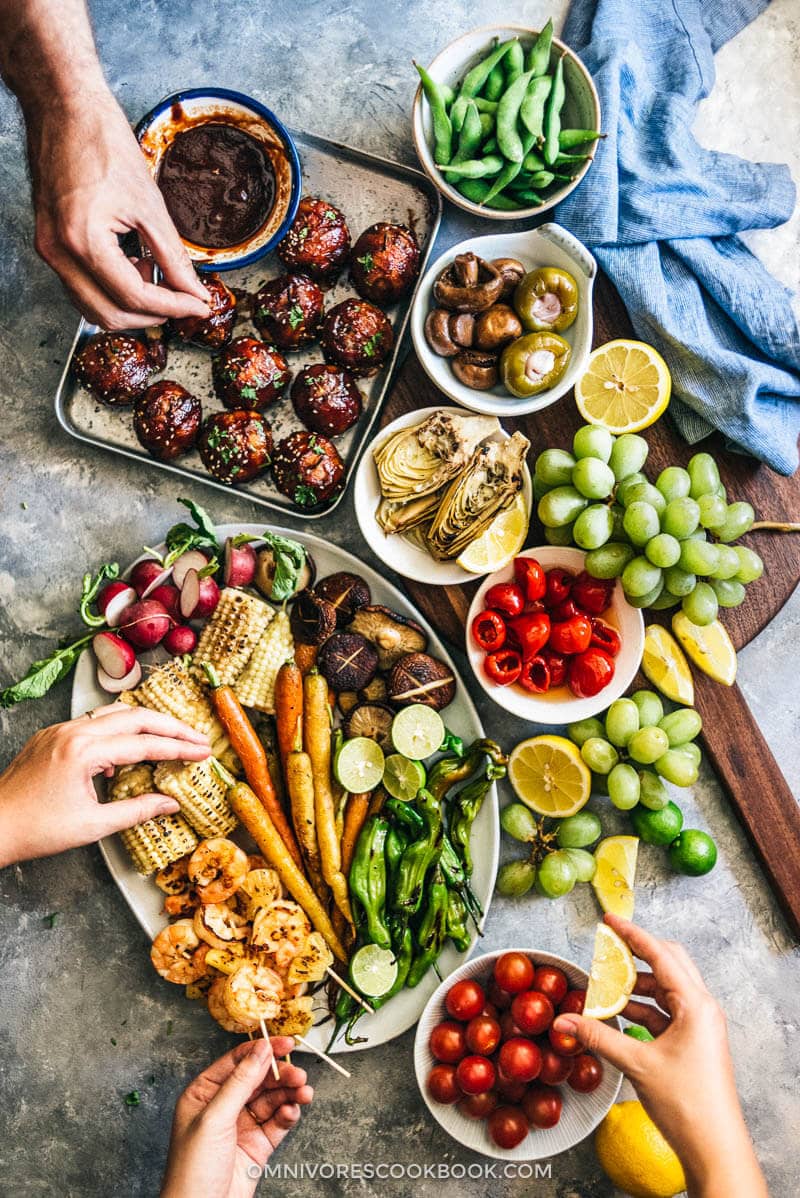 More tips and recipes for your summer grilling party
Happy cooking and I hope you enjoy these sausage bites!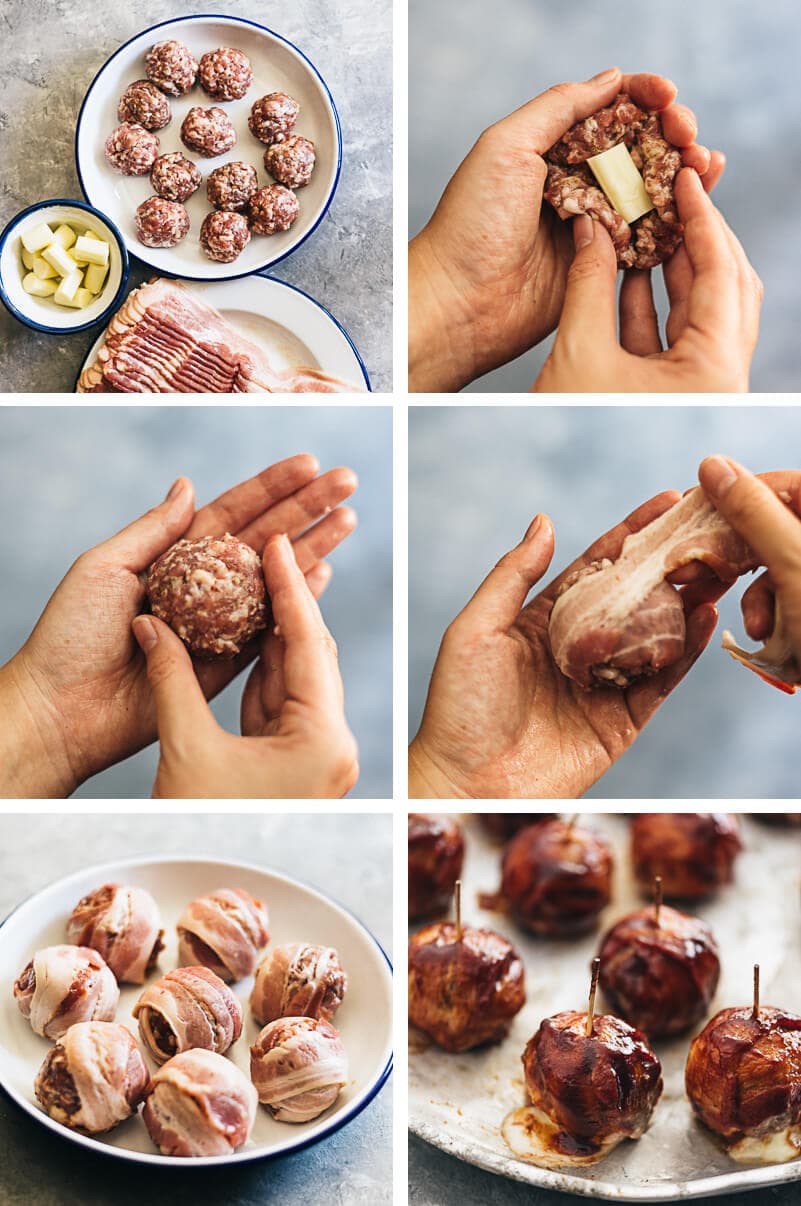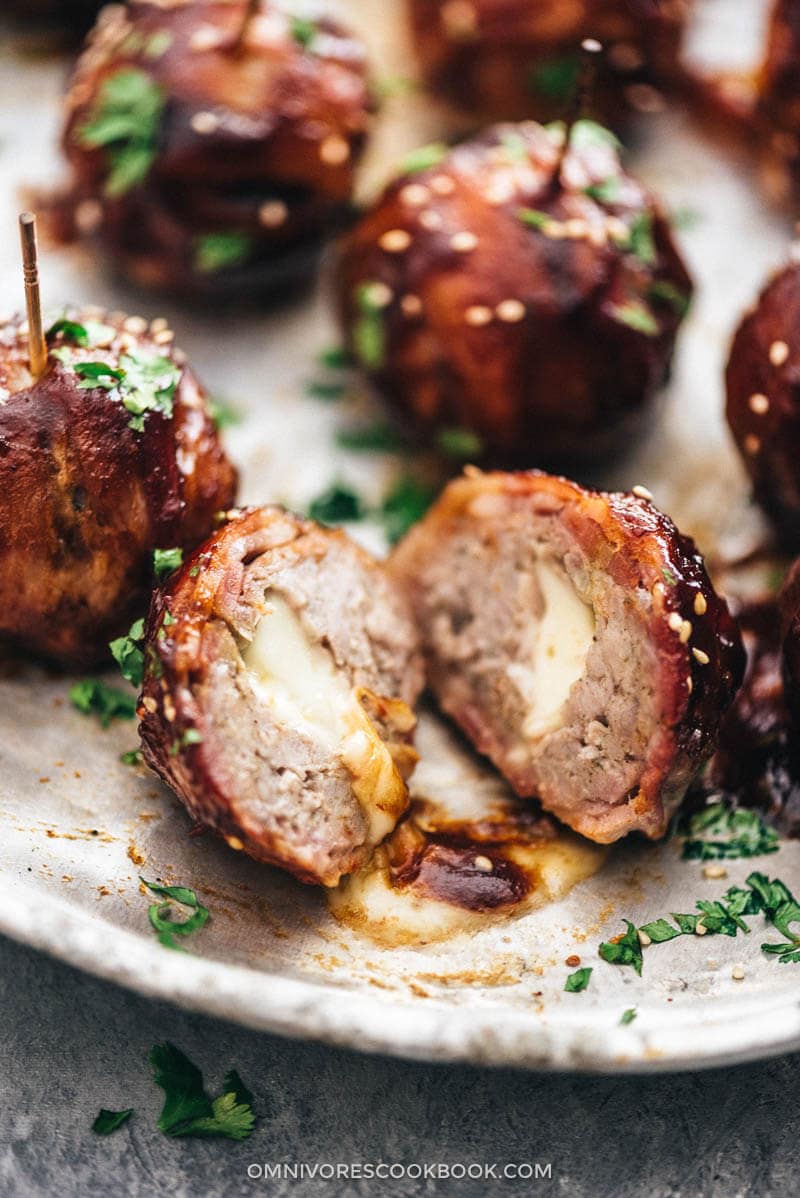 If you gave Kingsford® Original Smoked Hickory BBQ Sauce a try, click here to leave your comment to let Kingsford know what do you think of the sauce!
Want to Know More?
Receive our 5-Day Chinese Cooking Crash Course & Recipe Updates! Subscribe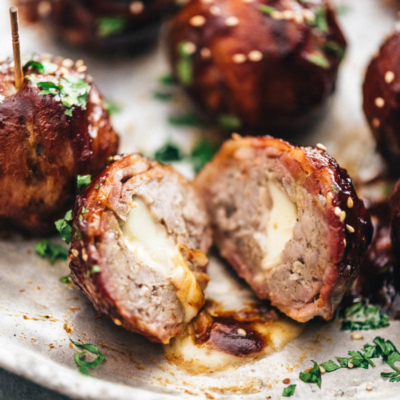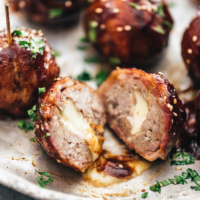 Cheesy BBQ Sausage Bites & Grilling Party Platter
Recipe created by Clint Cantwelll on behalf of Kingsford® Charcoal. I added some more notes under the recipe, based on my own cooking experience.
Ingredients
1

pound

450 grams ground breakfast sausage

3

mozzarella string cheese sticks

12

slices

bacon

Footnote 1

1

cup

Kingsford® Original Smoked Hickory BBQ Sauce

plus additional sauce for serving
Instructions
Build a charcoal fire for indirect cooking using Kingsford® Charcoal Briquets with Hickory or Mesquite by situating the coals on only one side of the grill, leaving the other side void, and preheat the grill to 350 degrees F (176°C). (Footnote 2)

While the grill preheats, divide breakfast sausage into 12 even portions then flatten into disks. Cut each string cheese stick into four even portions and place each cheese section onto a ground beef disk. Gently form the ground sausage around the cheese so that the cheese is entirely encased. Wrap each cheese stuffed meatball in a slice of bacon and use a toothpick to secure the end of the bacon. (Footnote 3)

Place the bacon wrapped meatballs onto the cool side of the grill, cover the grill and allow them to smoke for approximately 20 minutes. When until they are cooked through and the bacon is nicely browned and crisp (Footnote 4), brush meatballs with Kingsford® Original Smoked Hickory BBQ Sauce, cover the grill, and allow the sauce to set for 2 minutes.  

Remove meatballs from the grill and serve immediately with additional BBQ sauce.
Notes
I prefer to use un-cured thin cut bacon to cook this dish. The tender bacon will easier to wrap, and it crisp up better.

My husband loved this dish so much, so I've cooked it several times since I tested the recipe. I found out the result was as wonderful even when you bake the sausage bites - bake at 350 degrees F (176°C), brush sauce, then turn on broiler to cook for another 2 minutes.

I highly recommend you to use bacon to cover as much sausage as possible. The bacon will keep the sausage juicy, and it renders more fat.

If the bacon hasn't crisp up, move them to the flame side of the grill to sear for 1 to 2 minutes.
Nutrition
Serving:
1
meatball
,
Calories:
231
kcal
,
Carbohydrates:
8.1
g
,
Protein:
15.7
g
,
Fat:
14.6
g
,
Cholesterol:
50
mg
,
Sodium:
741
mg
,
Fiber:
1
g
,
Sugar:
5.4
g
This is a sponsored conversation written by me on behalf of Kingsford. The opinions and text are all mine.