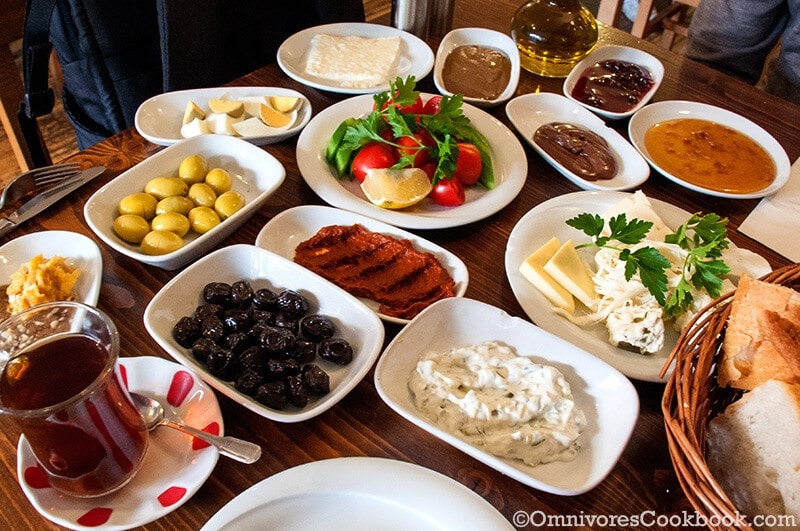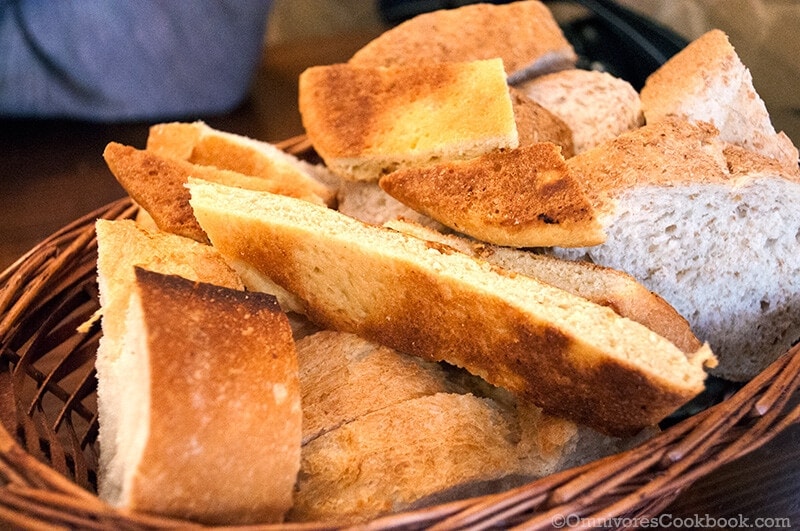 This article is one of my Adventure in Istanbul series, which mostly records my food experience in Istanbul with my boyfriend during a ten-day vacation. Scouting out restaurants was mostly done by my boyfriend Thomas. He also did a great job navigating the often confusing streets and ordering the right foods when there was only Turkish on the menu.
Our breakfast experience in Istanbul was satisfying and full of fresh, delicious, colorful, and healthy dishes.
If you don't have too tight a schedule in Istanbul, a long, relaxing brunch at Van Kahvaltı Evi is a must. The restaurant is very famous for its full breakfast, which includes 12 small dishes, 5 types of cheese, and unlimited bread and black tea.
Freshly made bread is one of the best things in Istanbul. No matter whether plain bread, whole wheat, buttery bread, or the crispy ones covered in sesame seeds, they all taste wonderful. Most restaurants serve high quality bread with delicious olive oil for dipping at the beginning of the meal, but Van Kahvaltı Evi offers an even wider selection of bread. There is jam, sweet sesame paste, Nutella, honey, tomato pepper paste, clotted cream, yogurt with herbs, and one mystery paste with egg yolk, honey, sesame and nuts. There is also tomato salad, two types of olives, and hard boiled eggs. The cheese plate is fantastic too. The five types of cheese are all semi-soft with a very strong flavor and a firm texture. I especially liked the string cheese, which reminded me of shredded chicken. The breakfast was huge, but each dish was well prepared, so we spent quite some time enjoying everything. The price is very reasonable, too – 30TL (around 15USD) per person.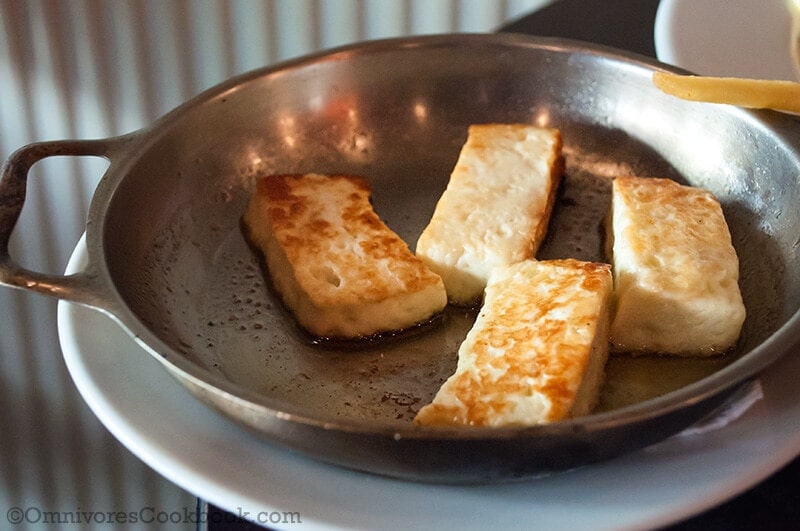 The picture above is one of my favorites – fried cheese at Smyrna Cafe. It's a very young and soft local cheese that turns quite firm once fried. It is crispy on the outside, a bit chewy on the inside, has a very strong flavor and is quite salty. It's perfect with a piece of bread.
Besides dining out, we cooked several breakfasts at our Airbnb apartment. The apartment had enough kitchenware that with a quick trip to the neighborhood market we could prepare a nice healthy breakfast with good variety. I really liked the small supermarket that was five minutes walk from the apartment. They had various kinds of freshly baked bread every day, and a good selection of vegetables and dairy.
Day 1 – Two types of bread with fried eggs, grilled tomatoes topped with cheese, garlicky beef sausage, and Turkish coffee. Again, even the random bread we got from the supermarket tasted great.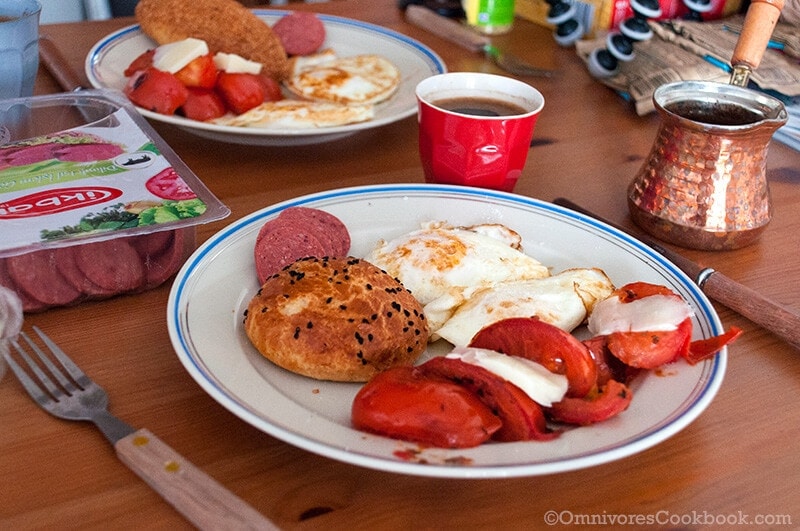 Day 2 – Two types of bread, an omelet with pepper, tomato, and sausage, red pepper paste (acıka), and Turkish coffee. Acıka is a very tasty paste that we found in the supermarket. It is not too spicy, and has a strong smoky and garlicky flavor that goes very well with bread and egg dishes.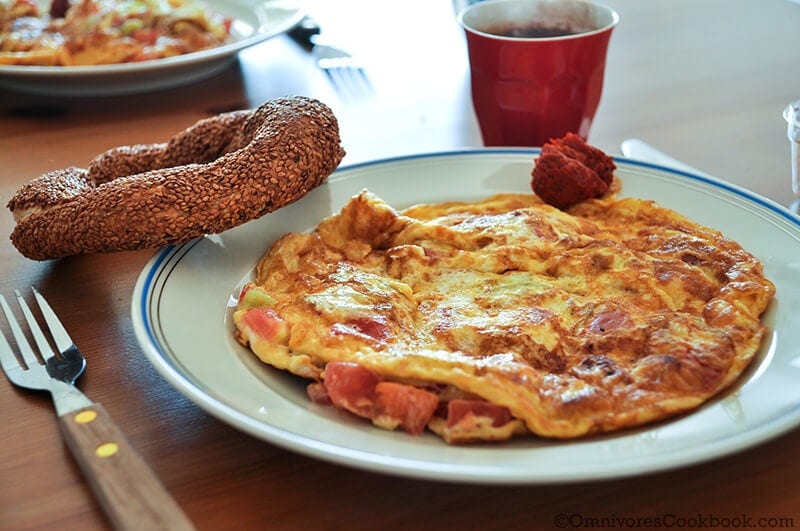 Day 4 – Breakfast wraps with avocado, tomato, pepper, scrambled eggs, grilled sausage, and pepper, acıka, Turkish coffee and apricot juice.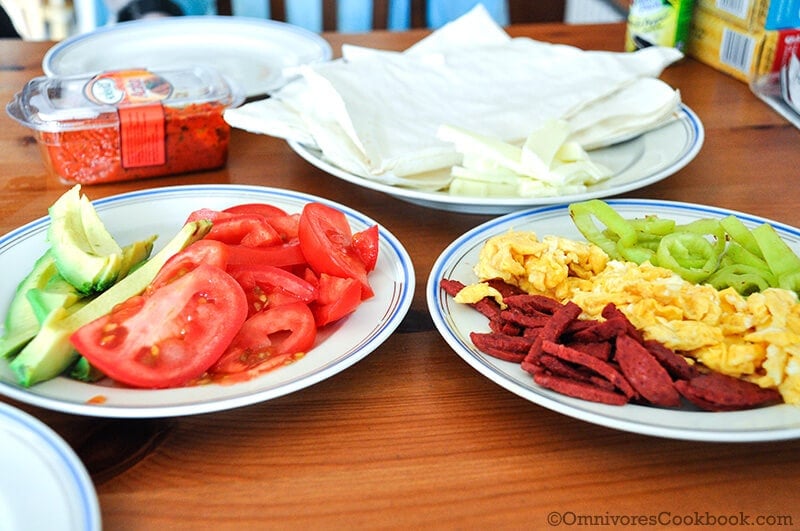 Day 5 – Breakfast wraps with scrabbled egg cooked with tomato, sausage and plenty of cheese, 2 types of bread, acıka, tzatziki, avocado. Turkish coffee, and juice.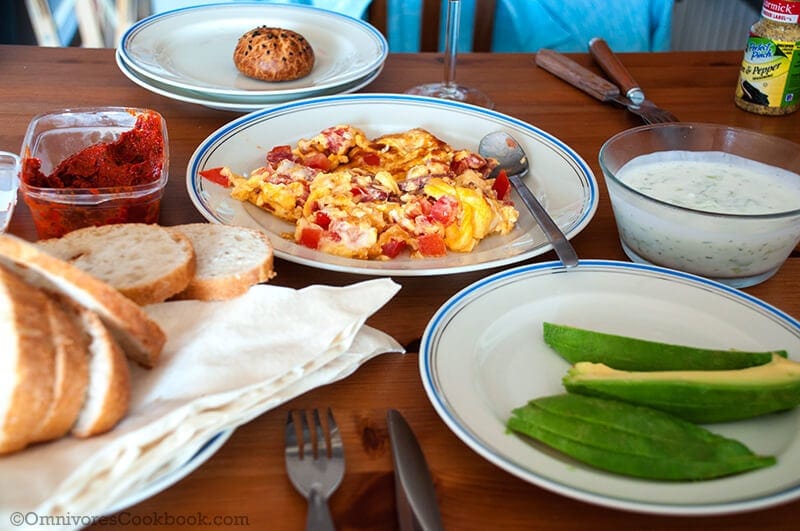 I enjoyed every breakfast and brunch we had in Istanbul. When it's so easy to get freshly baked bread, a nice strong cup of coffee, vegetables and dairy, breakfast is difficult to do wrong!
For more dining experiences and delicious food pictures, check out my Adventure in Istanbul series at:
Adventure in Istanbul – Colorful Street Food
Adventure in Istanbul – Dinner at Karaköy Lokantası
Adventure in Istanbul – Enjoy Turkish Meze
Adventure in Istanbul – Dinner at Meze by Lemon Tree
Adventure in Istanbul – Enjoy Turkish Coffee
Adventure in Istanbul – Lunch at Gram