The crunchy crisp-thin crust is topped with colorful shrimp, crab, pineapple, peppers, and onion, served in a creamy wasabi honey mayo sauce. Once you try it, you'll get hooked!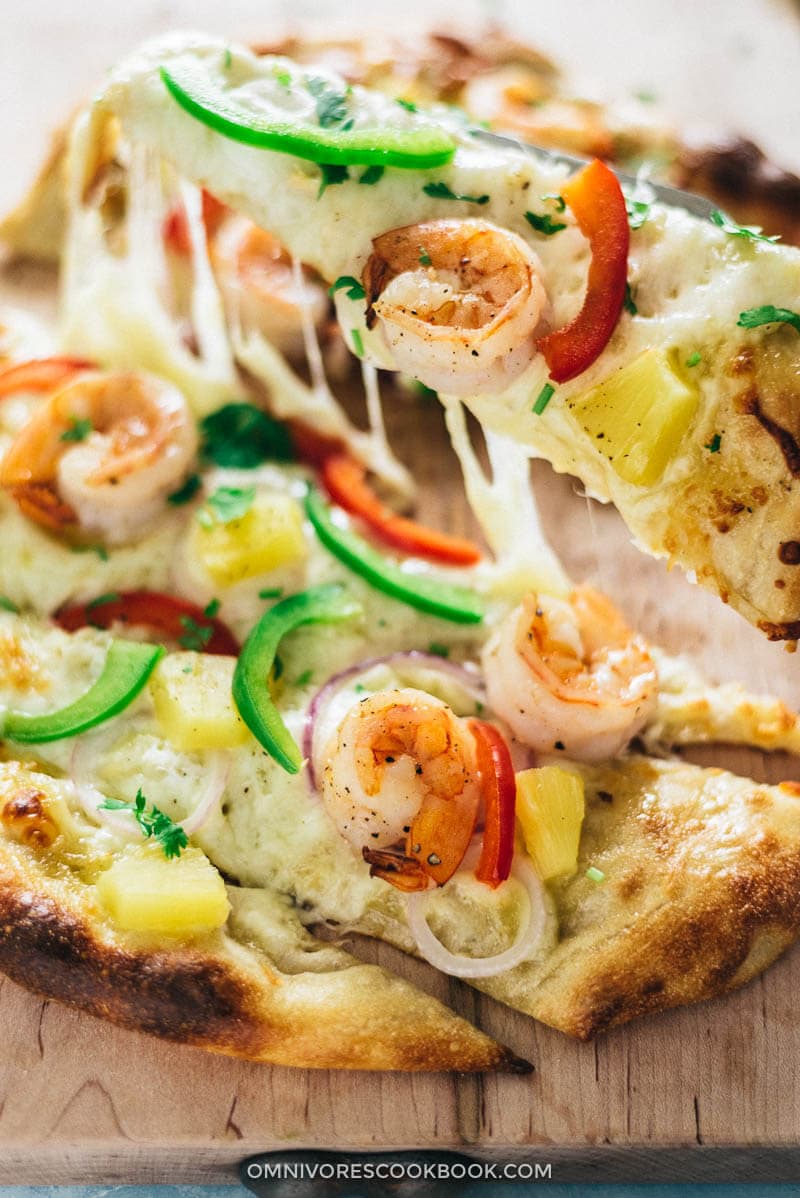 Whenever I travel to a different country, one of my favorite things to do is to go to an American chain restaurant and try out unfamiliar items from their menu. No matter whether it's KFC, McDonald's or Starbucks, there's always some exotic or crazy-sounding localized products that will blow your mind.
For example, when traveling in India earlier this month, we tried an extra-hot paneer burger at McDonald's that burned our mouths; and I accidently ordered a vegetarian potato burger at KFC that I thought was chicken sandwich.
Before jumping to all the cooking details, let me tell you some fun facts about Pizza Hut in China.
(1) Pizza Hut opened its first Beijing branch in 1990, officially introducing the concept of pizza to Chinese people. Before that point, most people had never seen or tried a pizza in their life. I belonged to that group as well.
(2) The Chinese translation of "Pizza Hut" is "Must-Win Client", or Bi Sheng Ke (必胜客) – it has nothing to do with pizza. I suspect the name was created based on the fact that back in the 90s, most people didn't know what a pizza was.
(3) Pizza Hut's Chinese marketing position is rather high-end, promoting a happy middle-class image that most people aspire to. It's not unusual to see big, bright chain stores that have 2 floors that can seat hundreds of people – you need to wait in line to get in for the busy lunch hour or afternoon tea session. Many pizzas are priced higher than in the US.
(4) The pizza sizes in China are: personal (6"), medium (9"), and large (12"). Conversely in the US it's personal (8") , medium (12"), and large (14"). My husband and I can order a 15" thin crust and finish it all in one sitting.
(5) There are many interesting items on the menu that you've never heard of, such as:
Durian pizza (limited version), priced at $27 for a tiny 9-inch pizza!
Pizza crust made with purple potato frosting.
We have mala beef pizza with a sauce that tastes almost like mapo tofu.
There are multiple seafood flavors, including one called "Italian bacon-wrapped scallop and squid".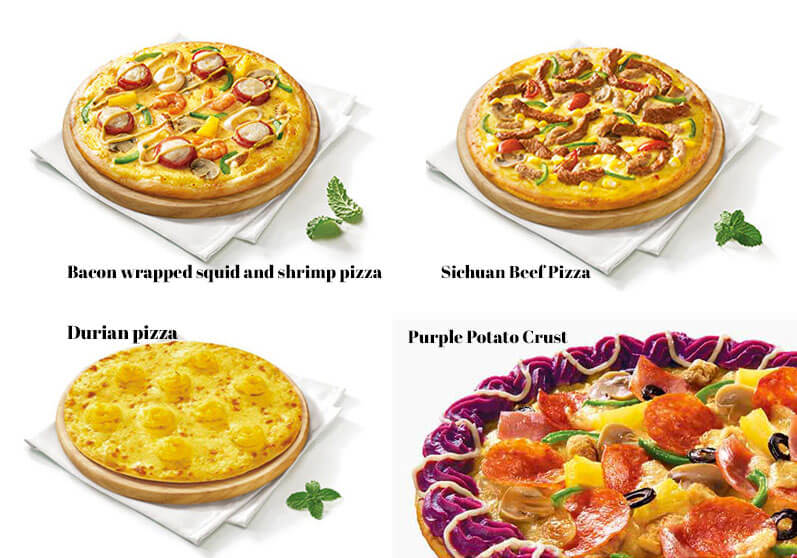 The last point leads to our topic today – Pizza Hut seafood pizza! It's one of my favorite flavors of all time 🙂
What is Asian Seafood Pizza?
Sauce
Very different from tomato-based Italian pizza sauce, Asian pizza (especially seafood pizza) usually uses a mayonnaise-based sauce and the toppings tend to contain sweet ingredients. This doesn't only happen in China, but in other Asian countries as well. For example, Pizza Hut Japan have shrimp bacon mayo pizza, chicken seaweed mayo pizza, and meat-lover pizza made with both tomato sauce and mayo sauce.
Some of the popular pizza sauces are mayo, tuna mayo, wasabi mayo, and Thousand Island sauce (mayo and ketchup). I chose to use wasabi mayo in this recipe, because it tastes SO GOOD!
Wasabi mayo is a citrusy, slightly spicy and sweet creamy sauce that goes perfectly with seafood. And it only contains three ingredients!
Even if you don't make this seafood pizza, definitely bookmark the page and make the sauce! You can use it in your tuna sandwich or with any salad – I guarantee you'll love the result.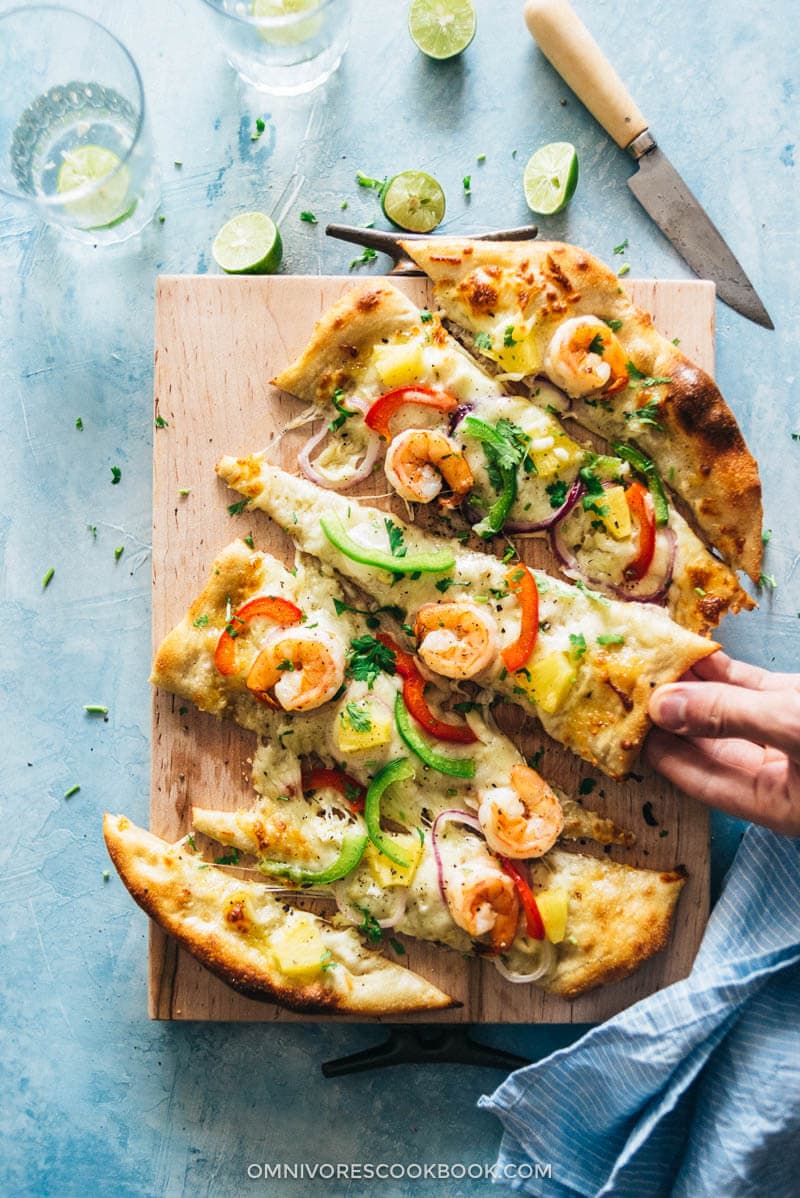 Toppings – how to assemble your own
The toppings are rather flexible and you can create your own with whatever ingredients you prefer or have at hand.
Common seafood items are shrimp, tuna mayo salad, crabstick, squid, and scallop.
Other items, such as: onion, bell peppers, bacon, pineapple, and broccoli, are common as accompaniments.
Cooking Note:
For raw seafood, you need to lightly cook it in a pan just to sear the surface, so the seafood tastes better and won't be overcooked once baked.
If you add bacon pieces, cook over medium-low heat to render the fat before topping them on the pizza.
For vegetables, you need to blanch the broccoli if you decide to use it. For onion and pepper, as long as you slice them thin and don't add too many, your pizza won't turn out moist.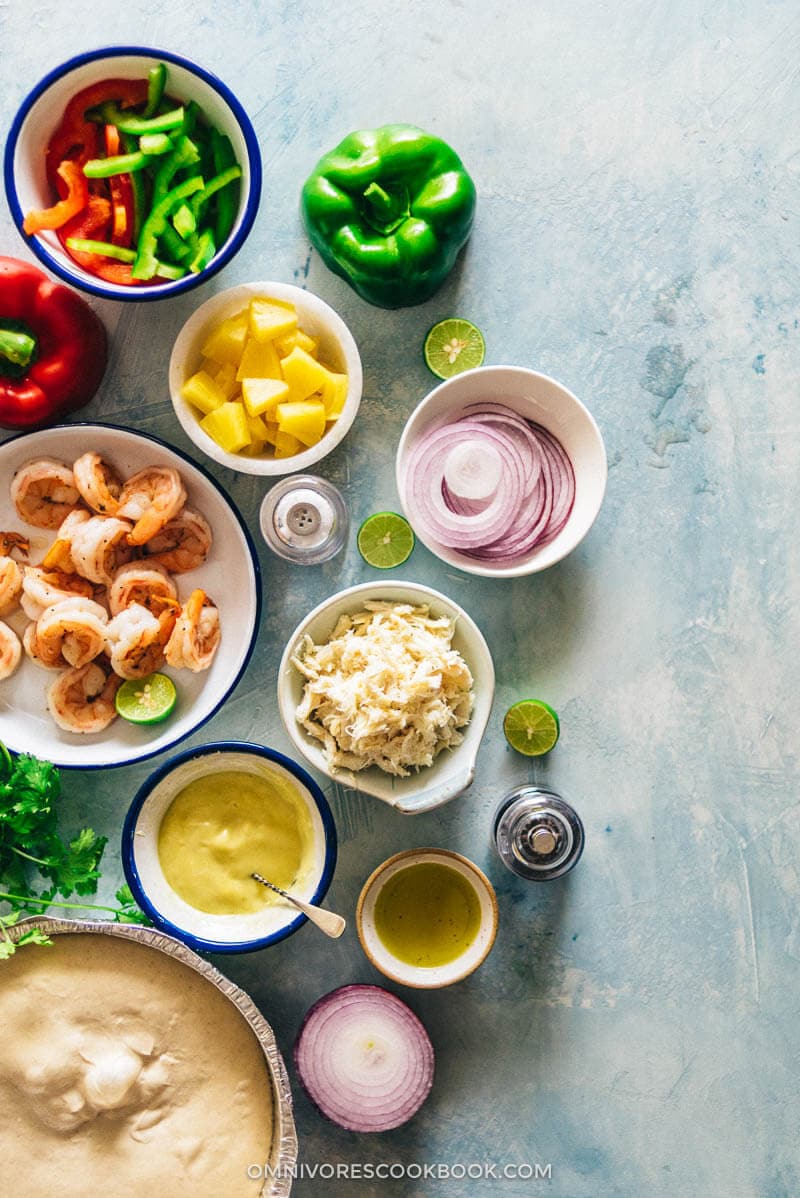 More tips to bake better pizza at home
Although Bon Appetit has listed all the common mistakes about baking pizza and how to fix them, here are a few things I want to emphasize.
Homemade pizza dough vs. store-bought pizza dough
Growing up in China, I had never heard of such a product called pizza dough. That's why before moving to the US, I was always making my own pizza dough.
Now I buy pizza dough from our favorite New York-style pizza restaurant – Home Slice. A fresh dough costs about $5 and I can make two medium pizzas from it (enough for 4 people). It is easy, quick, and produces fantastic results. I prefer it over frozen dough, because it gives my pizza crust a crunchy, crispy texture that is almost as good as a wood fire oven-roasted pizza. I highly recommend you to do the same – buy the dough from your favorite pizza place.
If you use store-bought dough as well, refer to this post about how to shape it.
Should I use a pizza stone?
I have mixed feelings about using a pizza stone. Although it produces a slightly snappier crust, I always had a difficult time sliding the pizza from a pizza peel onto the stone. For a pizza that has more toppings, like this one, the task is more challenging.
This time I used the OXO Non-stick Pizza Pan and I really liked the final outcome. It is way easier to operate on a pizza pan, from arranging the pizza dough to adding the toppings. In the pictures you can see that I can get an evenly baked crispy crust with beautiful chars. Plus, the finished pizza slides off beautifully without anything stuck on it. Don't forget to grab a plastic pizza cutter so your non-stick pan won't get scratched.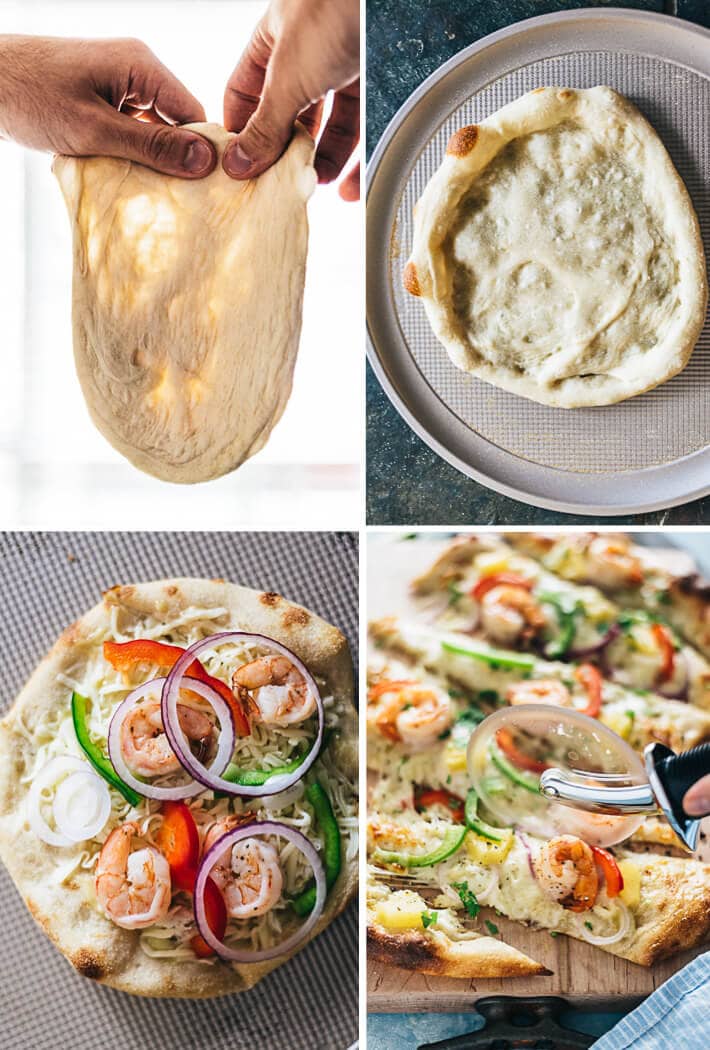 Always use a high oven setting!
Like a professional kitchen, you should use the highest setting and minimal cooking time to achieve the best crispy-thin crust. I don't know why many store-bought pizzas recommend 400 F or even 350 F for baking. I never get a properly roasted crispy crust from such a low oven setting.
My oven goes up to 550 F so that's my default setting for pizza. If yours goes higher, definitely try it out as well.
How long should you bake your pizza?
Although baking time may vary a lot depending on your oven temperature setting, here is a general guide:
For a 550F oven, I found out it takes about 10 minutes to get a light golden crust with a fluffy texture, or 12 minutes for a partially charred crust with a crunchier texture.
On the other hand, it only takes 5 minutes to melt the mozzarella. If you cook any longer than 7 minutes, it will overcook the cheese and produce a tougher cheese crust that is less stringy.
So my solution is:
Bake the crust for 5 to 7 minutes, until the crust is just set.
Add toppings.
Bake for another 5 to 7 minutes, to melt the cheese.
Not only does it produce a crispy crust, the toppings will be just cooked through. Plus, baking the dough first also prevents it from turning soggy when you're using a few more toppings.
That's it for today!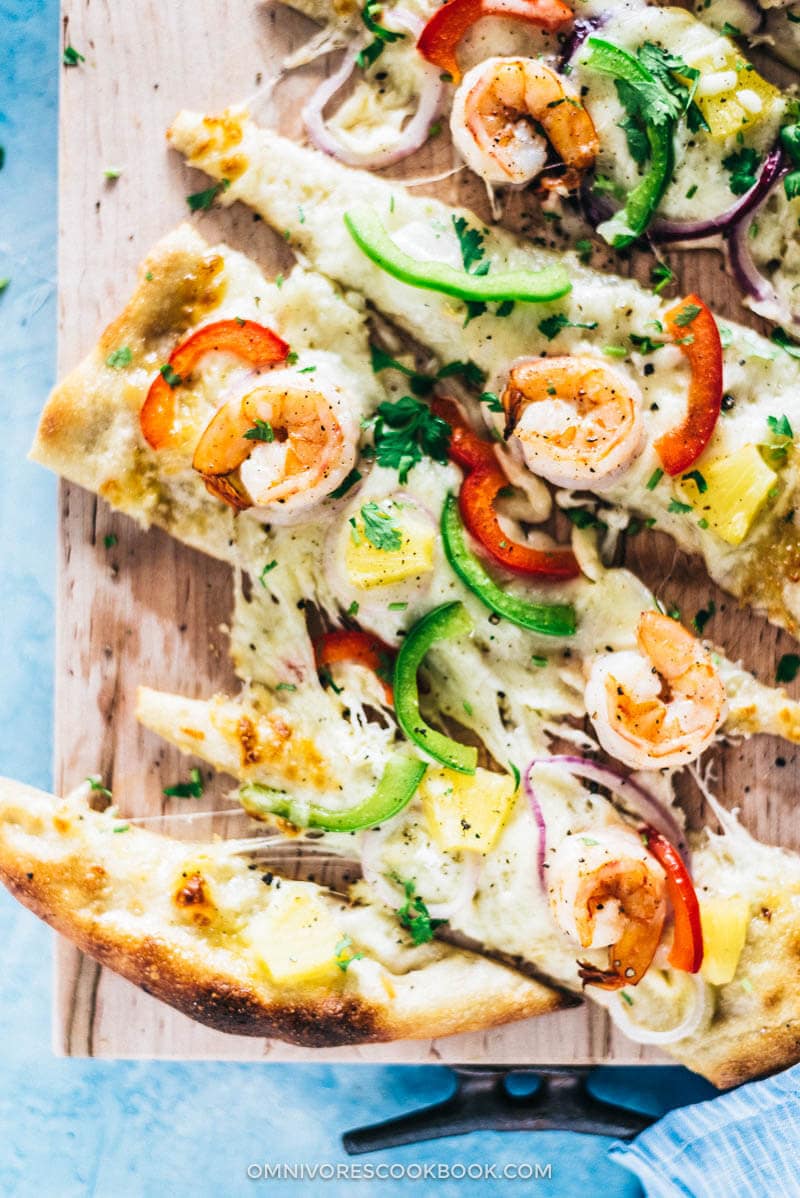 More cheesy recipes
Do you like to put seafood on your pizza toppings? Leave a comment below telling us your favorite pizza topping!
If you give this recipe a try, let us know! Leave a comment, rate it (once you've tried it), take a picture and tag it @omnivorescookbook on Instagram! I'd love to see what you come up with.
Disclosure: This is not a sponsored post; however I did receive OXO products to use in this post in exchange of a fair review. All opinions are my own.
Want to Know More?
Receive our 5-Day Chinese Cooking Crash Course & Recipe Updates! Subscribe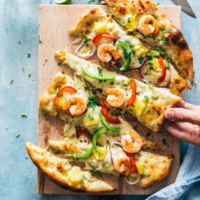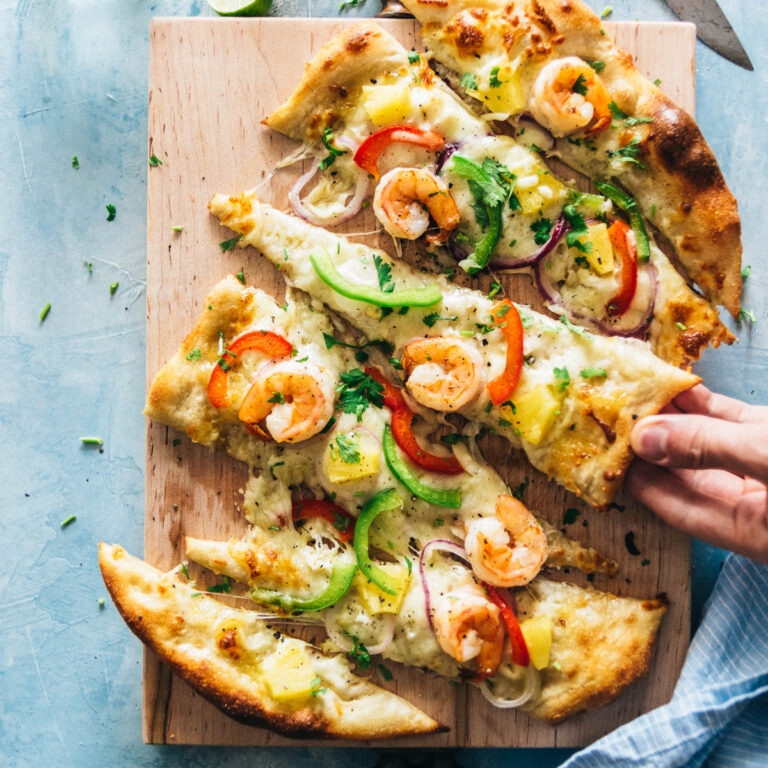 Asian Seafood Pizza (海鲜披萨)
The crunchy crisp-thin crust is topped with colorful shrimp, crab, pineapple, peppers, and onion, served in a creamy wasabi honey mayo sauce. Once you try it, you'll get hooked!
The wasabi mayo in this recipe is slightly adapted from
Food.com
.
Ingredients
1

pizza dough

(*footnote 1)
Wasabi mayo
1/3

cup

mayonnaise

2

teaspoons

wasabi paste

(or wasabi powder) (*footnote 2)

1

tablespoon

honey
Toppings
2

tablespoons

olive oil

15

shrimp

, peeled and deveined (about 11 ounces / 300 grams)

1/8

teaspoon

sea salt

1/4

teaspoon

freshly ground black pepper

1/2

can (6-oz. / 170-g)

crab meat

(or olive oil soaked tuna)

1/2

pound (230 grams)

mozzarella cheese

, shredded (about 1 and 1/2 cups)

1/4

purple onion

, sliced

1

small bell pepper

, diced (for decoration)

1/3

cup

pineapple

, diced
Instructions
Preheat oven to 550 degrees F (288 C), or your highest oven setting.

Heat 2 teaspoons oil in a skillet over medium high heat until hot. Add shrimp, lightly sprinkle with salt and pepper. Cook and stir until the surface turns opaque but the inside is not cooked through. Transfer to a plate.

Dust a pizza baking tray or pizza stone with cornmeal or semolina flour.

Place the pizza dough on a lightly dusted surface. Divide the dough into two pieces for making two medium-size pizzas. Shape the dough into a ball and gently press it into a round disk. Then pick up the dough with your hands and hold onto the edge. Slowly rotate the dough and allow gravity to stretch it out. If the dough springs back too often, place it back onto the work surface and let it rest for 5 to 10 minutes before working on it again.

Once the dough reaches the thickness you prefer, place it onto the baking tray. Bake until the dough becomes just firm but not browned, 5 to 7 minutes (*footnote 3).

Take out the pizza crust. Brush the edge with a thin layer of oil. Brush half of the wasabi mayo and spread with a thin layer of crab meat. Scatter half of the cheese over. Then top with shrimps, onion, pepper, and pineapple. Lightly sprinkle a pinch of salt and ground black pepper. Return the pizza back to the oven. Bake for another 5 to 6 minutes, or until the cheese melts.

Take out the pizza and let rest for 2 to 3 minutes to let the cheese set, then slice and serve hot (footnote 4).
Notes
I always buy pizza dough from my favorite New York pizza restaurant. The dough is enough to make a large (18") pizza, or two medium-size pizzas (12"), or three small pizzas (10").

Add the wasabi one teaspoon at a time, and adjust the flavor according to your taste. You can add more wasabi paste if you like a spicier sauce.

Some spots of the crust might rise higher and will be browned faster - that is normal.

4. I got 16 slices of pizza from the dough I use (originally designed for a 18" thin crust pizza). The nutritional data is calculated based on 1 slice of pizza.
Nutrition
Serving:
1
slice
,
Calories:
88
kcal
,
Carbohydrates:
5.5
g
,
Protein:
8.8
g
,
Fat:
3.4
g
,
Cholesterol:
42.9
mg
,
Sodium:
213
mg
,
Sugar:
2
g
The recipe was originally published on Feb. 13, 2014, and updated on Apr. 26, 2017.