You only need 5 ingredients to create these amazing cookies that are buttery, soft inside, and crispy on the surface.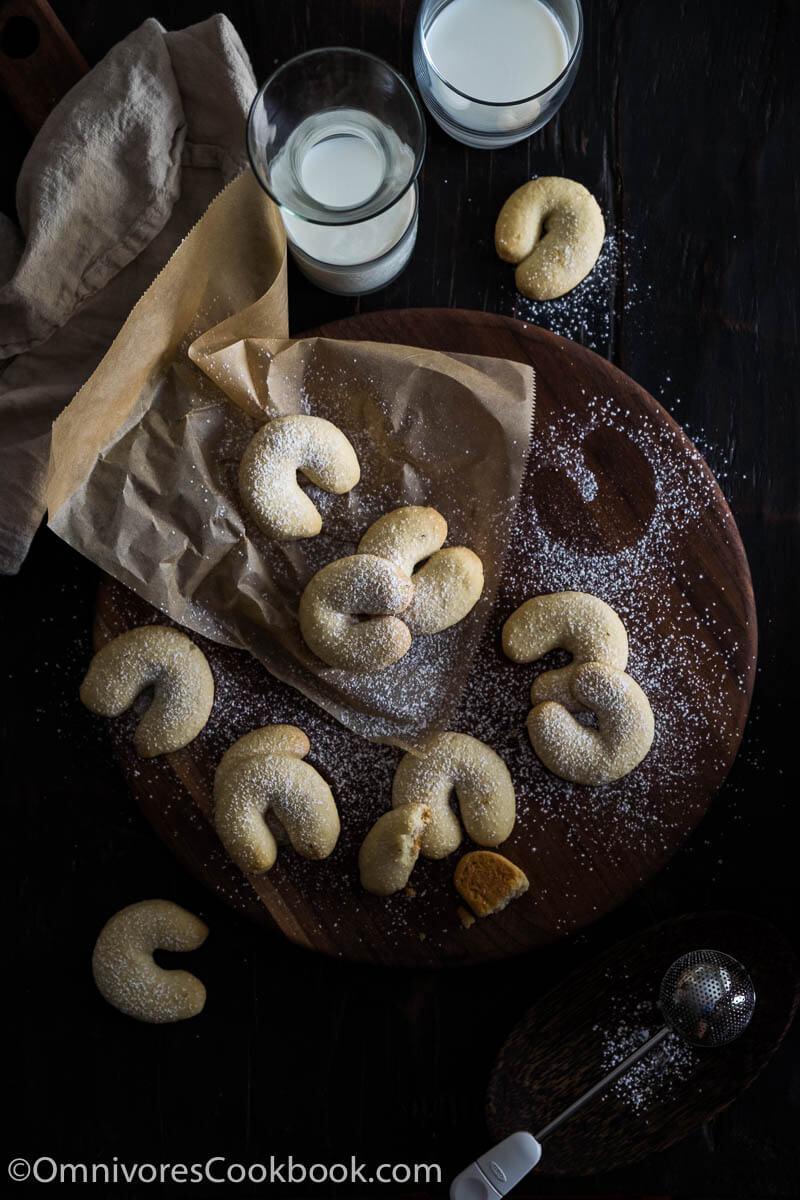 Learning how to bake is part of my Americanization process. After getting comfortable baking chicken and vegetables, my next challenges are cookies and pies.
When I was a kid, my mom banned me from drinking soda. She was also very strict on desserts and snacks. For example, my daily quota of chocolate malt balls were five pieces in middle school, and my mom only purchased a small package about once a month. As a result I didn't develop a sweet tooth.
I've heard sweets are a big thing in the US. But I never imagined people love them SO much until I moved from Beijing to Austin. Whenever I attended an event or a party, I'd always be impressed by how popular desserts were, again and again. I've eaten more desserts during the last year than my 30 years in China.
I had my first fudge, meringue, peach cobbler, panna cotta, and pumpkin pie. The things still on my to-eat list are: s'mores, apple crisp, tart tartin, madeleines, sweet crepe, galette, but list goes on.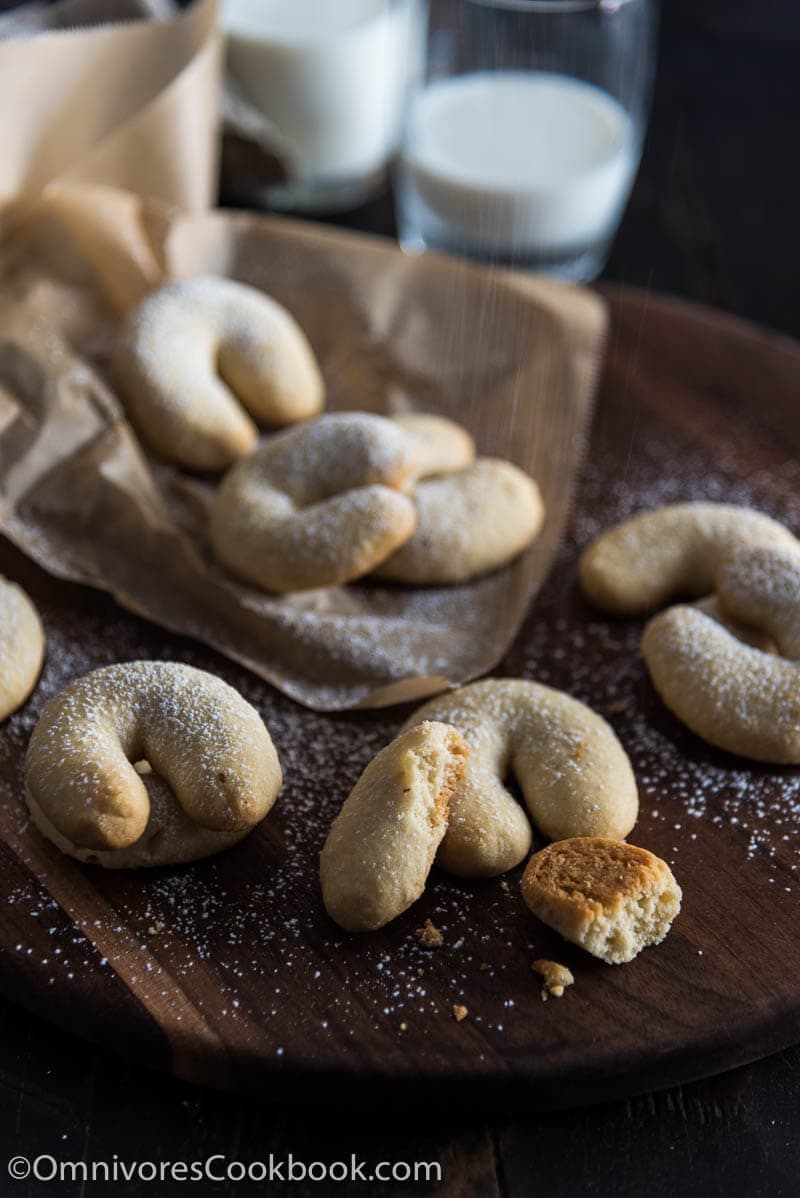 The more I try out new types of dessert, the more I like them. Then I decided if I'm gonna develop a sweet tooth after all I might as well cook sweets at home so at least I know exactly what goes into my food.
Baking sweets freaks me out every single time. Baking a batch of cookies is more daunting to me than making dumplings from scratch. I find it difficult to follow most of the recipes, even when the steps are clear and in great detail. That's when I realized Chinese cooking must be a daunting task, and can be so confusing if someone didn't eat Chinese food growing up.
These almond crescent cookies are the most rewarding cookies I've baked so far. Even I, a beginner baker, found them easy enough to make.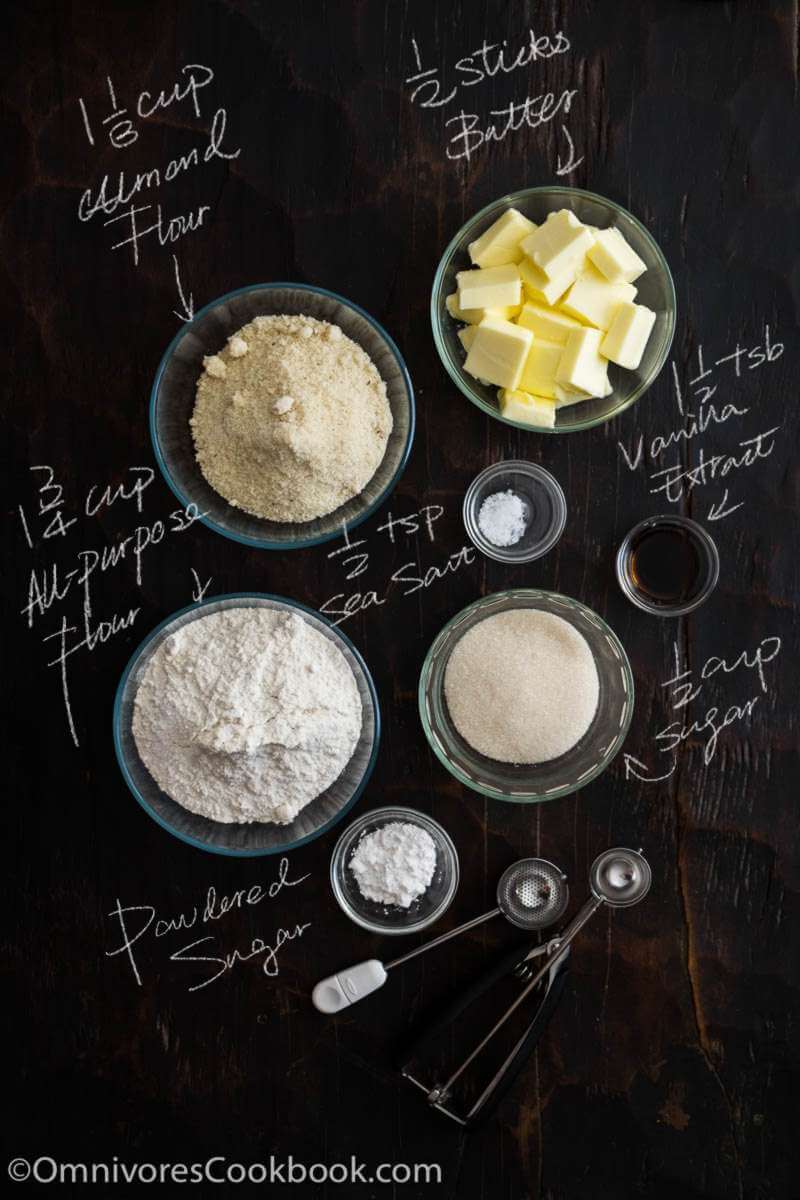 The only things to note are:
Remember to pull out the butter a few hours prior to baking, so they have time to return to room temperature. If you're short on time, chop them to smaller pieces so they soften faster.
Use a scale. I personally always prefer to use a scale when it comes to baking. After all, depending on the way you scoop out flour, it can range from 120 to 150 grams. So a  very great margin for error. A scale will speed up your working process and reduce frustration.
You only need to use one bowl. My favorite way is to place a big bowl on the scale and use the tare function to set the scale to zero after adding an ingredient, so I can work fast and get precise measurements.
Do not over mix as it develops gluten making the cookies tough and chewy.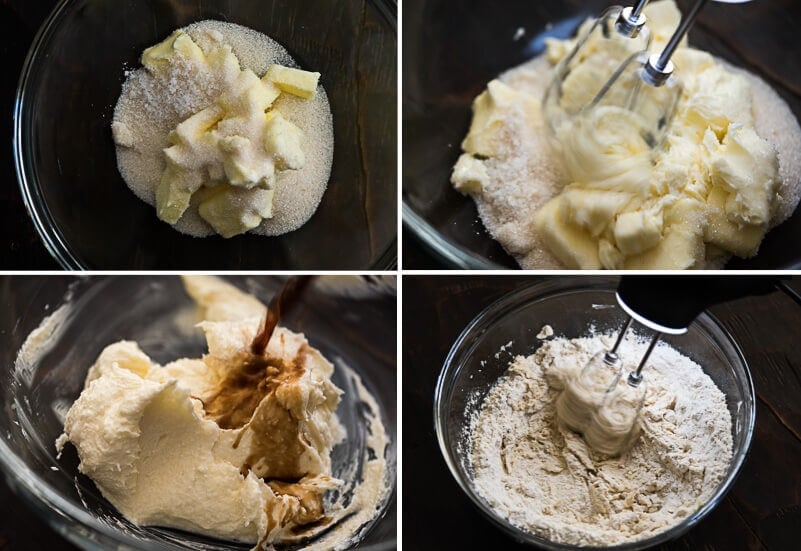 After mixing all the ingredients together you will get a tender dough that is easy to shape.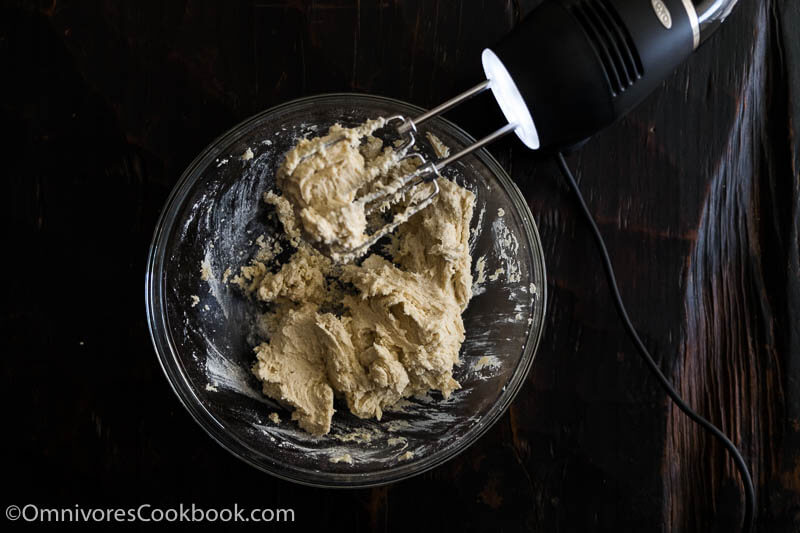 To make the process faster and more accurate I use a cookie scoop to divide the dough first, then work on them one by one. In the end I have a tiny bit of dough leftover. I simply divided it and patched it onto a few cookies, so there is no waste.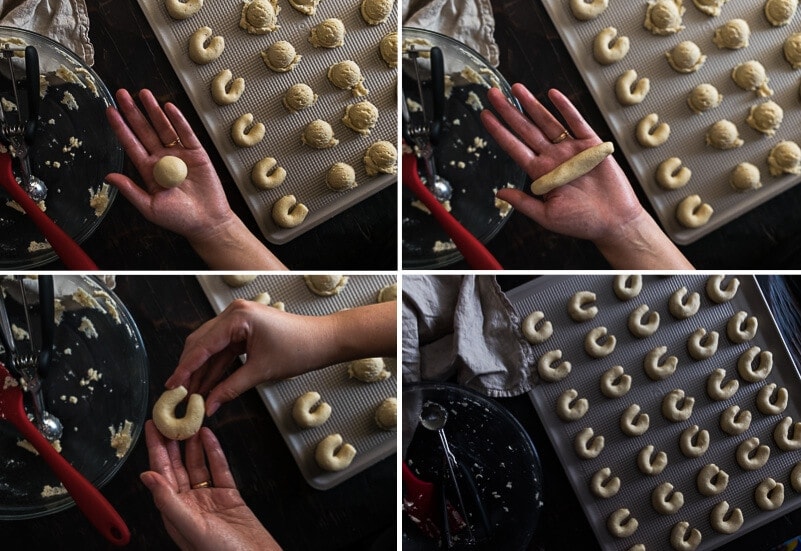 The finished cookies are perfect. They are buttery, soft in the middle and crispy on the surface. I've made two big batches in the past week and none of them lasted more than 3 days. I love the fact that the recipe called for a bit salt and not a lot of sugar. So the cookies are just sweet enough for my taste with a bit of a savory aroma.
The recipe below is slightly adapted from Dorie's Cookies by Dorie Greenspan as a part of a book releasing campaign. Dorie Greenspan authored several bestselling cookbooks such of Around my French Table and Baking: From my Home to Yours. The Dorie's cookies is her latest work and will be released by October 25th 2016. I'm very lucky to get a peek into the cookbook and try out one of her recipes. Now I'm looking forward to getting my copy of the book, so I can start learning more cookie recipes.
Right now these almond crescent cookies are on my top 3 list and will be on our Christmas table this year for sure!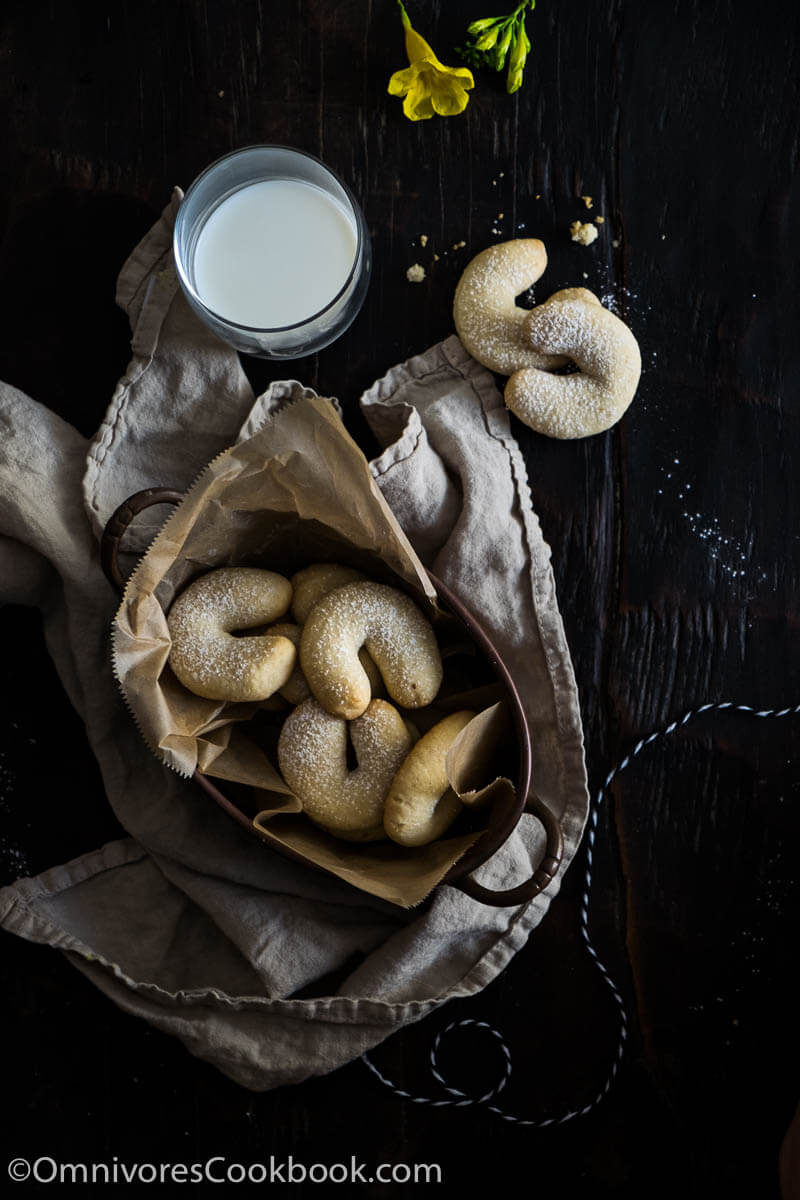 Products that make baking much easier
Illuminating Digital Hand Mixer – The mixer has a light in front that turns on automatically when mixing. A very cool feature. The mixer includes digital controls to steadily increase or decrease speed, that makes the mixing process a no brainer. The thing I love the most about this mixer is, when you're finished, the on-board beater clip, wrap-and-secure cord, and flat, stable base allow for compact, upright storage.
Non-Stick Pro Cookie Sheet – It features a unique micro-textured pattern that ensures even baking and adds structural rigidity. An oversized edge makes it easy to grip and carry to and from the oven. It is super easy to remove the cookies after baking, and transfer them onto a cooling rack.
Baker's Dusting Wand – When I was dusting the sugar coating, I felt like I was waving a magic wand. The dusting wand has a quick twist to open and close, and a half-solid, half-perforated globe design. So it can easily prevent clumps and dumps, and most importantly, powdery messes on the table. The thing I love the most is, the perforation allows for lightly dusted baked goods. It makes these cookies look perfect and not drowned in sugar.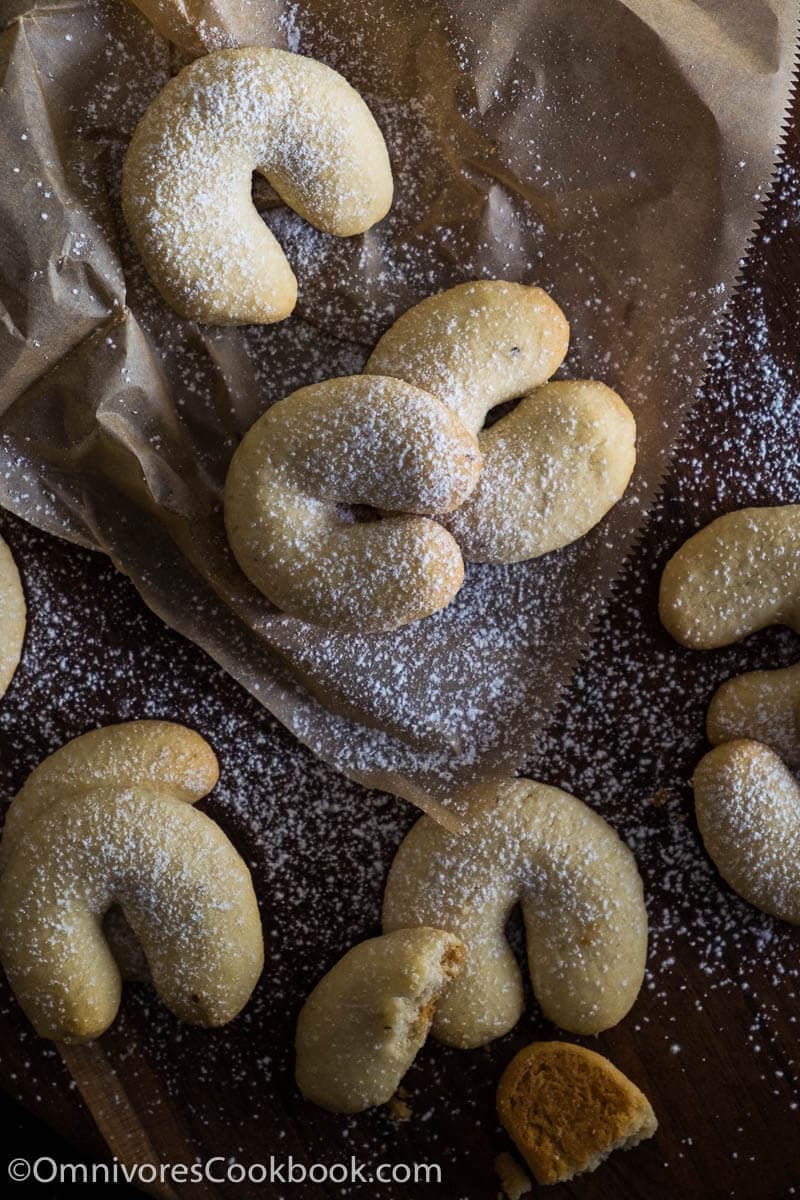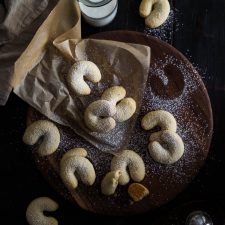 Almond Crescent Cookies by Dorie Greenspan
You only need 5 ingredients to create these amazing cookies that are buttery, soft inside, and crispy on the surface.
Print
Pin
Rate
Servings:
24
to 35 cookies
Ingredients
2

sticks (8 ounces; 226 grams)

unsalted butter

, cut into chunks, at room temperature

1/2

cup (100 grams)

sugar

1/2

teaspoon

fine sea salt

1

and 1/2 teaspoons

pure vanilla extract

1/4 to 1/2

teaspoon

pure almond extract

to taste (optional)

1

and 3/4 cups (238 grams)

all-purpose flour

1

and 1/3 cups (133 grams)

almond flour

Granulated or confectioners' sugar

for coating
Instructions
Position the racks to divide the oven into thirds and preheat it to 350 degrees F. Line two baking sheets with parchment paper or silicone baking mats. (*footnote 1)

Working with a stand mixer fitted with the paddle attachment, or in a large bowl with a hand mixer, beat the butter, sugar and salt together on medium speed until smooth, about 3 minutes. Beat in the vanilla and the almond extract, if you're using it, then scrape down the sides and bottom of the bowl. With the machine off, add the all-purpose flour all at once and then pulse the mixer to start blending. Mix on low speed until the flour is almost incorporated, then add the almond flour and mix only until it disappears into the mixture and the dough comes together.

Using a medium cookie scoop, scoop out walnut-size nuggets of dough or use a tablespoon. Work each piece into a compact ball between your palms and then roll it on the counter into a rope about 4 inches long. Bend the rope into a crescent, pinch the ends lightly and place on the baking sheets, leaving about 2 inches between the crescents.

Bake for 19 to 21 minutes (*footnote 3), rotating the sheets top to bottom and front to back after 10 minutes, or until the cookies are golden at their tips, pale everywhere else and set, but too fragile to lift without breaking. Transfer the baking sheets to racks and let the cookies rest for 5 minutes before you give them the sugar treatment.

Put the sugar in a small bowl and, one by one, dredge the cookies in sugar to coat and place on racks to cool.
Storing
The dough can be kept, covered, in the refrigerator for up to 2 days, or wrapped airtight and frozen for up to 2 months. If you decide to freeze the dough, I think you'll find it more convenient to shape it first and freeze the crescents; let the crescents come to cool room temperature before baking them. If you omit the sugar coating, the baked cookies can be wrapped and frozen for up to 2 months. The baked cookies will keep for about 3 days; give them a fresh dusting of confectioners' sugar before serving.
Notes
I found my OXO nonstick cookie sheet is just large enough to bake a batch (35 cookies) so I only used the middle rack with one cookie sheet.
I made smaller cookies by using a small cookie scoop (2 teaspoons) and rolling the dough into a log about 2½ inches long before bending it. so I ended up with 35 cookies.
The ultimate baking time depends on your true oven temperature and your preference of texture. I like my cookies a bit chewy and crunchy. So I baked 21 minutes, until the bottom turns golden brown. If you like tender and flaky cookies, bake for 19 minutes.
Nutrition
Serving:
20
g
|
Calories:
104
kcal
|
Carbohydrates:
8.9
g
|
Protein:
1.6
g
|
Fat:
7.2
g
|
Saturated Fat:
3.5
g
|
Cholesterol:
14
mg
|
Sodium:
65
mg
|
Potassium:
37
mg
|
Fiber:
0.7
g
|
Sugar:
3.1
g
|
Vitamin A:
150
IU
|
Calcium:
10
mg
|
Iron:
0.5
mg
Full disclosure: This blog post is a part of Cookies for Kids' Cancer and Dorie Greenspan campaign, where OXO will donate $100 to Cookies for Kids' Cancer for each blog post. Some of the baking products used in this post were sponsored by OXO. The content and opinions expressed here are my own.