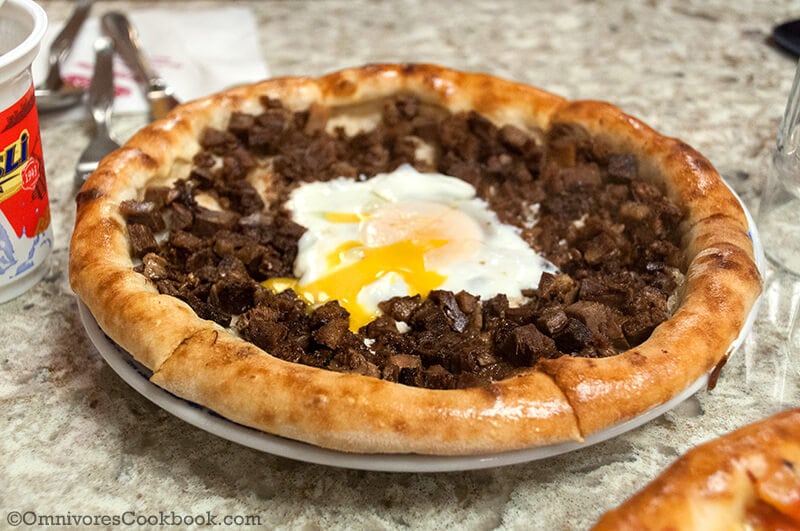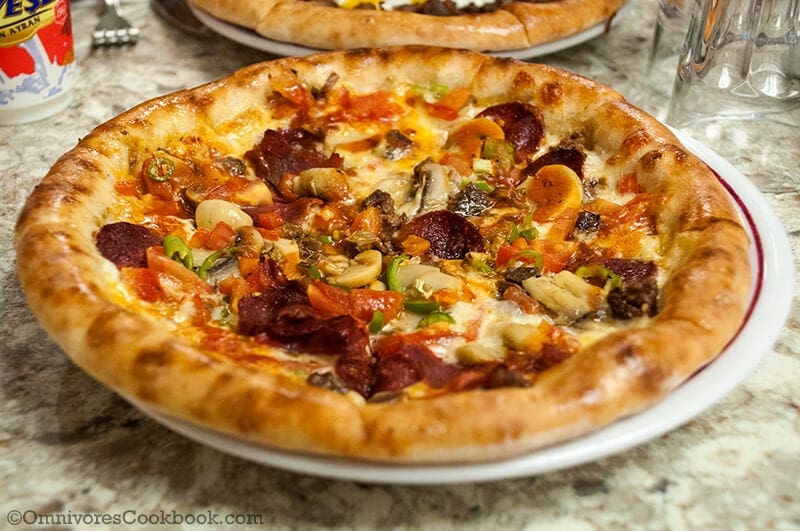 This article is one of my Adventure in Istanbul series, which mostly records my food experience in Istanbul with my boyfriend during a ten-day vacation. Scouting out restaurants was mostly done by my boyfriend Thomas. He also did a great job navigating the often confusing streets and ordering the right foods when there was only Turkish on the menu.
Our Turkish food experience involved mixed feelings of familiarity, nuance, surprise and deliciousness.
Do the pictures look familiar? Pizza? Half right. It's Turkish "pizza" with pita bread, or pide, as the crust. Turkish pita bread can be round, oval, or boat-shaped, with two pointed ends. It can have various toppings, but most of the time, the toppings are simple, and the meat is cooked in a very Turkish way.
The day before we left Istanbul, we went for Turkish pizza at Nizam Pide (link updated on Mar. 30 2014) at Beyoğlu. I needed to taste pide before going home, because I felt obligated as a food blogger and a pizza lover, and I'm so glad I did.
We ordered two pizzas, one with Döner beef and a sunny egg and one with pastrami, sausage, vegetables, and cheese. The crust, or pita, tasted fluffier than that of American pizza, with a very thin surface. The beef one was simple, yet the flavor was very intense. I liked the mixed topping one better, maybe because the cheese made it more like the pizza I'm used to. It looked like a normal pizza, but tasted quite special, because of the spicier Turkish green peppers, the Turkish beef pastrami sausage, and the sweet pepper in the sauce. Both pizzas were very delicious and I'd like to learn how to make them.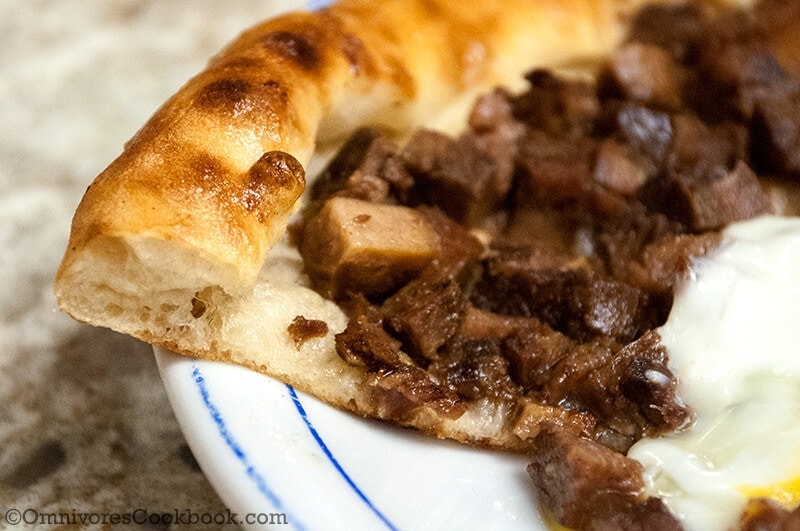 So, what is this disgusting thing below? Sausage? Wrong. It's called kokoreç, or roasted sheep intestine sandwich. Please do not let this turn you away if you've never eaten intestine before. It's one of most famous street foods in Turkey – maybe more popular than a kebab sandwich for locals – and believe me, it tastes so good and you won't regret trying it.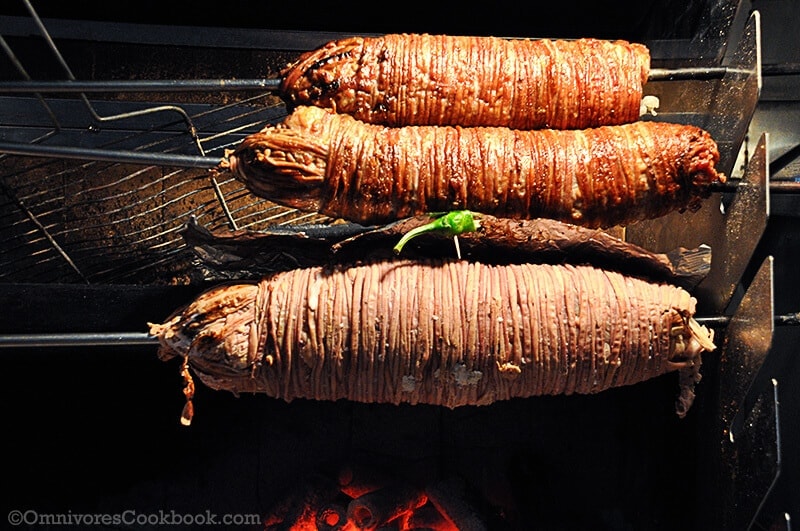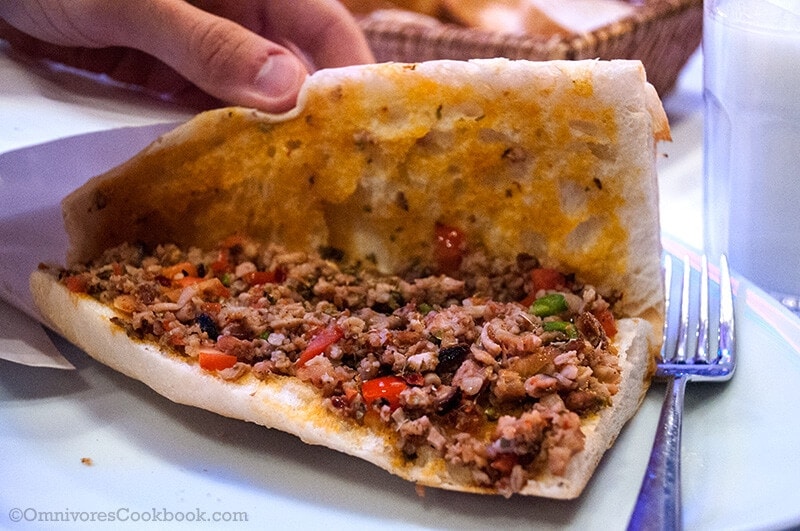 To prepare kokoreç, the intestines and offal are thoroughly cleaned up, then seasoned heavily with lemon, olive oil, oregano, and pepper to eliminate the offal flavor, then wrapped onto a long skewer and roasted slowly over charcoal. Before serving, similar to the way a kebab sandwich is made, the meat, or intestine in this case, is taken from the big horizontal spit (opposite orientation of that of a kebab, which is typically vertical), and chopped up. Then, the intestines are cooked on a griddle with chopped tomato and green pepper and served in a baguette bun.
With the first bite of kokoreç, I couldn't tell what was inside, I only knew it was extremely yummy. The filling was satisfying, flavorful, and very juicy. You might think it's a high quality sausage sandwich, if nobody told you otherwise. With the second bite I thought, gosh this bread is tasty! It's a bit like a panini, but softer inside and crispier outside, hot and fresh, with the fragrance of wheat. Then, with the third bite, the fourth bite … two minutes later, what? Already finished! Sad face. Sigh and murmur, I should've ordered a bigger sized sandwich! Yes, it was that good.
There is one thing to remember when looking for kokoreç. My friend Bayan, who lives in Istanbul told me that some places might not clean the intestines thoroughly, which means the flavor won't be very good. She and her husband took us to Beylerbeyi Yakomoz restaurant, located at Üsküdar, on the Asian side of the city. I highly recommend this place because they serve great flavored kokoreç at a fair price.
I will repeat it again. Do not let its appearance drive you away. If you like eating and have an open mind towards food, I highly recommend you give kokoreç a try. You might end up loving it.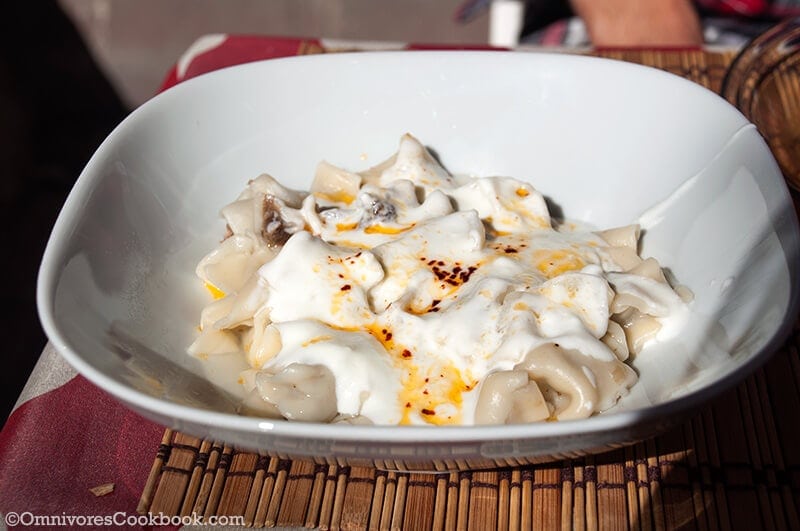 What is this in the picture? Pasta? Nope! It's manti, Turkish dumplings served with yogurt. I consider it somewhere between Chinese dumplings and Italian pasta. Well, Istanbul is located between the two countries, so it makes sense that the food is somewhere in between! The dumplings are quite like Chinese ones, with the wrapper made from just flour and water, and a ground lamb meat and mushroom filling. But it's served with a very creamy yogurt and some olive oil, which makes the texture of the whole dish similar to that of pasta. The yogurt sauce balances well with the meaty dumplings, and the whole dish is refreshing and quite light, but somehow filling as well. I will definitely try to make this dish at home.
We had this dish at No:19 Yemek Evi, a tiny family restaurant that only has three tables. The menu changes depending on whatever very fresh ingredients they can find on a given day. You can taste the homemade local flavor there, and the price is very fair. We ordered the manti and garlic chicken (pictured below), and they were both great.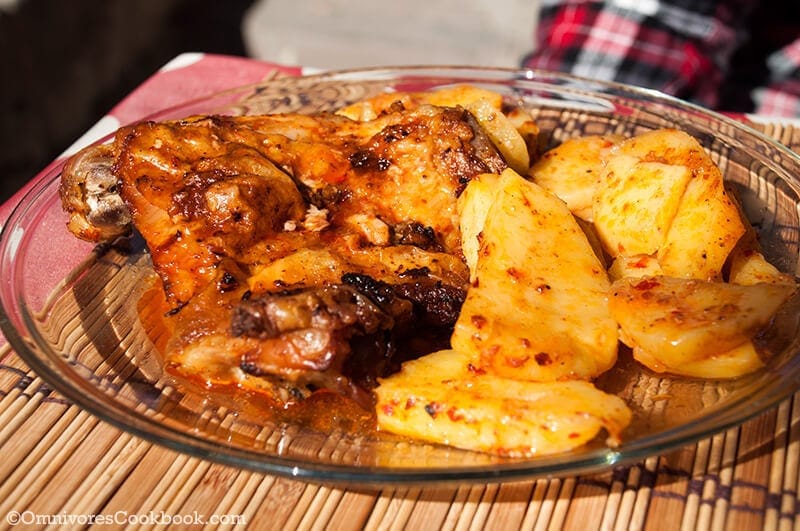 For more dining experiences and delicious food pictures, check out my Adventure in Istanbul series at:
Adventure in Istanbul – Colorful Street Food
Adventure in Istanbul – Dinner at Karaköy Lokantası
Adventure in Istanbul – Enjoy Turkish Meze
Adventure in Istanbul – Dinner at Meze by Lemon Tree
Adventure in Istanbul – Enjoy Turkish Coffee
Adventure in Istanbul – Lunch at Gram
Breakfast Experience in Istanbul
For more beautiful travel photos, check out:
Adventure in Istanbul – Travel Photos and Shoot Locations
Adventure in Istanbul – Photos of Mosque and Palace