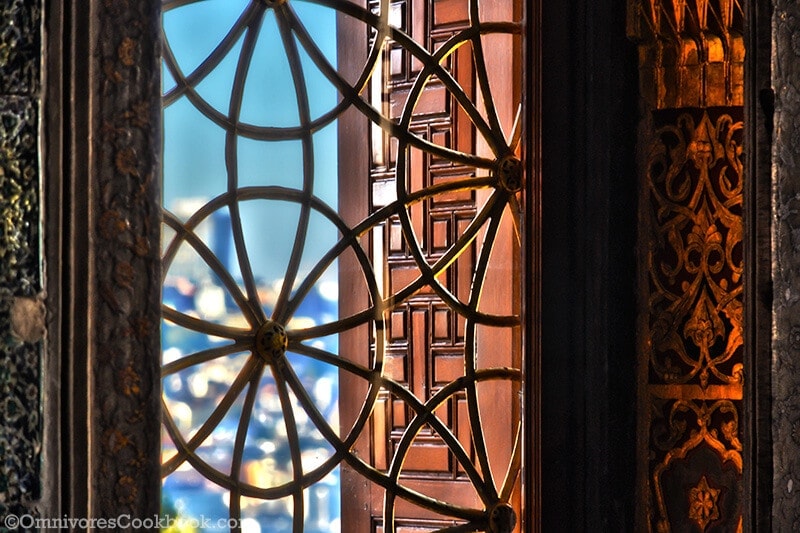 This article is one of my Adventure in Istanbul series, which mostly records my food experience in Istanbul with my boyfriend during a ten-day vacation. Scouting out restaurants was mostly done by my boyfriend Thomas. He also did a great job navigating the often confusing streets and ordering the right foods when there was only Turkish on the menu.
Meze, a category which consists of various small appetizer dishes served at the beginning of a meal, is one of the most important elements of traditional Turkish cuisine. Most restaurants that serve Turkish food usually display their meze at the counter. The waiter will introduce every dish and you can choose whatever looks or sounds good. You could choose two or three dishes as appetizers, or just enjoy lots of meze as your meal. The variety of meze is so good that you can easily put together a feast consisting entirely of meze. During our short stay, we tried our best to order various types of dishes for every meal, but there were still lots of good ones that we didn't have the chance to try. In this post, I list some of the most well-known meze dishes and those ones I enjoyed the most.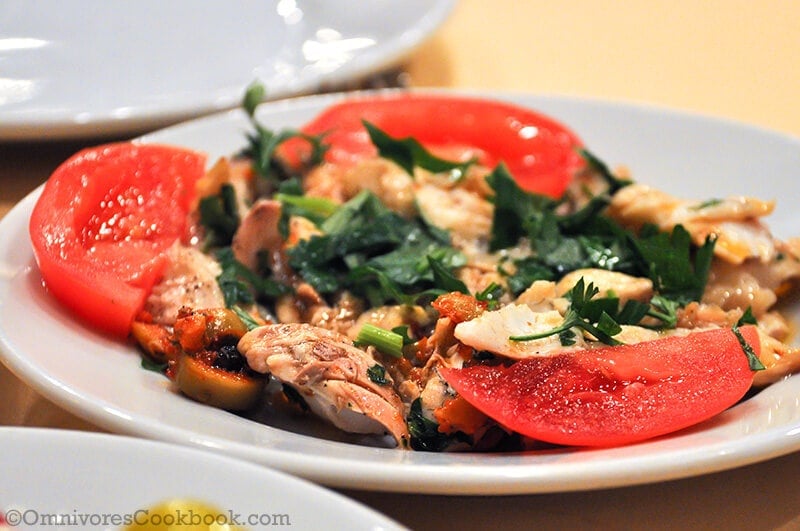 Sea bass served with olive oil and sweet pepper, sliced olives, and basil – One of my favorite dishes. The sea bass was lightly sauteed in olive oil. You could taste the freshness of the fish with right amount of spices, boosted by the olive and parsley. Always order the seasonal fish, since you'll hardly go wrong if the fish itself is fresh.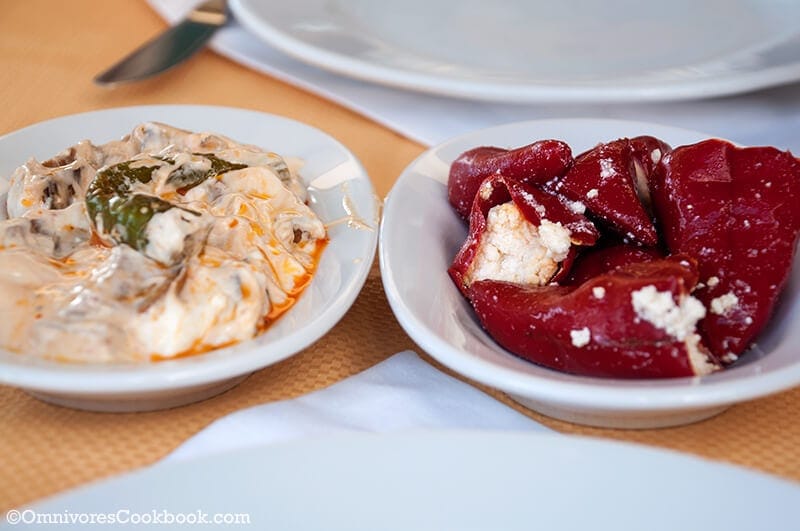 Left: Turkish fried eggplant with yogurt sauce and chili oil – A classic meze and a must have. The eggplant was soft with a nice flavor, balanced by the creamy and refreshing yogurt sauce. A fantastic dish to enjoy with freshly baked bread. The dish itself is quite easy to prepare. I cooked the basic version of eggplant with yogurt right after I came back and it turned out so good!
Right: Red peppers stuffed with cheese – Another popular Turkish meze. The pepper was dried first and then rehydrated before being pickled. So, the flavor of pepper is very concentrated and its texture quite firm. The cheese is like ricotta but a bit saltier. Also nice to have with bread.
See more posts on my adventure in Istanbul for delicious food pictures and introductions at:
Adventure in Istanbul – Colorful Street Food
Adventure in Istanbul – Dinner at Karaköy Lokantası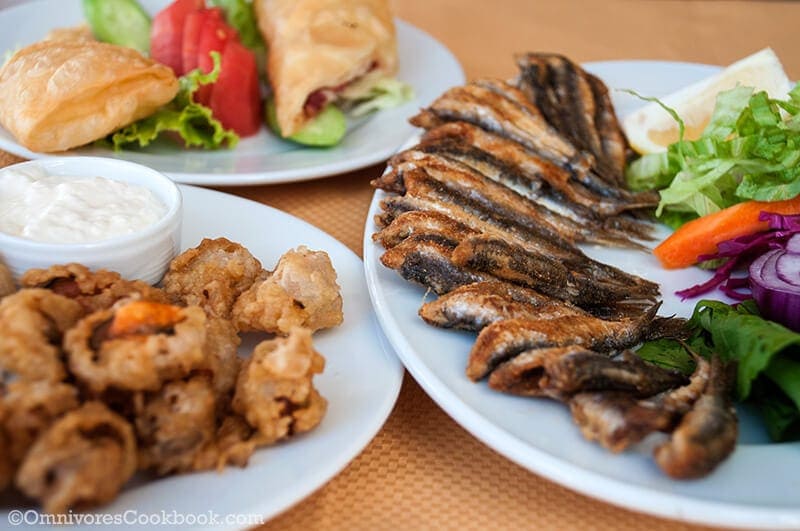 Left: Deep fried beer battered mussels served with garlicky yogurt – I loved this one! The mussels were so soft and fresh, with a batter so light and crispy that it melted in my mouth. The yogurt sauce is creamy but not heavy, and the sour flavor balanced with the intense flavor of the fried mussels well. Regretfully, we didn't have a chance to order it again. Will definitely try to cook this one when I find fresh mussels.
Right: Fried anchovy (Hamsi tava) – One of the most famous and a must have, especially during peak anchovy season. It was not heavily seasoned, so you could taste the original flavor of the fish, a flavor you cannot experience with anchovies from a can.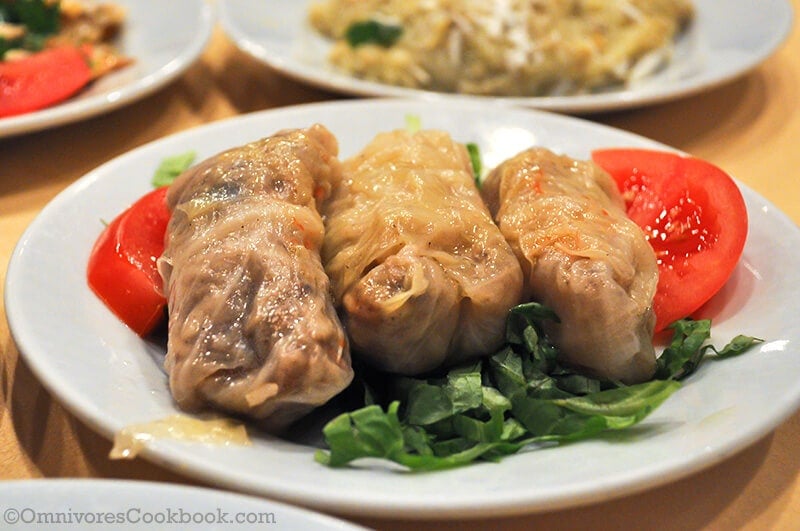 Steamed cabbage leaves stuffed with spiced rice – Similar to the famous spiced rice stuffed in grape leaves. The rice was seasoned with lots of spices, including cinnamon, clove, allspice, mint, parsley, dill, and garlic. It was a special flavor with all those spices, and I'm not sure it's for everyone. But the spiced rice is very common in Turkish cuisine and I enjoyed it a lot.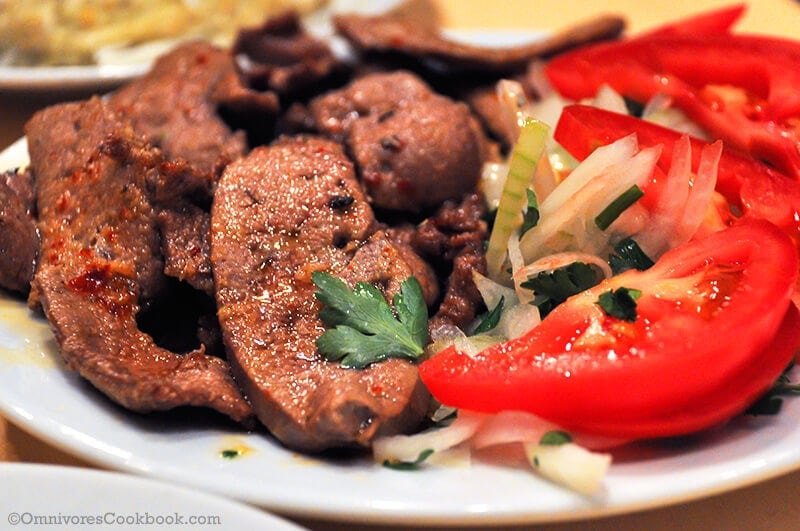 Lamb liver sauteed in olive oil and served with onion, tomato and parsley – Well, this one doesn't fall under the category of meze, but is instead a warm appetizer. I'm sharing it here because it's interesting that Turkish people like liver dishes, too. They did a good job eliminating the "liveriness" of the liver, and it tasted soft and juicy. This dish was not heavily seasoned and you could taste the delicious olive oil.
More posts on my adventure in Istanbul are coming soon!