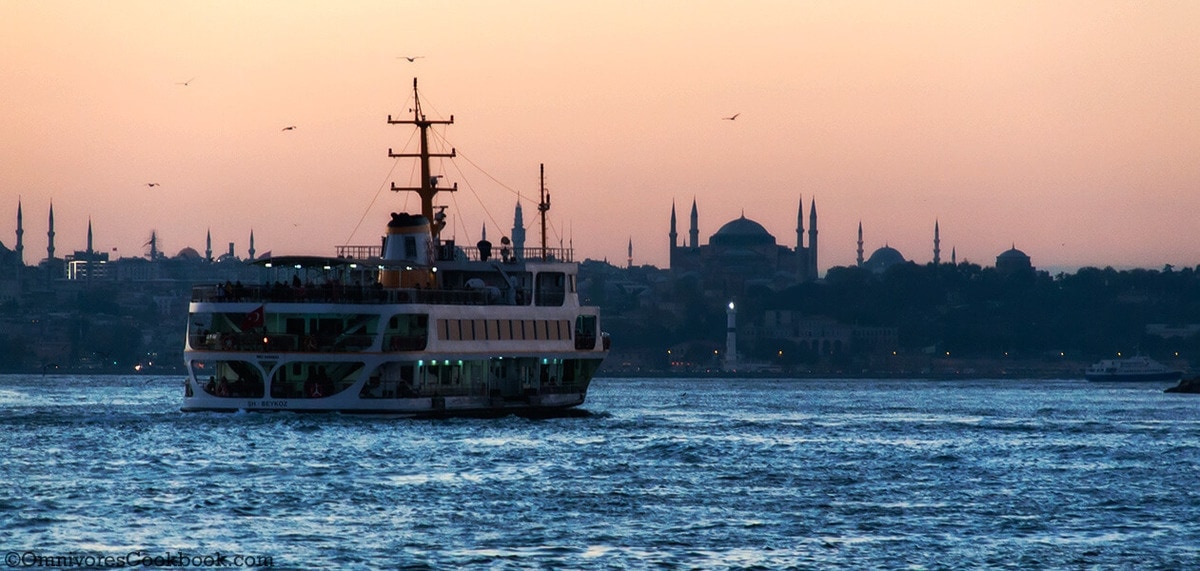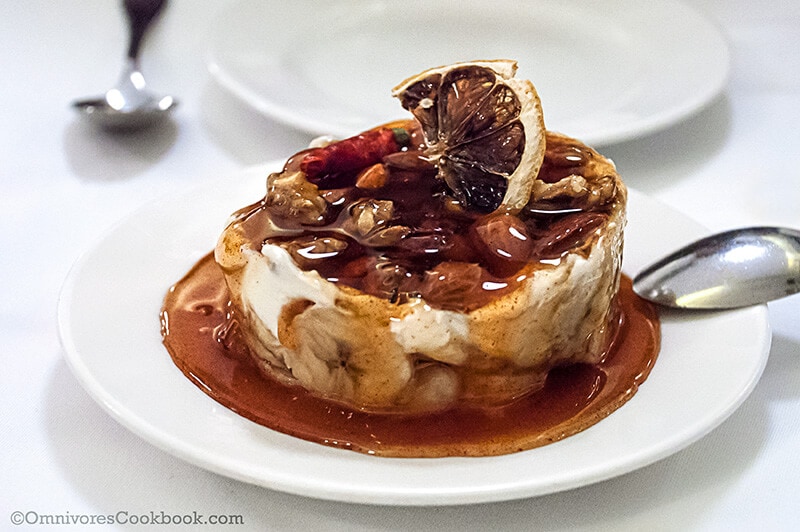 This article is one of my Adventure in Istanbul series, which mostly records my food experience in Istanbul with my boyfriend during a ten-day vacation. Scouting out restaurants was mostly done by my boyfriend Thomas. He also did a great job navigating the often confusing streets and ordering the right foods when there was only Turkish on the menu.
The dinner finished with an amazing dessert that we loved so much that I'm sharing it first! Bananas topped with almonds, walnuts, pistachios and clotted cream and covered in a honey chili sauce, shown in the photo above. Turkey is famous for producing an abundance of nuts, but I didn't realize how great they were until this moment. They were the freshest almonds and pistachios I'd ever had. The nuts were toasted so perfectly that they cracked in my mouth with a gentle bite. They were only lightly roasted, without oil, so that you could taste the original nutty flavor, enhanced by the honey and cream. I speculate that the cream was created by emulsifying butter and sugar, since I could taste the sweetness of raw butter. The infused pepper was not overwhelmingly spicy, but gave a smoky kick to the honey and made the whole dish look exotic. When great ingredients are fresh, the combination of raw materials is magical by itself. I would go back to this restaurant again, just for this dessert.
Dinner at Meze by Lemon Tree was a lovely surprise. We found this one with a web search, but didn't expect the place would be so popular and its food so full of surprise. We ordered the fixed menu for two, which included five meze, a warm starter, two main dishes and a dessert. It turned out that they serve such big portions, from meze through dessert, that we regretfully couldn't finish all the dishes (We did finish the dessert, because it was too good to go to waste!!). The chef came to every table to chat throughout dinner. He explained to us that they insist on serving very big portions of food, because it's a Turkish tradition to enjoy a very long and filling dinner over a few hours, starting from meze with nice wine or Rakı. Also, he poured us two glasses of Rakı on the house, as an "apology" that the portions were bigger than we preferred.
You can find information on the restaurant and menu at their website. Make sure you have a reservation before going, as the place will invariably be full, and the boss will tell you to come back after 10pm. One more thing take note of, please make sure you write down the address of any Istanbul restaurant before setting out, since Google Maps doesn't do a very precise job there.
From here, I'll share the dishes we had, starting with meze, followed by the warm appetizer and mains.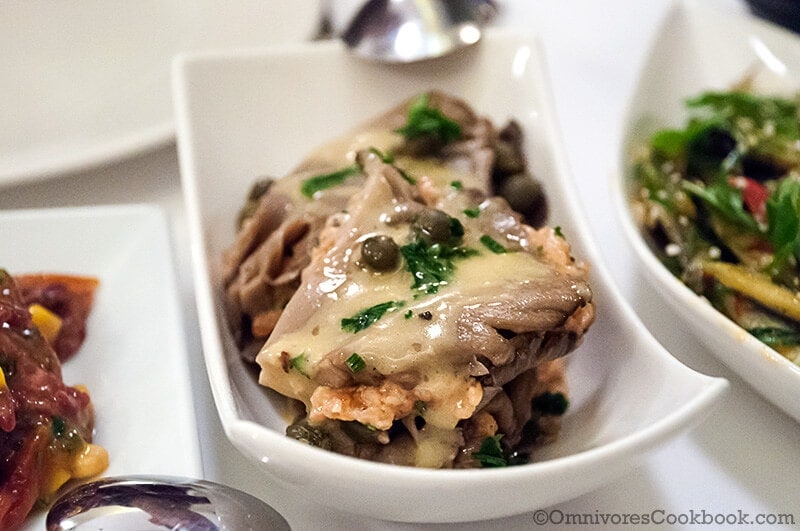 Oyster mushrooms stuffed with smoked Salmon, topped with basil, dill, and capers – A great example of how to use capers properly to enhance flavor. Quite a good inspiration. The dish tasted intense and the flavor combination was new and delicious.
Fried eggplant with yogurt tomato salad, garnished with parsley – One of my favorite dishes of the night. This is another version of the classic Turkish eggplant with yogurt and was a very refreshing dish that balanced the meat and poultry dishes nicely.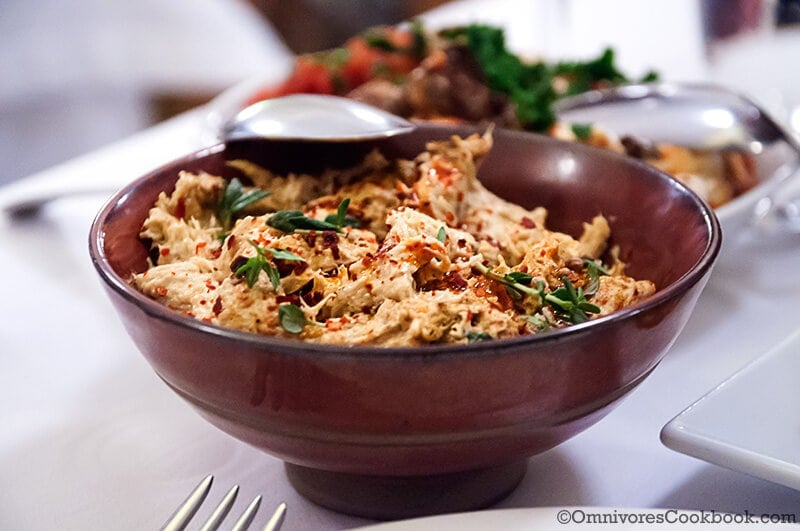 Nutty, mustard flavored chicken pâté, garnished with thyme, mustard seed, and pepper flakes – A very appetizing pâté that goes superbly with bread. Will definitely try to cook this one at home.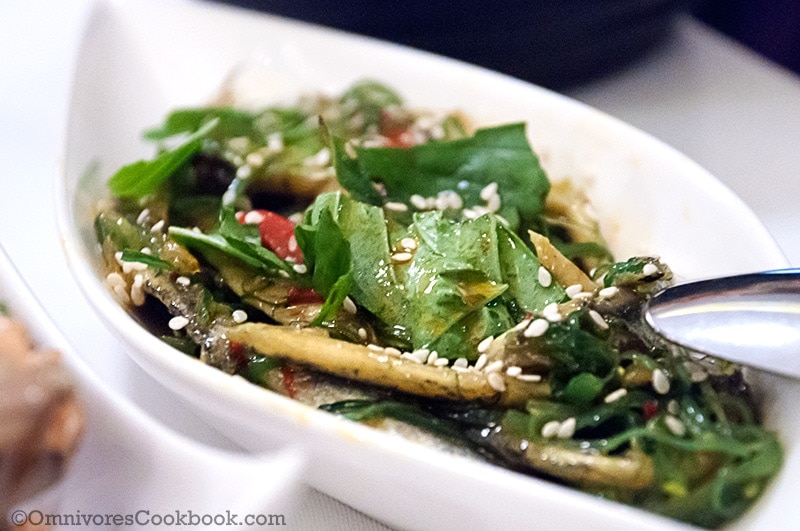 Anchovy with seaweed, sweet sour sauce, and sesame – The combination of the sauce and seaweed in this dish made me think of Japanese cuisine. The sweet sour flavor balanced well with the salty anchovy.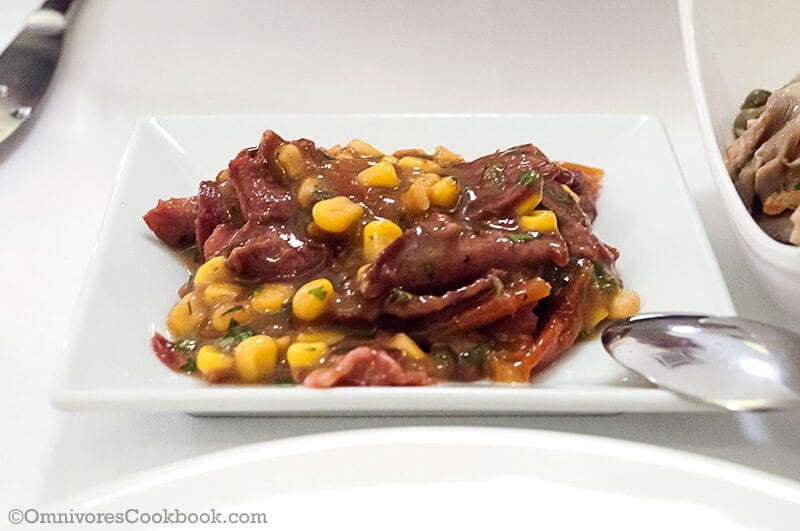 Beef tongue and corn with sweet sour sauce, topped with basil – This is a quite creative dish and I don't think it's traditional Turkish cuisine. The beef tongue was tender and tasted nice with the sauce. But the dish was a bit salty, and I needed to have some bread to go with it.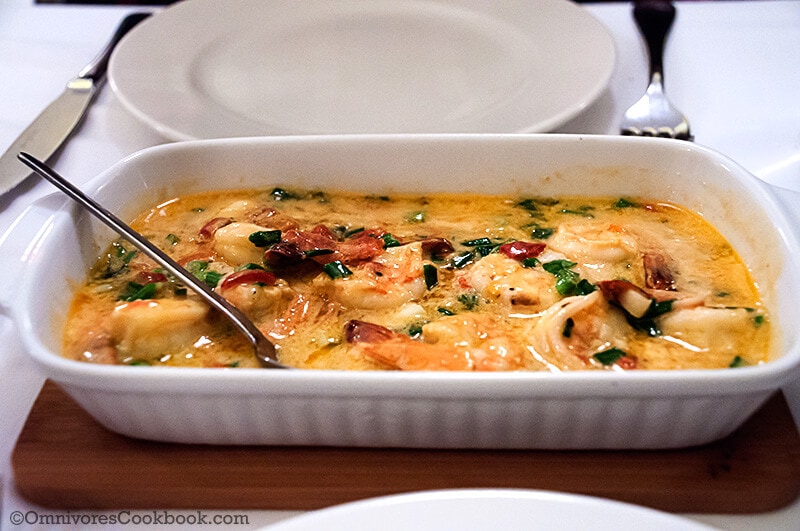 Shrimp casserole in a rich saffron coconut broth, garnished with green onion and roasted red bell pepper – This one made me think of Thai food, but wasn't spicy. One of my favorite dishes of the meal.
Roast lamb with green salad, garlicky mashed potatoes, pickled beets, and boiled sweet corn – The lamb was tender and juicy, with minimal seasoning so that you could taste the original flavor. The salad and the rest of the vegetables were nicely prepared and everything tasted good.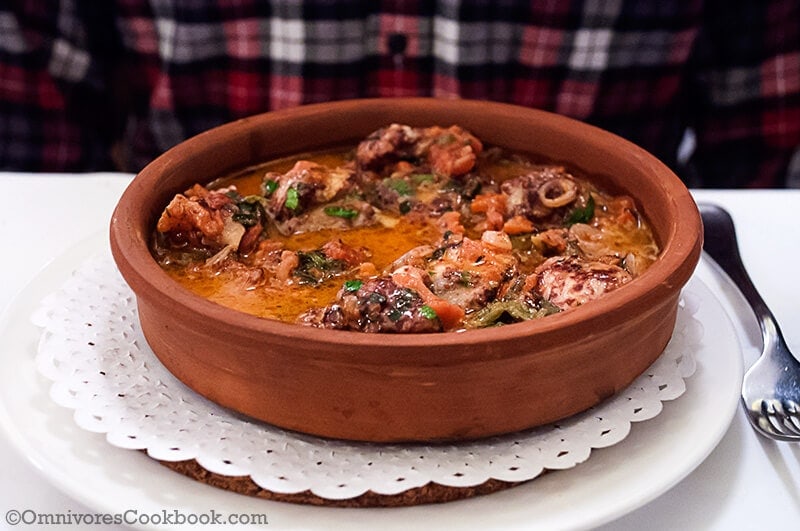 Monkfish in a tomato and cheese based broth, garnished with parsley – The cheese flavor in this dish was strong and almost tasted bleu. Not my favorite dish, but I did like the fish a lot, which was fresh and fatty.
See more posts on my adventure in Istanbul for delicious food pictures and introductions at:
Adventure in Istanbul – Colorful Street Food
Adventure in Istanbul – Dinner at Karaköy Lokantası
Adventure in Istanbul – Enjoy Turkish Meze