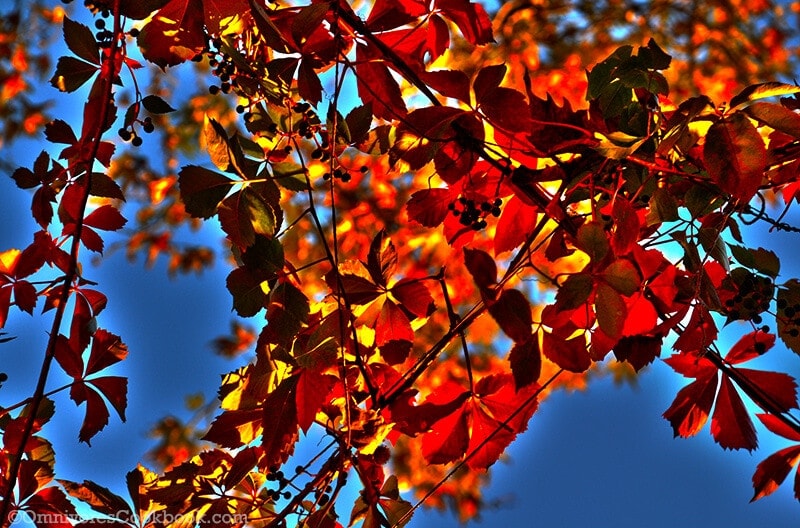 This article is one of my Adventure in Istanbul series, which mostly records my food experience in Istanbul with my boyfriend during a ten-day vacation. Scouting out restaurants was mostly done by my boyfriend Thomas. He also did a great job navigating the often confusing streets and ordering the right foods when there was only Turkish on the menu.
Karaköy Lokantası is one of the restaurants you shouldn't miss if you visit Istanbul, simply because you can hardly go wrong at this place. We went there the first evening we arrived, but failed to have dinner, because we didn't make a reservation. We did the right thing, though and made a reservation right away for the following evening. The food turned out so good, that we went there twice during our short stay in Istanbul. We tried about half the dishes on the menu, and they were all very very tasty, no exaggeration! One lesson learned there: always make a reservation beforehand, ideally a day before, when you want to dine at a nice restaurant in Istanbul, because popular places will be full of people after 6pm, no matter whether on weekdays or weekends.
Karaköy Lokantası offers various traditional Turkish meze, and you can choose from the counter, where they display everything. They also have several European dishes on the menu, but you can expect lots of well prepared and delicate local Turkish cuisine. The price is reasonable, around 70 – 120 TL for two people, which will get you about three meze, two main dishes, and some wine.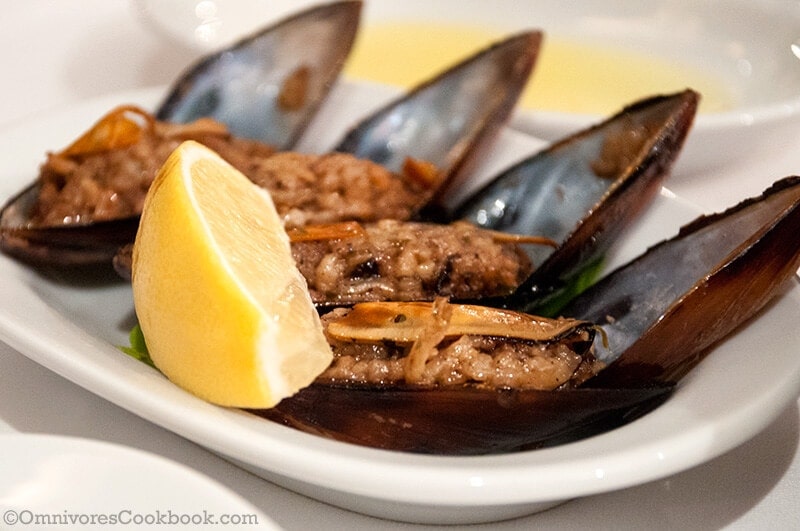 Midye Dolması is steamed mussels stuffed with spiced rice, served with a drizzle of lemon juice. Because of the stuffed rice, the mussels tasted less distinct and flavor was more complex, infused with parsley, garlic and olive oil. This dish is a local specialty, which you can easily find in restaurants or at stands on the street. I prefer to have it in a restaurant, since they can guarantee the mussels are fresh.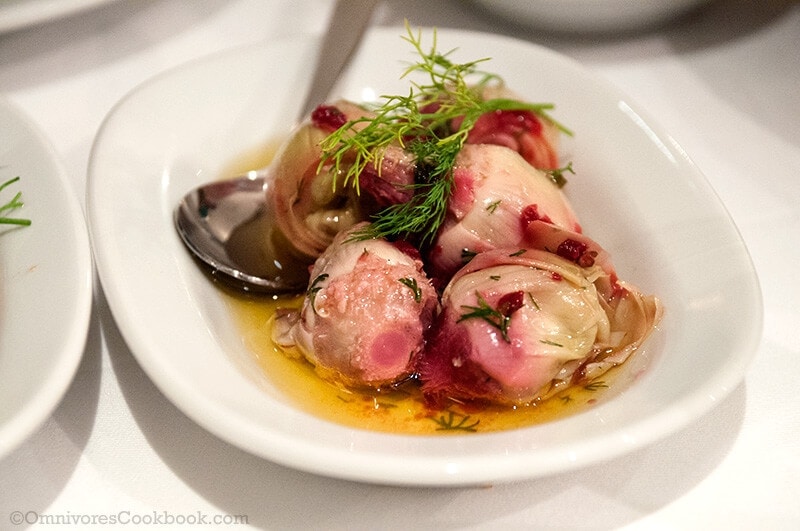 Pickled artichokes with olive oil and dill, one of my favorite dishes. The seasoning was simple, yet very tasty. Olive oil, fresh dill and lemon juice are very common ingredients in Turkish cuisine. We noticed that Turkish olive oil tastes quite different from those from Italy and Spain. Turkish olive oil has distinct nutty, grassy, and fruity flavor and exhibits a much stronger character than the milder Italian and Spanish olive oils. For example, if used as a bread dipping sauce, Turkish olive oil simply tastes more flavorful, and I enjoyed it a lot.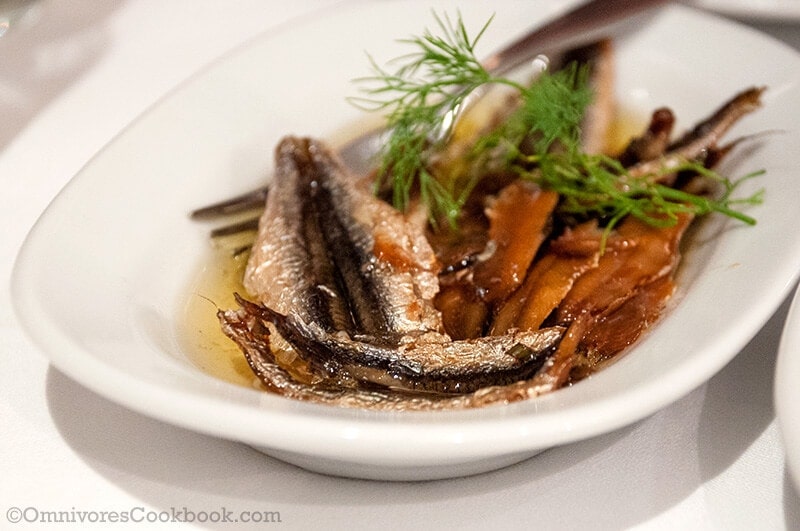 Hamsi (anchovy) soaked in olive oil with dill. Another must have in Istanbul. Although the time we visited was not peak anchovy season (which runs from November to March), the fish was still nicely oily and juicy, with a taste of the sea.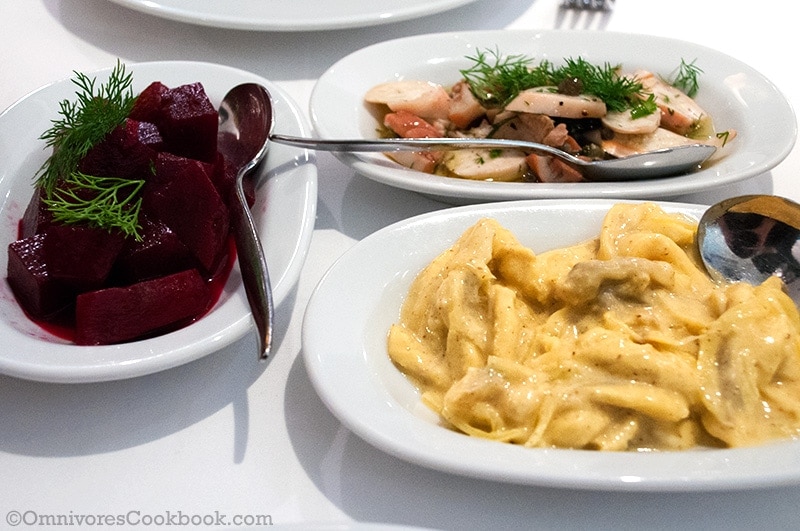 In the above picture, from left to right, top to down:
Beet salad with dill – Like lots of Turkish dishes, this one used lemon juice as its main seasoning and tasted very refreshing.
Boiled octopus soaked in olive oil and topped with capers and dill – I'd never had octopus so tender! This is a very simple dish, but the octopus tasted so good with the combination of capers and olive oil. This one inspired me on how to use capers, and I want to experiment more with them now.
Sea bass and onion with a creamy mustard sauce – The sea bass was meaty and tender, and very satisfying with the rich sauce.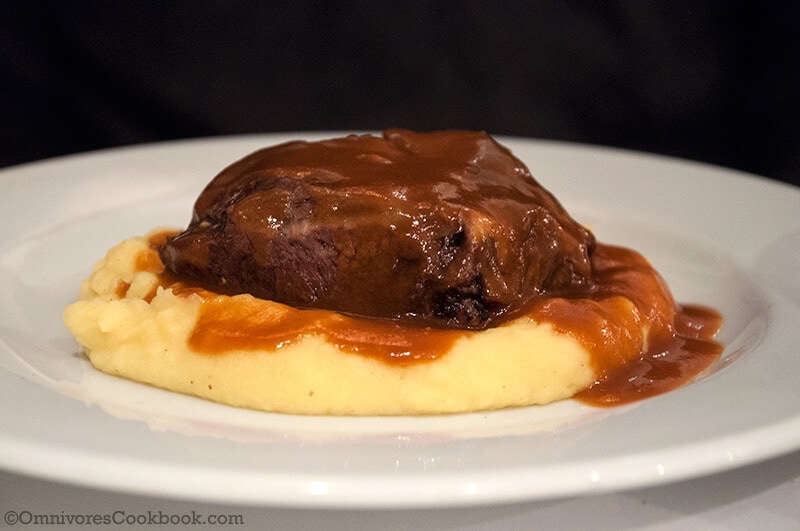 Veal cheek with gravy, atop mashed potatoes – The veal was soooooooooo soft and juicy! It literally melted in my mouth when I gently chewed it. Although this might not be a very traditional Turkish dish, I really loved it a lot. It might be the best veal dishes I ever had. The gravy was quite light and added just the right amount of flavor to the veal. There were four meat main dishes at Karaköy Lokantası and we tried three of them. This one was the best!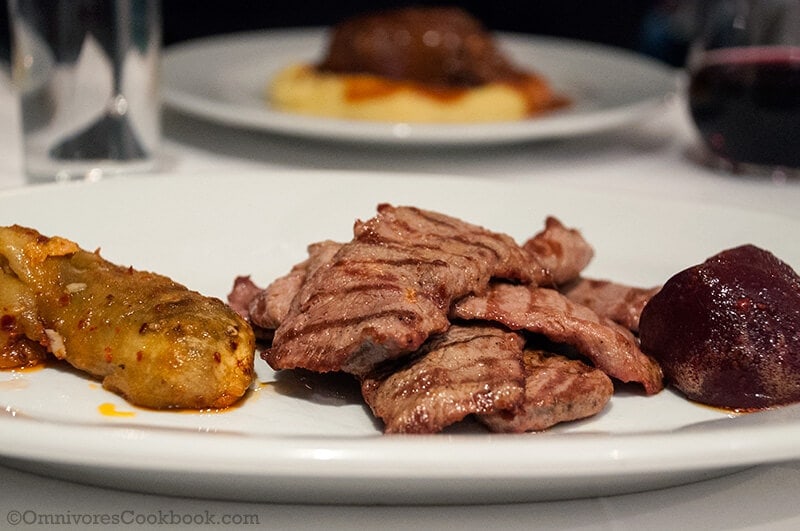 Grilled lamb with roasted eggplant and beet salad – The lamb was smoky and tasty, but the best thing about this dish was the piece of eggplant. I really don't know how to describe it, since it had very complex flavor, such that I couldn't figure out which ingredients were used. I can only surmise it had mild Turkish pepper and garlic, and that the eggplant had been grilled since it tasted smoky. The best eggplant I ever had! This was an occasion that I wanted to go ask the chef for his recipe. I will definitely order this dish if I go there again, simply to enjoy the eggplant. I will collect my courage to ask for the recipe if I have another chance!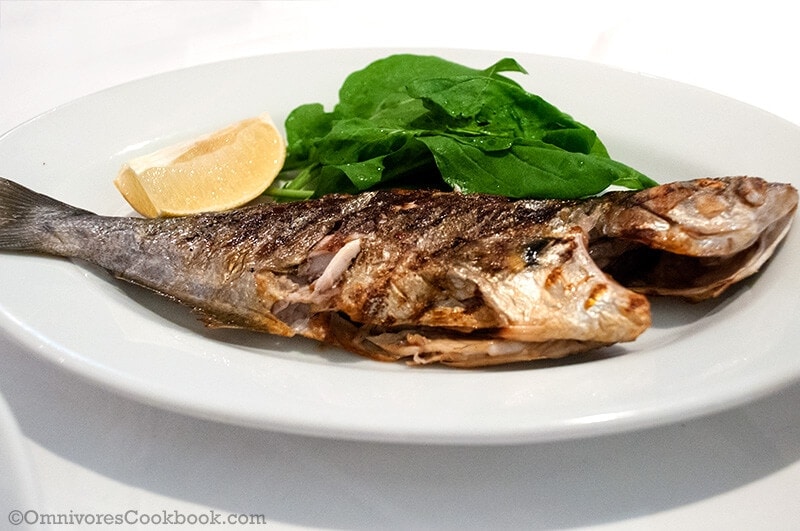 Grilled fresh bluefish (Lüfer) served with lemon and green salad. Bluefish was in peak season so we got this dish. The fish was lightly seasoned with salt and was very fresh.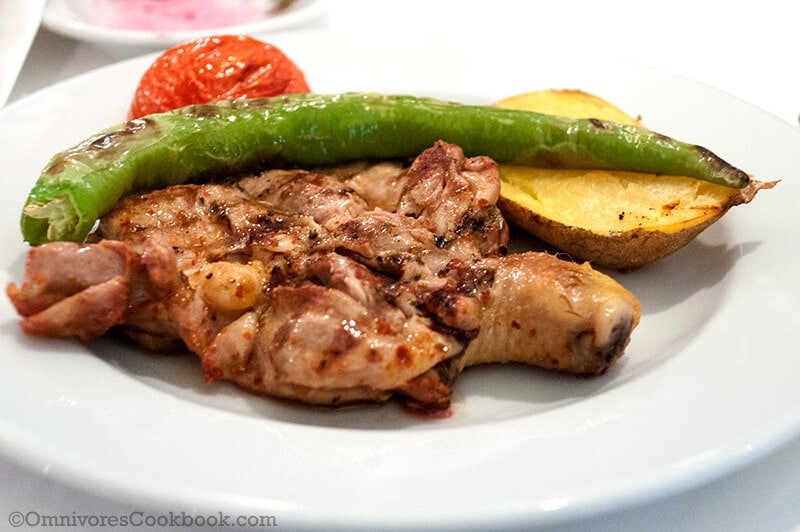 Grilled boneless garlic chicken with grilled pepper, tomato and potato – The chicken was season with salt and sweet pepper. Very very juicy and flavorful.
One dish we did miss was a meze made from veal brain. I saw this one at the display counter – a pile of whole veal brains, shaped like miniature human brains! It looked pretty scary at first sight. Afterwards, I wondered about how they serve it. I guessed the brain might be mashed to make the appearance slightly less appalling. Or would it be served whole? I should have ordered it because I can't find the answer now! Please definitely drop me a message if you have the courage to try this dish.
—————————————-
Information of Karaköy Lokantası:
Address: Kemankeş Karamustafa Paşa Mh., Kemankeş Cd No:37, 34425 İstanbul, Turkey
Phone:+90 212 292 4455