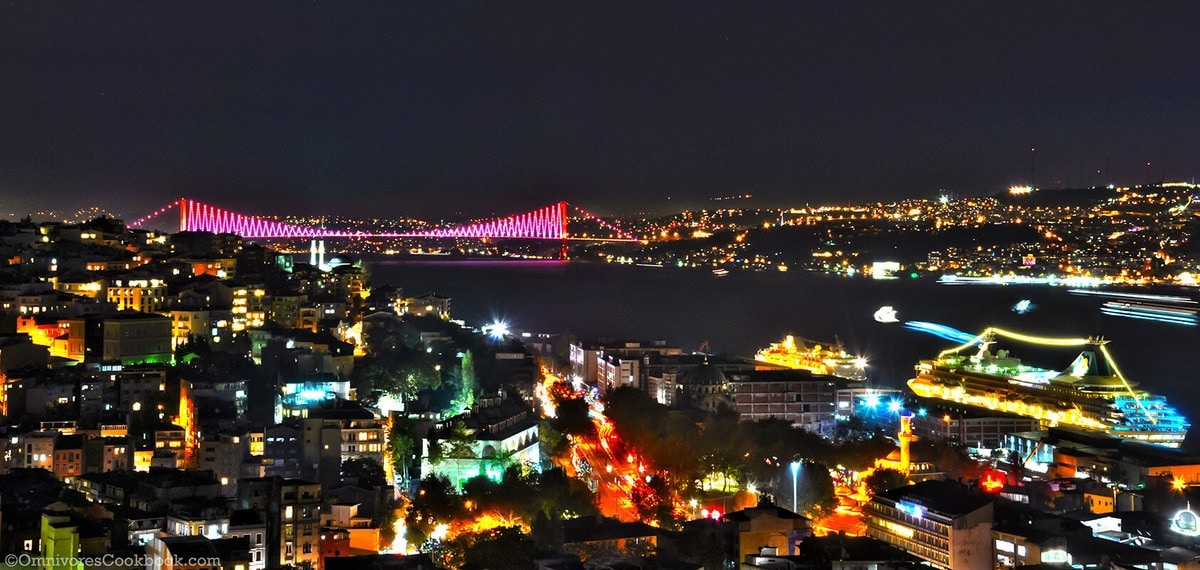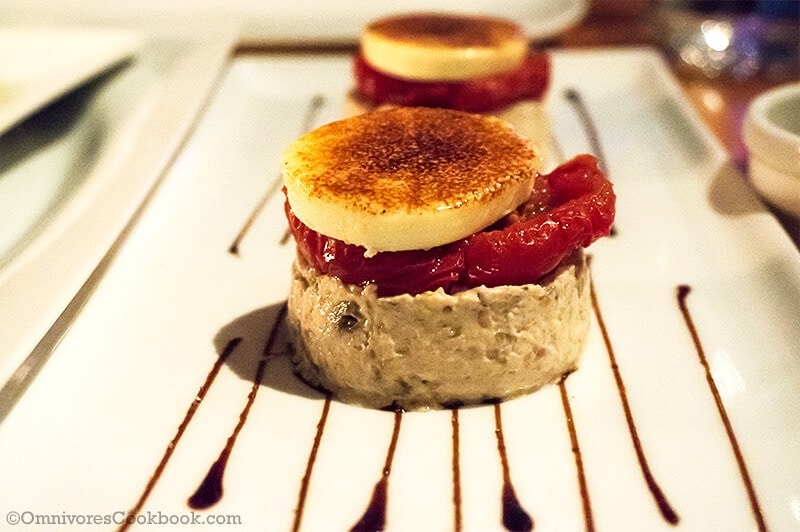 This article is one of my Adventure in Istanbul series, which mostly records my food experience in Istanbul with my boyfriend during a ten-day vacation. Scouting out restaurants was mostly done by my boyfriend Thomas. He also did a great job navigating the often confusing streets and ordering the right foods when there was only Turkish on the menu.
We went to Leb-i Derya to celebrate my boyfriend's birthday. We had a great time at the restaurant, an evening to remember, so I decided to make it the final post about my food adventure in Istanbul.
The restaurant is located on a very busy street off Istiklal Caddesi, on the terrace floor of the Richmond Hotel. The restaurant serves Italian fusion food with Turkish elements, with a lovely night view. Food quality was very nice, but a bit pricy. Compared to other Turkish restaurants, you'll see more familiar words on the menu here, but quite a lot of local ingredients are used in every dish, and this made the dining experience quite special.
We ordered two starters and two main dishes, with a bottle of Turkish Syrah. The second picture above is Bufala Ricotta, Fresh Thyme Scented Hummus, Tomato Salad, Citrus Oil. The ricotta was covered with a thin layer of crispy caramelized sugar. All three main ingredients were delicious, but tasted even better when combined together. The creamy hummus, smoky grilled tomato, and savory ricotta created a very new and exciting flavor for my palate.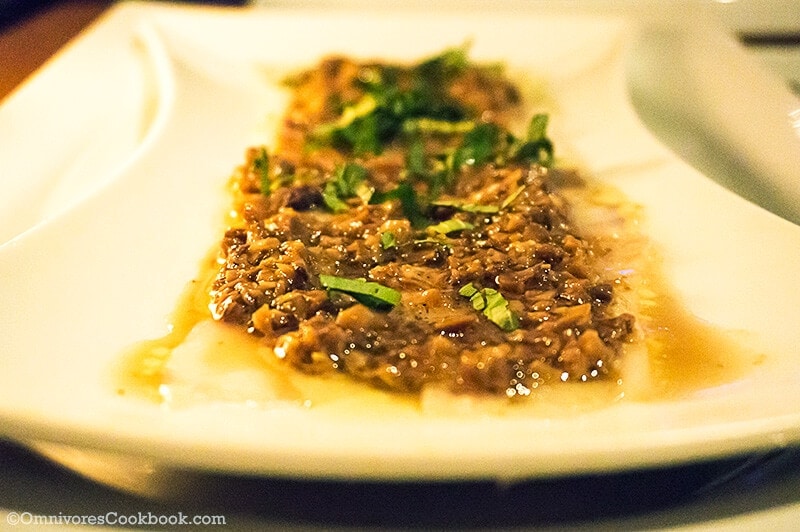 Sea Bass Carpaccio, Truffle Scented Mushroom Tapenade, Fresh Basil: This one tasted wonderful, but I considered it cheating… Because the dish uses truffle oil, which kind of overpowers the mushroom and sea bass, and makes the whole dish very good in a much-too-obvious way. The sea bass was fresh and soft, with a very nice texture. I will keep this dish in mind, since I also like to use touch of truffle oil as a secret ingredient or to turn a plain dish fabulous.
Lamb Shish Kabob With Plums, Pomegranate Molasses, Fresh Thyme, Spiced Risotto With Current & Pine Nuts: Even thinking about this dish gets me salivating. It was one of the best lamb dishes I ever had. The lamb was extremely fresh, juicy and soft, full of flavor but you could taste the original savory flavor of the lamb itself. The thin coating of sweet-sour pomegranate molasses and sour dried plums balanced the greasy lamb very well, and made the dish taste distinctly Turkish. Sorry, I have no comment on the risotto under it, because I was entirely focused on the lamb!
Pistachio Crusted Salmon, Lavender-Dill Tabouleh, Mango Cream: This dish was quite light. The salmon was nicely cooked and tasted great with the mango cream. I used to bake salmon topped with nuts, but this one was better, because the pistachios were perfectly toasted. I can't give a fair comment on this dish, because I was totally occupied with my lamb dish at the time!
The birthday dinner at Leb-i Derya was a wonderful experience. If you want a change from casual local food to something more familiar, yet still have a taste of Turkish cuisine, this restaurant is a good choice.
***
Information about  Leb-i Derya (Richmond)
Address: Istiklal caddesi No:227 Richmond Otel Kat:6l
Phone: +90 (0) 212 243 4375       +90 (0) 212 243 4376
Website: http://www.lebiderya.com/richmond_eng/rezerve.html
***
For more dining experience and delicious food pictures, check out my Adventure in Istanbul series at:
Adventure in Istanbul – Colorful Street Food
Adventure in Istanbul – Dinner at Karaköy Lokantası
Adventure in Istanbul – Enjoy Turkish Meze
Adventure in Istanbul – Dinner at Meze by Lemon Tree
Adventure in Istanbul – Enjoy Turkish Coffee
Adventure in Istanbul – Lunch at Gram
Adventure in Istanbul – Turkish Food Experience
Breakfast Experience in Istanbul
For more beautiful travel photos, check out:
Adventure in Istanbul – Travel Photos and Shoot Locations
Adventure in Istanbul – Photos of Mosque and Palace