These baked thighs are perfect for a weekday dinner. All you need is: five minutes active cooking time, five ingredients, and 30 minutes baking time to get the juiciest texture with crispy skin. No brining or broiling required.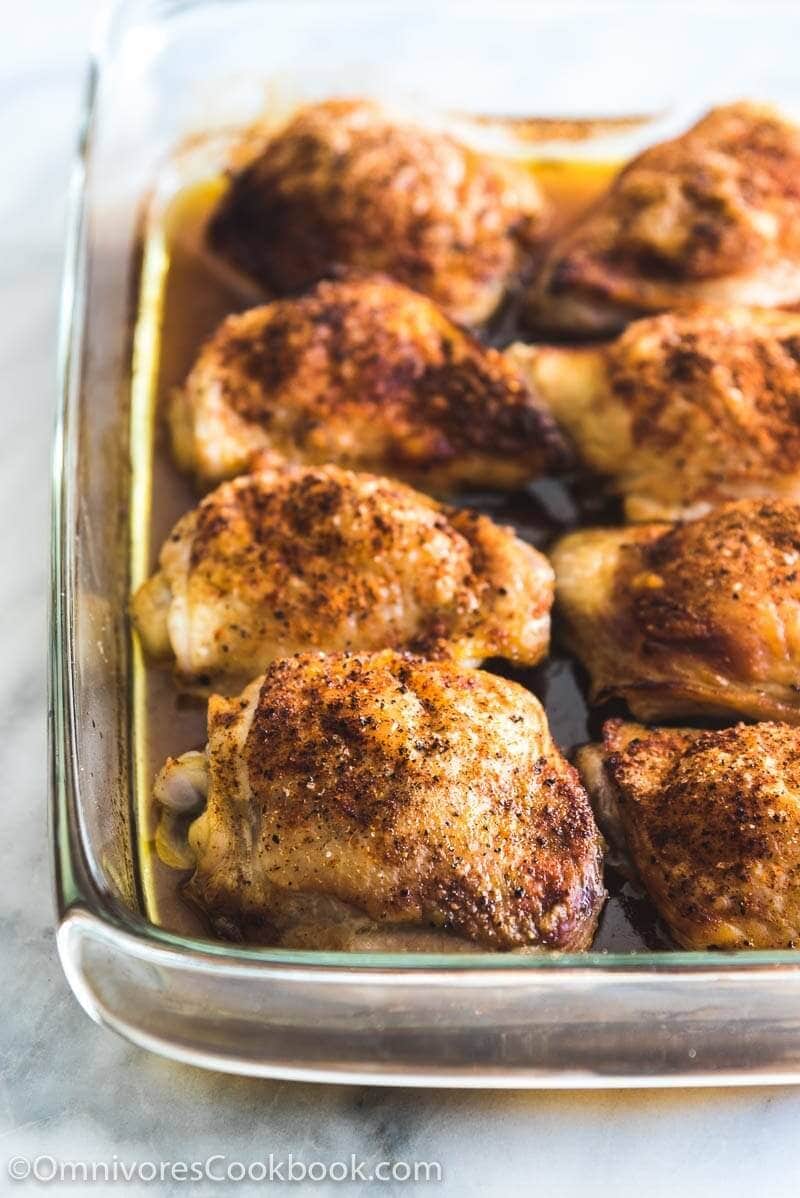 Sometimes simplicity is the best. Like this five-ingredient baked chicken thigh I invented the other day.
As a person who loves chicken dishes and couldn't get tired of them, ever, even if served every single day, I'm constantly searching for easier and faster methods to cook chicken, so I can serve it even more often for our weekday dinners! My goal is always the same – juicy chicken with crispy skin.

MY LATEST VIDEOS
Crispy chicken skin is my obsession. I won't even order a chicken dish if it does not have skin on. Of course you could ignore me if you want to cook this recipe with skinless thighs. They work, too. For the best results, bone-in and skin-on is the only way to go.
Also, do use organic chicken when possible. Organic chicken typically has thinner skin that crisps up perfectly. Avoid the bone-in thighs that have a thick, duck-like skin. This way, you can enjoy a better tasting dish without worrying about your cholesterol or fat intake.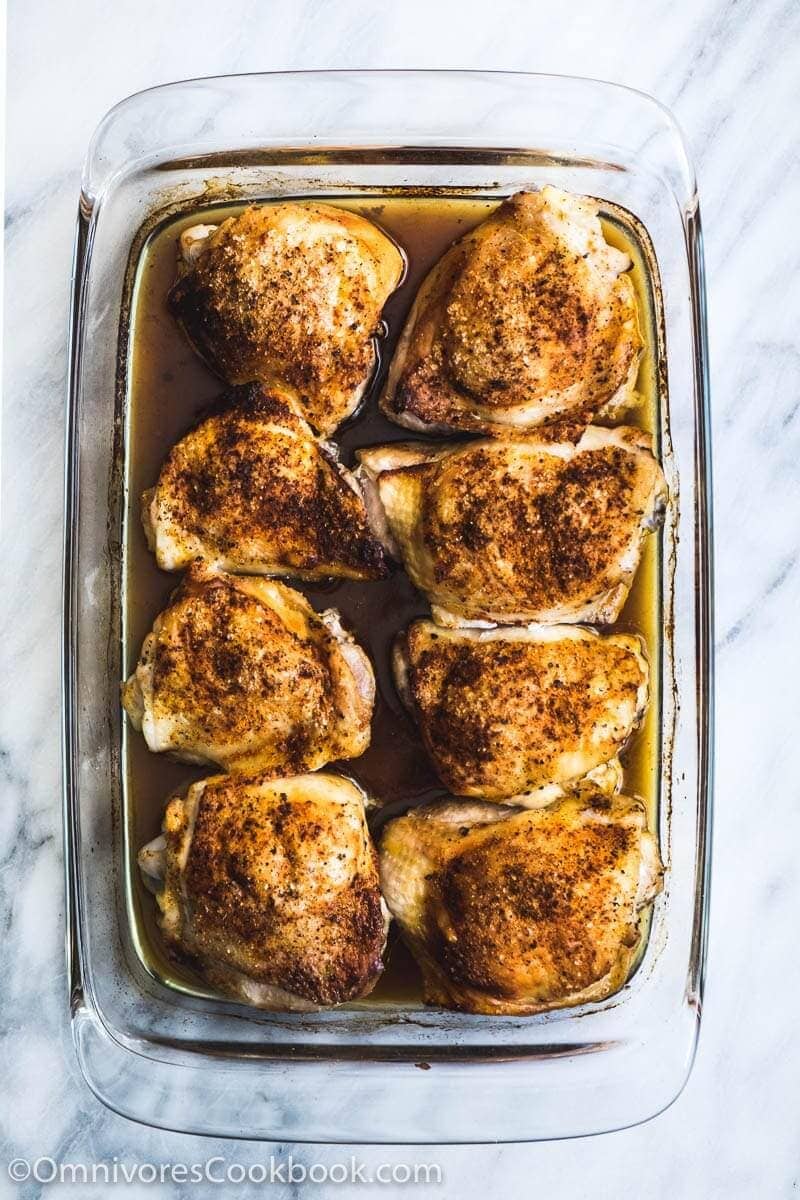 This recipe was inspired by two of my older recipes – Chicken A La Benson and Oven Baked Wings. The former recipe uses plenty of red wine and chicken stock to submerge the lower part of the thighs, to keep the chicken juicy, infuse plenty of flavor, and expose the skin so it will crisp up. The latter recipe marinates the chicken in Japanese sake (rice wine) to produce a very fragrant result with minimal seasoning.
After combining the two recipes together with a twist, I managed to:
Eliminate the brining and marinating process.
Use minimal ingredients.
Get super juicy chicken – you can see the juice seeping out when you cut the chicken.
Crisp up the skin evenly without turning on the broiler.
Perfect skin that is even crispier than fried bacon.
Minimal prep, no chopping.
Shorten the baking time to barely 30 minutes.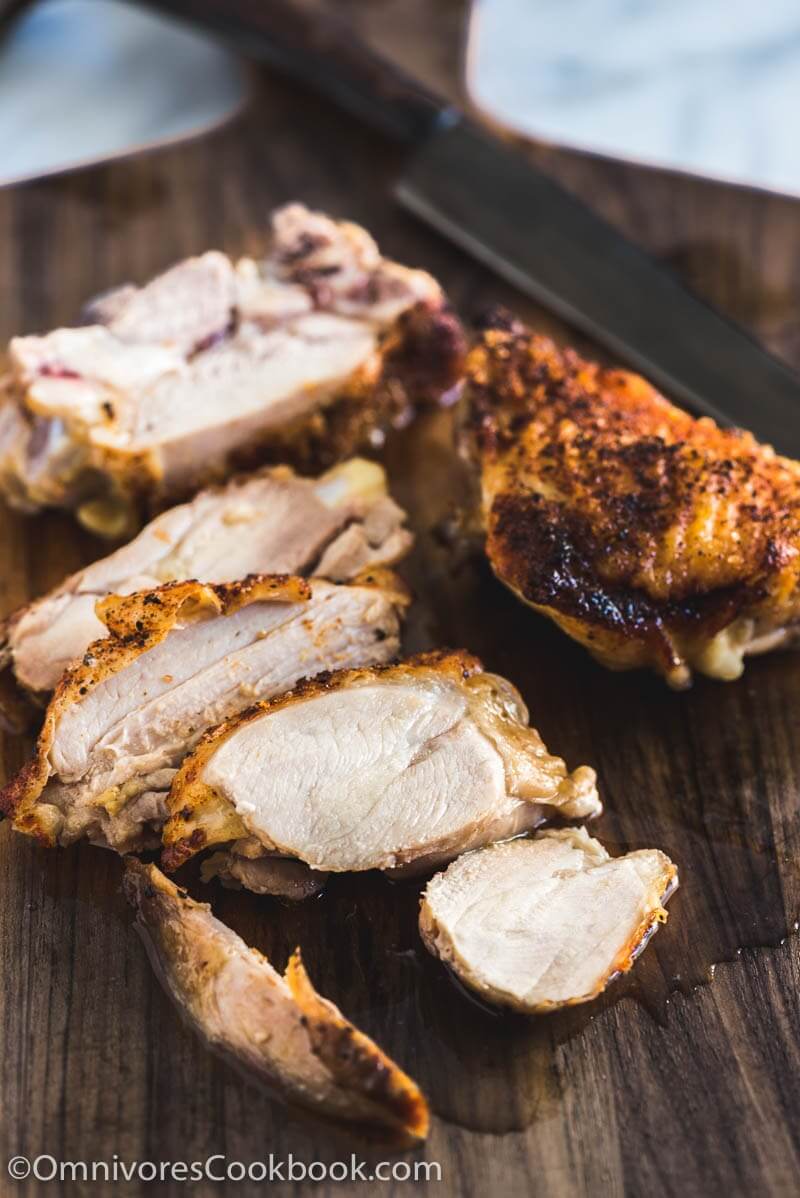 Even better, there are many choices when it comes to serving. You can
Serve it as a main with an Asian style side of greens. Recipes that go well with the chicken are 3-ingredient swiss chard stir-fry, broccoli with oyster sauce, baby bok choy with garlic dressing, four-ingredient okra stir fry, and vinaigrette cabbage. These sides require less than 20 minutes to get ready, so you can cook them while the chicken is baking. Dinner will be ready in 30 minutes.
Serve it as a main with a simple salad. Believe it or not, all types of salad dressing go well with this chicken. Want something interesting? Try out this miso turmeric dressing or avocado lime dressing.
Use the leftovers to cook chicken lasagna, chicken salad, Thai chicken soup, fried rice, or quick fried noodles.
Ready to cook some chicken?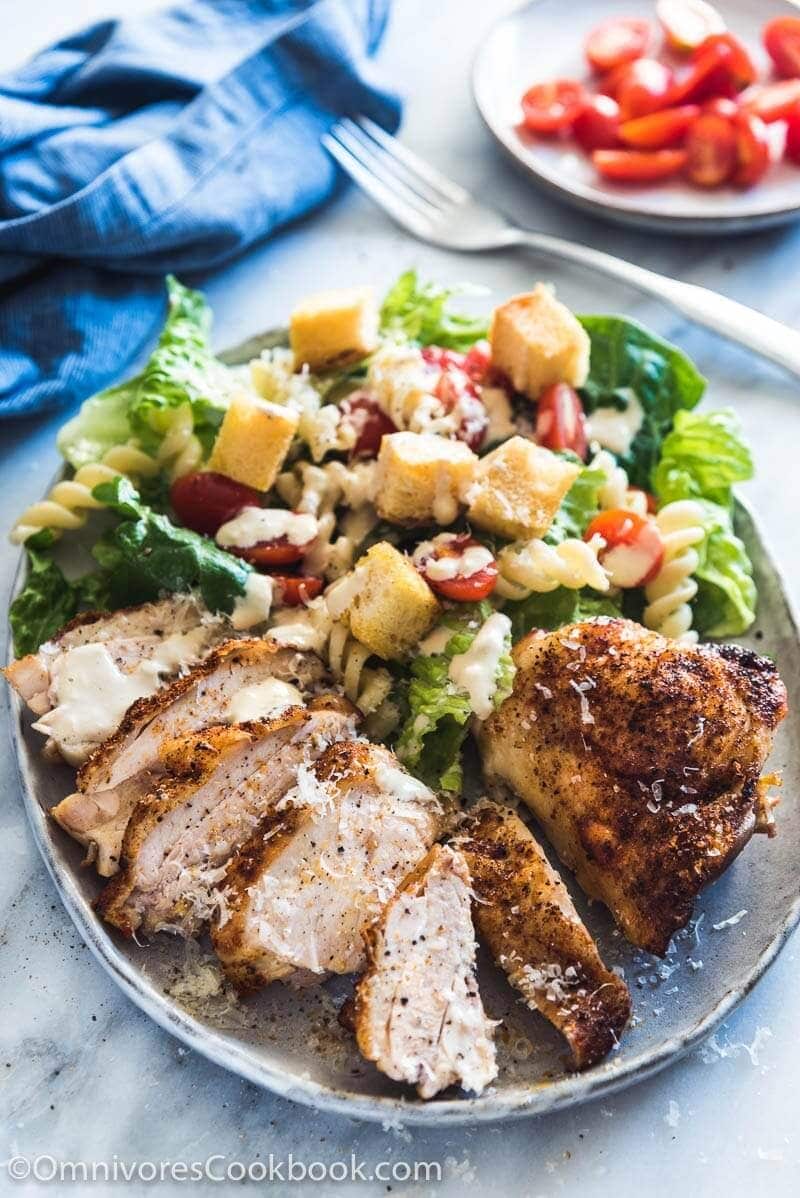 If you give this recipe a try, let us know! Leave a comment, rate it (once you've tried it), and take a picture and tag it #omnivorescookbook on Instagram! I'd love to see what you come up with. Cheers, friends!
Print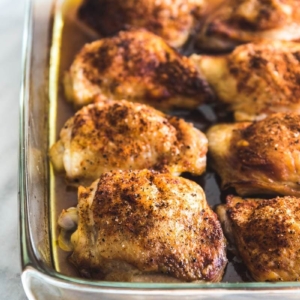 5-Ingredient Baked Chicken Thigh
---
Author:

Prep Time:

5 mins

Cook Time:

30 mins

Total Time:

35 mins

Yield:

4 to 6

Category:

Main

Cuisine:

Chinese Fusion
Ingredients
---
Instructions
Preheat oven to 220 C (425 F) convection.
Dry chicken thighs thoroughly with paper towel.
Combine Japanese sake and soy sauce in a large baking dish. Stir to mix well. Add chicken thighs, skin side up. Arrange them to expose more skin and avoid overlapping.

Generously grind sea salt and black pepper onto the chicken skin. Evenly sprinkle cayenne pepper (or paprika).

Bake until the skin is crispy and a thermometer inserted near the bone reads 165 F, about 30 minutes.

Let cool for 5 to 10 minutes. Serve warm as main.
To reheat leftover chicken, bake the chicken with the remaining pan sauce at 180 degrees C (350 F) until warm. The chicken will stay moist.
The nutrition facts are calculated based on 1 of the 6 servings generated by this recipe.