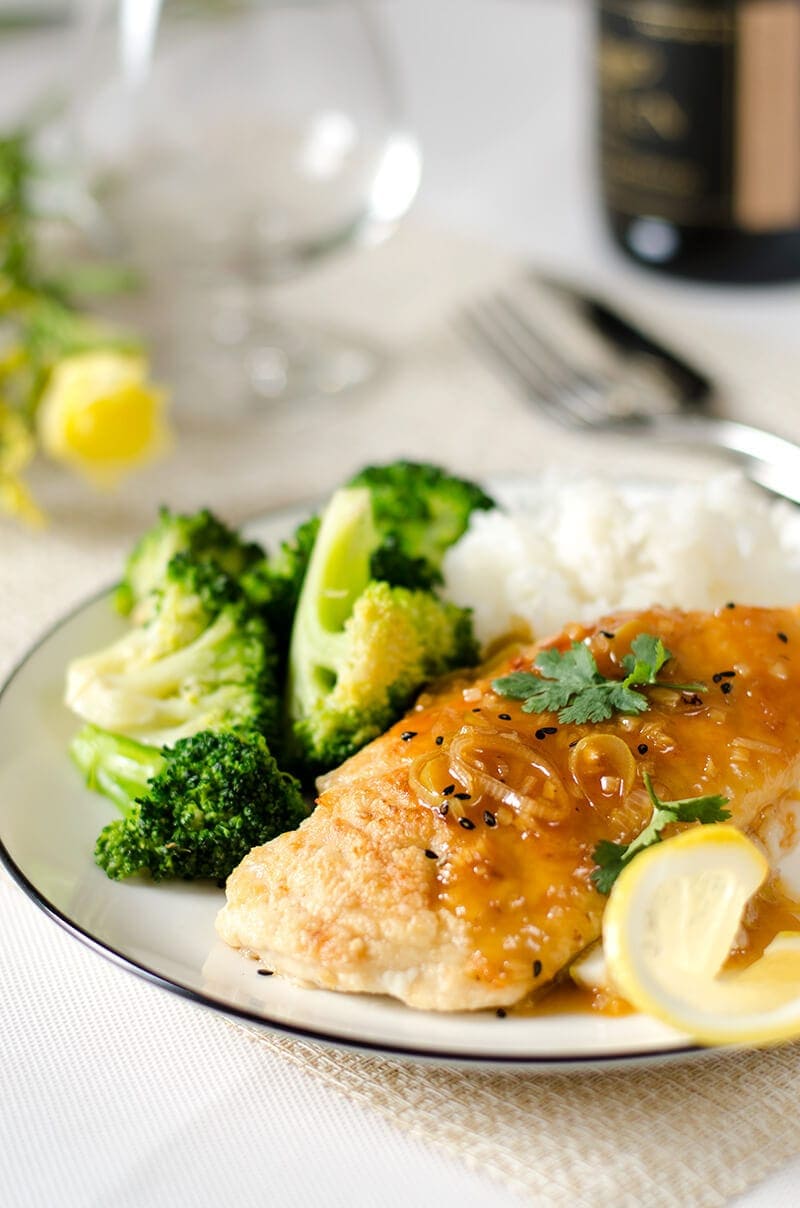 One greatest thing about blogging is, you're in a status of continuously learning. For example, before I started this blog, I had no idea what lemon chicken is, or what general Tso's chicken is. Although I consider myself a qualified foodie for domestic Chinese food, I was very new to the world of oversea's Chinese cuisine. If you enjoy the Chinese food in your country and come to China one day, you might be so surprised that how dishes taste so different, or you cannot even find the most popular dish you like. It is the same logic that you'll find preserved egg congee and fried dough bread at McDonalds in China, or you cannot find mashed potato at KFC in Japan.
Food travels with transformed shape and tastes to countries far away from its originated place. When you find a dish that's so different than what you're familiar with, it doesn't mean it has to taste bad, or not right. Lately, I gradually started to learn to hold a more tolerant attitude towards different forms of Chinese cuisine. Because I tried out some of the famous dishes in oversea's Chinese restaurant's menu, and found them very delicious, like this lemon chicken.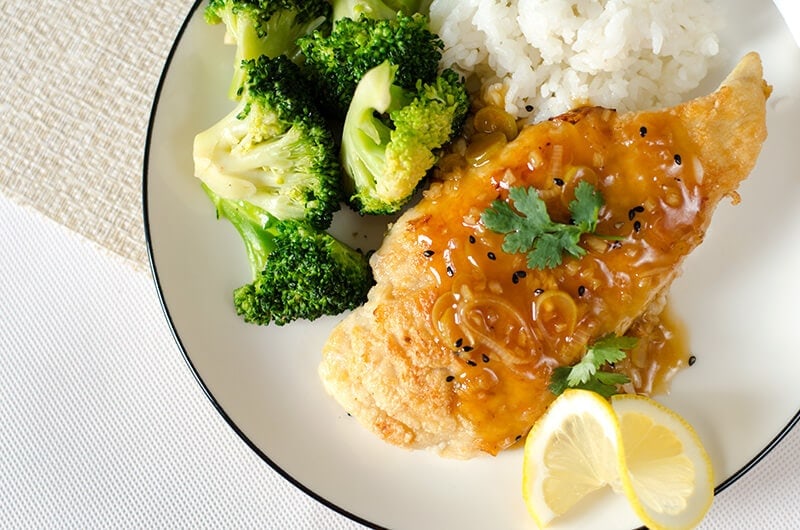 After I went through some lemon chicken recipes online, I found most recipes deep-fry the chicken to boost its texture and taste. I admit that all fried food is tastier, but it doesn't fit into my daily diet so well and it's quite messy to cook deep fried dish at home. So I tried to find a way to cook this dish in a healthier version by grilling the chicken. The result was so satisfying and surprisingly delicious! The sauce is made from fresh lemon juice, soy sauce and sugar. The pungent sourness and refreshment of lemon was boosted by soy sauce, and compliment by sugar, to create this very rich and appetizing sweet sour flavor.
Now, let's stop talking and start cooking to enjoy this dish!

Lemon Chicken Cutlet
Author:
Omnivore's Cookbook
Ingredients
1 chicken breast
1 tablespoon Shaoxing Wine
1 teaspoon minced ginger
1/4 teaspoon salt
2 tablespoons Cornstarch
2 tablespoons vegetable oil
2 teaspoons minced garlic
2 tablespoons thinly sliced scallion scallion(or green onion)
Lemon sauce
4 tablespoons lemon juice
4 teaspoons light soy sauce
2 tablespoons sugar
1 teaspoon chicken bouillon
1/2 cup water
Cornstarch water
1 teaspoon cornstarch
2 tablespoons water
Instructions
Halve chicken breast into 2 thin pieces.
Gently hit both sides of chicken with back of knife, until the thickness is 1/2 of original. Be careful, chicken meat is very soft and might fall apart if hitting too hard.
Place chicken breast in a plate, skin side down, pour in Shaoxing wine, evenly dispense minced ginger on top and press into chicken, slightly grated salt. Marinate in room temperature for 10 minutes.
While marinating chicken, prepare garlic, scallion, mix lemon sauce and cornstarch water, set aside.
Add 2 tablespoons cornstarch into another plate. Discard marinate liquid and dry chicken breast with paper towel. Dust both sides with cornstarch and shake off extra powder.
Heat 1 tablespoon vegetable oil in a non-sticky skillet on medium high heat, for around 2 minutes, till oil is hot. Add chicken breast, skin side down, grill until the bottom side turns golden, in about 3 minutes. Flip chicken breast, turn to lowest heat, simmer with lid on for another 1 to 2 minutes, till juice runs clear if cutting by knife. Transfer chicken into a plate immediately.
Add the rest of oil in the same skillet on medium heat, add garlic and scallion, stir till fragrant, in about 30 seconds. Stir lemon sauce by a spoon till mixed well, add into the skillet. Boil till the liquid reduces to half of original, turn to lowest heat. Mix cornstarch water again with spoon, till cornstarch dissolves complete, slowly swirl into the skillet, quickly stir with spatula to thicken sauce. Turn heat off immediately.
Drizzle lemon sauce on top of chicken and serve with steamed rice immediately.
The nutrition facts is calculated by serving of 2