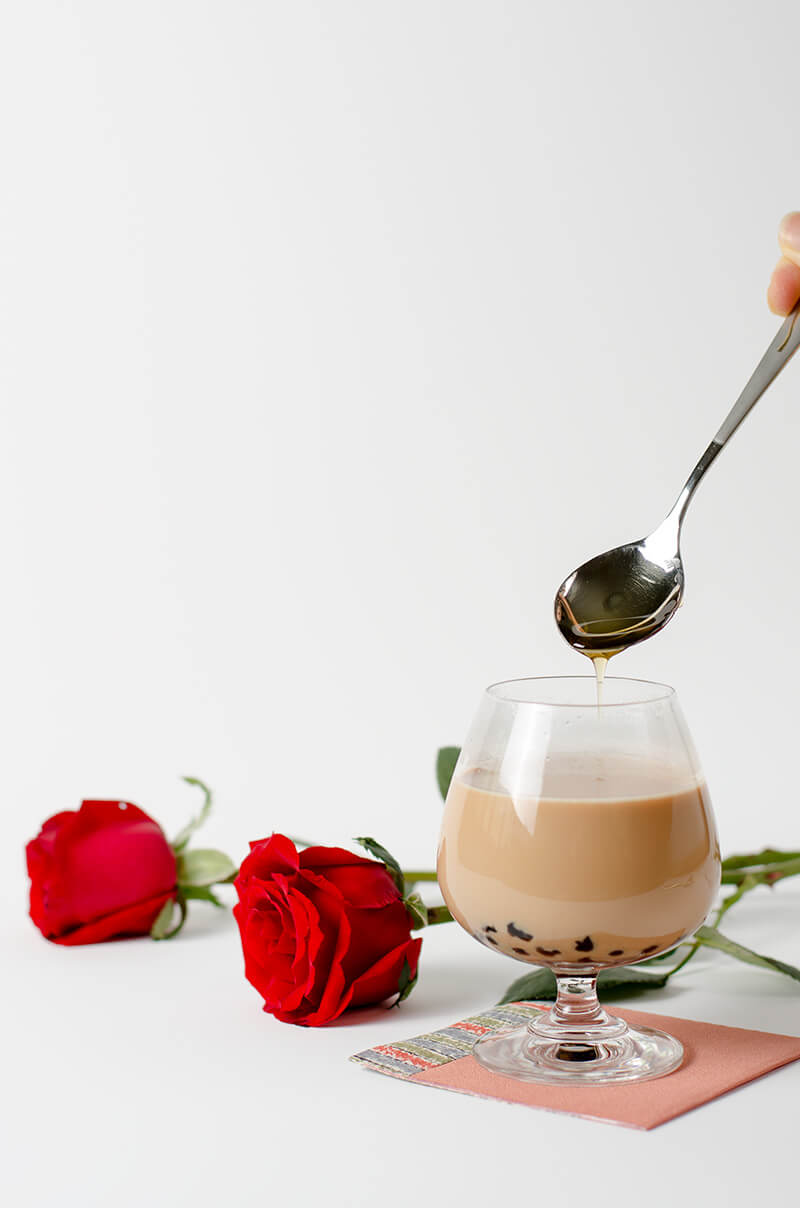 Bubble milk tea (珍珠奶茶, zhen zhu nai cha) is one of my favorite comfort drinks. I still remember how excited I was, when the first afternoon tea chain store RBT from Hong Kong opened in Beijing. I was in middle school at that time and the best drink I ever had is hot milk with instant coffee. Back then, there were much fewer restaurant options in Beijing, and even fewer dessert or coffee place. For me, this rich and milky drink is such a new thing and I love to chew the crunchy  sweet litter bubbles inside of it, so that I went back to have the same drink for quite long time. Later on, I've tried lots of  drinks on RBT's menu, but the classic bubble milk tea is still my favorite, till today.
My mom and I have been trying out all kinds of ways to make bubble milk tea at home for several years. After making experiments with different kinds of tea, milk, powdered milk and creamer, we finally found the best combination. Plus, we choose the most healthy ingredients for the drink. Now I'm gonna share this secret with all of you!

First of all, you need black tea powder to make a really tasty bubble milk tea. I know it sounds cheesy, but the most important thing to create a good milk tea is to make a very strong tea with less amount of water, so that the drink will have a rich, silky and thick texture after adding in milk. I have tried to make it with high quality black tea leaves, but the result turned up a thin plain just so so drink. Nowadays, I mainly use high quality blended black tea powder from Sri Lanka. It's still very cheap comparing to black tea leaves, but it yields the best result so far.
The next thing comes with the fine strainer. Because the tea powder is so tiny, so you need a very fine strainer, like the one you use for making greek yogurt. You could also replace it with a coffee filter, but it takes longer time to drain the tea.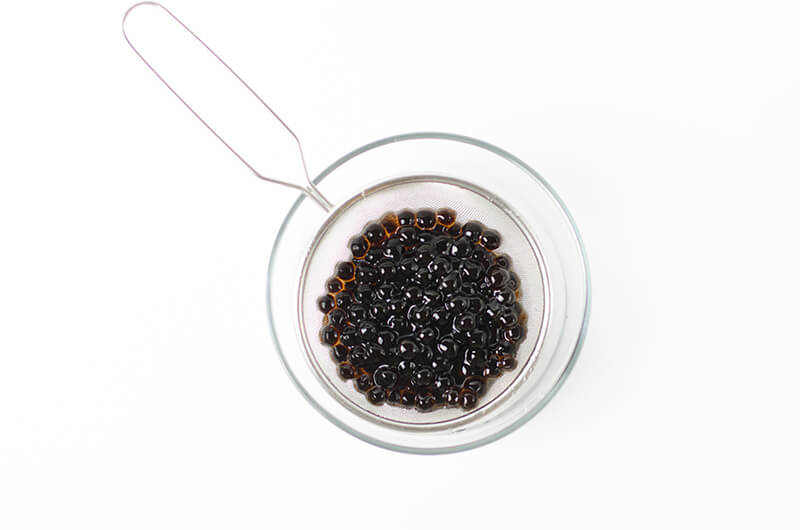 The last thing you need is the black tapioca pearls – a dried tapioca ball with the size of chickpeas. The dried ones have a faded brown color and rubbery texture, but after boiling, they will become soft and crunchy black little balls. You need to add sugar to marinate those pearls, because itself is flavorless. Actually, even the milk tea without the pearls is still very nice, but I'd like to add in some bubbles. Believe me or not, it increases the feeling of happiness while you enjoy the tea.
I use milk and honey in this recipe, instead of nondairy creamer and sugar, because I want to make this drink as healthy as possible. For the measurement in this recipe, you could slight adjust the amount of milk and pearls according to your palate. Generally, the ratio of tea and milk is 3:2 or 4:3. But if you are not sure about the flavor of the tea you purchased, blend in the milk slowly and taste it. The finished drink should look like light caramel color.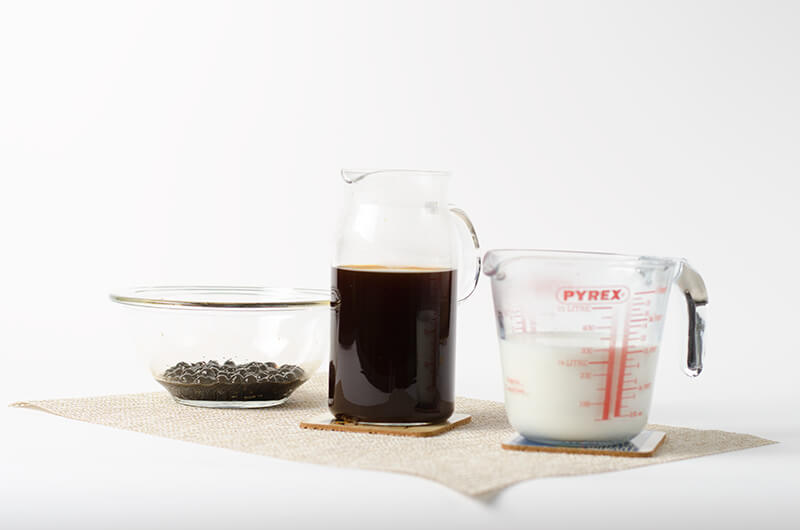 I love to make this drink for afternoon tea on weekends. What's your favorite drink?
Bubble Milk Tea
Ingredients
80 grams (2.7 ounces) black tapioca pearls
20 grams (0.7 ounces) black tea powder
1 tablespoon white / red sugar
400 milliliters (14 ounces) milk
2 tablespoons honey or to taste
(option) 1 cup ice cubes
Instructions
Add 800 milliliters (27 ounces) water in a small pot to bring a oil, add tapioca pearls, boil for 15 minutes. Stop heat, cover with lid and let it rest for 15 minutes. Drain tapioca and transfer into a small bowl, add in cold water to cover and chill for 1 minute. Drain tapioca again, then transfer into a bowl, add sugar and mix well with a small spoon, marinate under room temperature for 30 minutes.
Ten minutes before tapioca is ready, add 600 milliliters (20 ounces) water in a small pot and bring to a boil, add black tea, boil on medium low heat for 5 minutes. Stop heat and let the tea steam with lid on for another 5 minutes. Drain black tea with a very fine colander or coffee filter.
(Option 1) For 1 serve of hot drink, heat milk in microwave till warm, add a big spoon of tapioca balls, 1/4 black tea and 1/4 milk into a big cup. Add 1/2 tablespoon honey or to taste. Stir well and serve immediately.
(Option 2) For a cold drink, add chilled milk into black tea and mix well. Add a big spoon of tapioca balls into a big cup, add milk tea and ice cubes. Add honey to taste and stir well. Serve immediately.