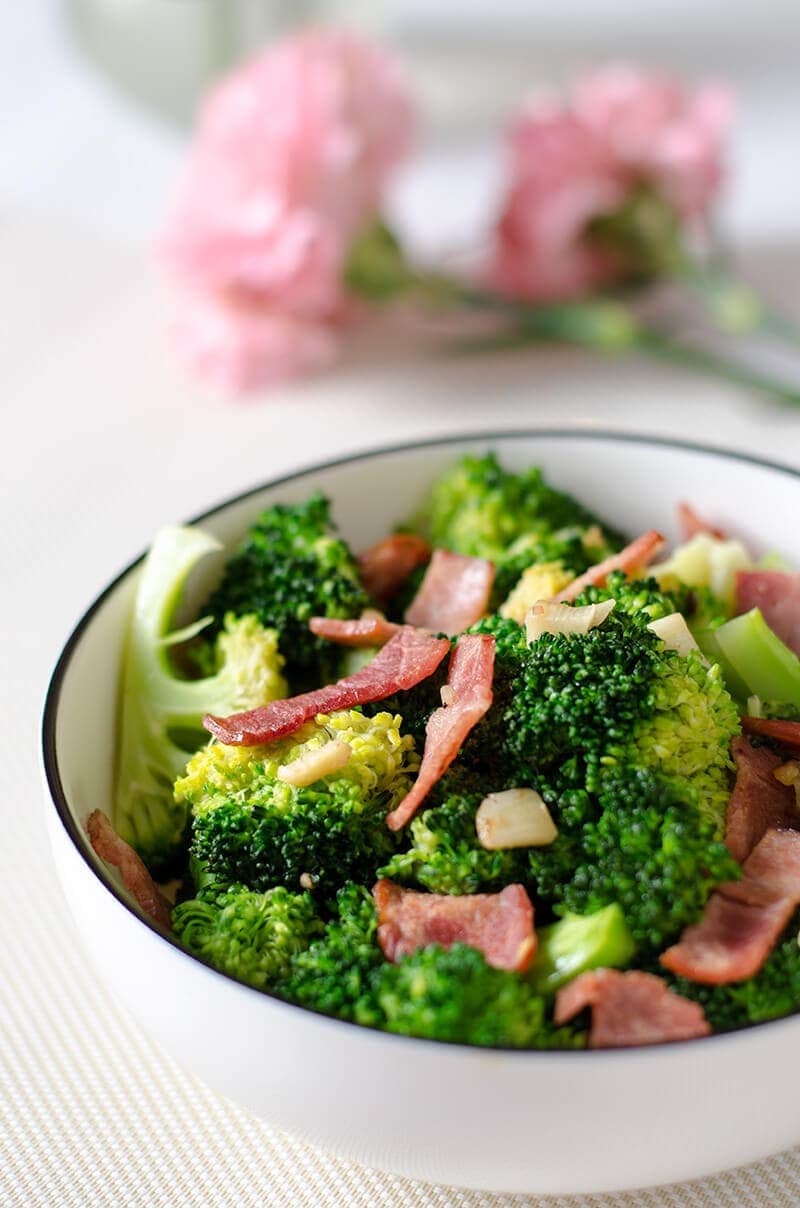 Nothing is better than a fresh recipe for the start of a week! Today, I will introduce simple and delicious  broccoli bacon stir-fry. The crispy broccoli is infused with plenty of garlicky and smoky flavor, made it a healthy and rich dish for a busy week day dinner.
The secret of cooking perfect stir-fried broccoli is, slightly boil them in a big pot of water with several drops of oil and pinch of salt. In this way, broccoli will have a bright green color, easy to cook through in stir-fry and have a soft yet crispy texture. Before stir-fry, don't worry about the broccoli is still with water on it from the boiling. Actually, the water will help with the stir-fry process, that it will evaporate very fast when touching the skillet, and give broccoli florets a quick steam to let them cook through immediately. The bacon adds nice flavor to this dish, but it's not a necessary. For a vegetarian dish, simply skip the bacon and the rest part will taste just as good. 
For a quick dinner, try out those yummy grilled chicken wings with steamed rice, or using leftover rice to cook  fried rice to go with the broccoli dish. You could even pack the leftover for lunch box the next day.
What is your favorite vegetable dish for a week day dinner?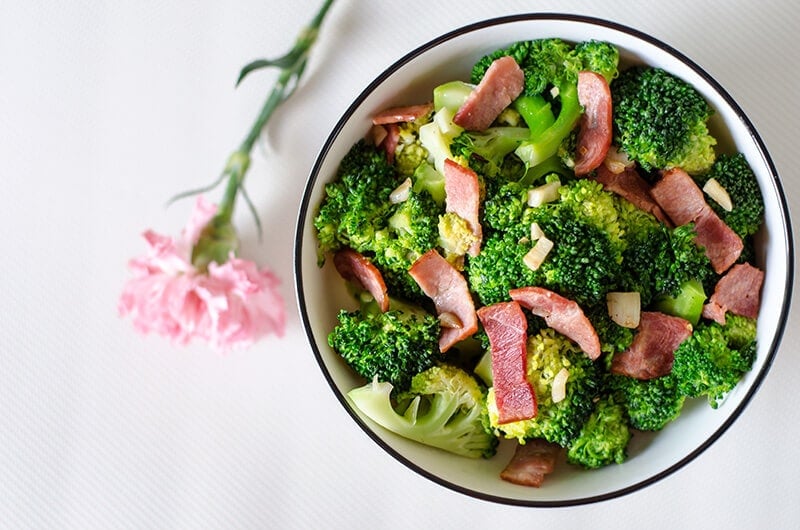 Broccoli Bacon Stir-Fry
Author:
Omnivore's Cookbook
Ingredients
2 tablespoons vegetable oil
500 (18 ounces) grams broccoli, cut into bite size
1/4 teaspoon salt
1/4 teaspoon chicken bouillon
1/8 teaspoon pepper
1/2 teaspoon minced ginger
1 1/2 tablespoons minced garlic
3 slices lean bacon, chopped
Instructions
Bring a pot of water to a boiling, add 1 tablespoon oil and broccoli, boil for 1 minute, till half cooked. Take out broccoli with colander immediately, and use cold water from tap to chill broccoli in order to prevent continuous cooking. Slightly drain and set aside. Do not dry broccoli with kitchen towel.
Mix salt, chicken bouillon and pepper in a small bowl. Set aside.
Heat a non-sticky skillet on medium high heat, for around 1 minute, add the rest of oil, add ginger, garlic and bacon, stir fry constantly till edges of bacon are browned. Add broccoli, carefully sprinkle the spices mixture evenly on top of broccoli, then constantly stir broccoli with spatula to mix spices well, until liquid in the skillet is mostly absorbed and broccoli is cooked through. Stop heat. Place broccoli in a plate, pour the rest of liquid and garlic on top of broccoli.
Serve while warm as side dish with steamed rice or noodles.