You only need one sauce, three ingredients, and 15 minutes to make this delicious wholesome plate of dinner.
This is the final episode of my mini-blog series on Chinese orange sauce. Just a quick recap, I introduced how to make a big batch of orange sauce in advance so you can shake it and use it to cook various types of quick dishes. For example: Chinese Orange Chicken, and Roasted Orange Cauliflower.
In this post, I want to share the quickest way to finish a stir fried dish by using this stir-fry sauce. That is, without marinating the protein to minimize prep time. The recipe is straight to the point so I'll keep this one short.
Remember, you can always change up ingredients and use whatever you have at home. For example, you can switch the protein into chicken and use the pan fried chicken method in this post to sear the chicken without marinating. Or you can pan fry some steak and serve it with the same sauce. You can change the herb to garlic or green onion as well. Same idea applies for the vegetables, you can use broccoli or peppers etc.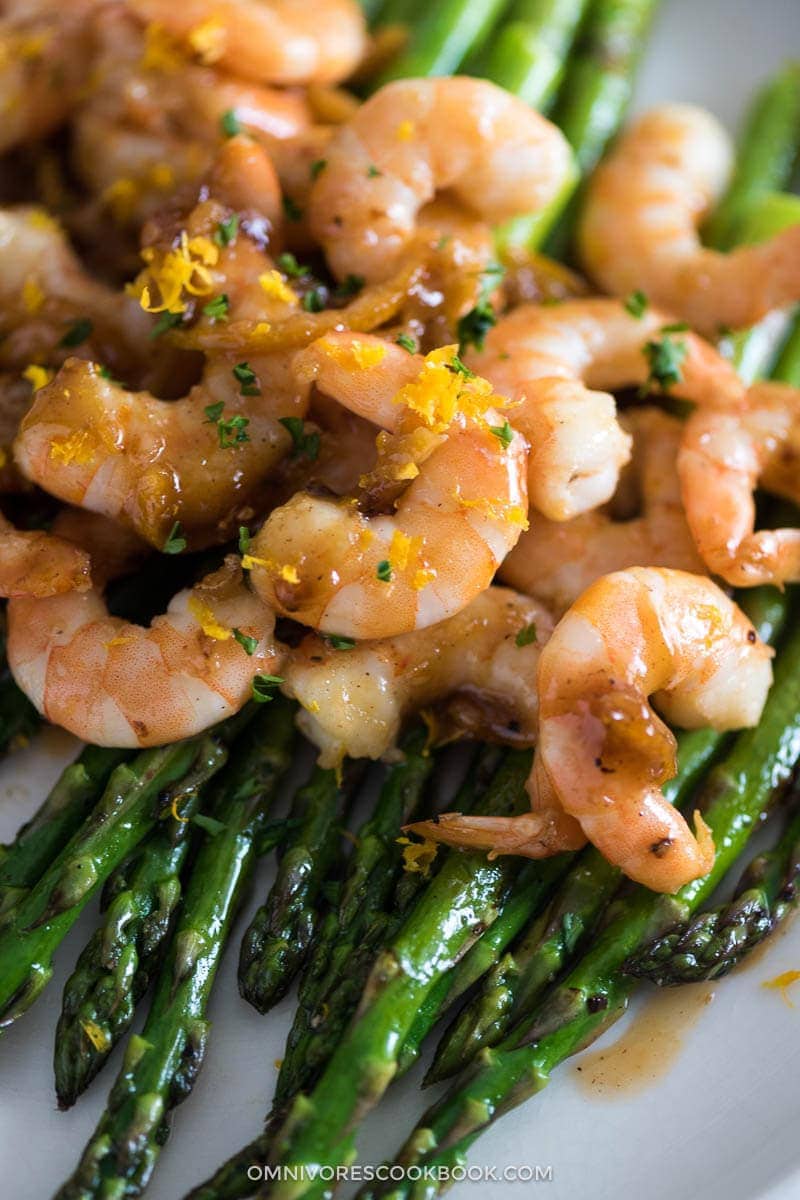 If you like orange sauce, check out my original blog post. In the post I listed all the options of protein and vegetables that you can use with the orange sauce. Once you try out a recipe or two, you will get the idea and can start cooking dinner without using a recipe!
If you want to get more Chinese stir-fry sauce and quick recipes like this, enter your email below and click "subscribe". You will receive FREE weekly updates on new recipes and cooking tips so you can start making delicious, fuss-free dinners at home!
Orange Shrimp and Asparagus
The prep time does not include the time to rehydrate dry orange peel.
If you use
pre-made orange sauce
, you can shorten prep time to 5 minutes.
Ingredients
2 tablespoons olive oil (or vegetable oil)
1 batch asparagus, tough ends removed
2 teaspoons minced ginger
1 pound shrimp, peeled and deveined
1/4 teaspoon fine sea salt, or to taste
1/4 teaspoon black pepper, or to taste
2 tablespoons dried tangerine peel (or orange zest)
1/4 cup orange juice
3 tablespoons rice vinegar (or distilled white vinegar)
1 tablespoon light soy sauce (or soy sauce, or tamari for gluten free)
1 tablespoon Shaoxing wine (or dry sherry, or rice wine, or chicken stock)
2 tablespoons sugar
2 teaspoons cornstarch
1/4 teaspoon fine sea salt
Instructions
Add dried tangerine peel to a small bowl and cover with hot water. Soak for about 20 minutes, or until the tangerine peel softens. Drain and finely slice. Transfer 2 tablespoons sliced tangerine peel into a bowl, and save the rest in a airtight container in the fridge for next time. If you do not use dried tangerine peel, grate fresh orange to make 2 tablespoons orange zest instead.
Add the rest sauce ingredients to the bowl with tangerine peel (or orange zest). Mix well.
Heat 1 tablespoon oil in a large skillet over medium high heat until hot. Add asparagus. Sprinkle with sea salt and black pepper. Cook and stir until blistered and cooked through. (Footnote 1) Transfer to a serving plate.
Add the other 1 tablespoon oil, ginger, and shrimp. Cook for 30 seconds. Stir and cook until the surface of the shrimps are just cooked but the insides are still a bit transparent. Mix the sauce again to dissolve the cornstarch completely and pour into the pan. Cook and stir until the sauce thickens.
Transfer the shrimp and the sauce onto the asparagus.
Serve warm over steamed rice.
Notes
(1) If you use young asparagus, you can brown and cook it through at the same time. If you use asparagus that has very thick stalk, add a tablespoon water, cover the pan, and steam for a minute to quickly soften it.