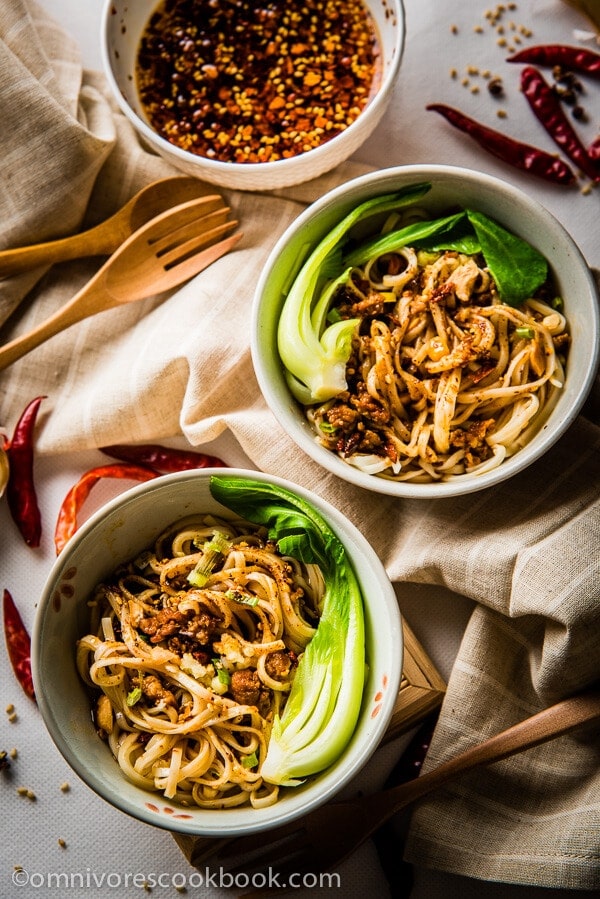 This recipe provides a simple and authentic approach to the famous Sichuan snack – Dan Dan Noodles. You only need a few common Chinese ingredients to create this – simple yet scrumptious, a hot and beautiful dish.
I published a Dan Dan Noodles recipe on October 29th, 2013. It was my fourth month of blogging. I'm updating that recipe today, to give it a more authentic taste.
In this post, I will focus on:
– A brief introduction to Dan Dan Noodles
– Major changes as compared to my last recipe
– Cooking notes
– Or you can directly go to the recipe
A brief introduction to Dan Dan Noodles
Dan Dan Noodles (担担面, dan dan mian) is a famous Sichuan street food. Freshly boiled noodles are served in a sticky and pungent red oil, topped with a very flavorful ground pork sauce, and sprinkled with fried peanut flakes. This noodle dish is more of a snack than a main dish. You won't find a big bowl of Dan Dan served in restaurant. It is usually served in a very small bowl – plain in appearance yet super rich in flavor. If you look at the ingredient list, you'll know why this dish is so simple yet flavorful. The authentic version contains nearly 30 ingredients and brings them together to craft a beautiful bowl of noodles.
I've had this dish in multiple Sichuan restaurants, and they're all tasted slightly different from each other. After some research, I found out that even in Sichuan, different regions serve this dish with slightly different ingredients, especially in terms of the different varieties of chili peppers that each region produces.
For most of the authentic recipes I read, they contain the ingredient dong cai or ya cai – a type of preserved vegetable. Some of the versions contain Chinese tahini paste (芝麻酱, zhi ma jiang), black vinegar, spicy fermented bean paste, and peppercorn oil.
However, I found that the original version has two major problems for home cooking. First, the preserved vegetables are very difficult to acquire. Even I have difficulty buying them here in Beijing, unless I order from an online shop focused on regional specialities. Second, if I add too many ingredients into the noodle sauce, they will overpower the key ingredient – chili oil. This makes the dish taste less like dan dan, and more like other cold noodle dishes (I did this in my last recipe).
So I made a few major updates to my last recipe.

Major changes as compared to my last recipe
Eliminate Chinese tahini paste, oyster sauce, sesame oil, sugar, and black vinegar. Well, they all combine to create a nice flavor and make any noodle dish taste better, but they make this one taste less like proper Dan Dan.
Combine all the ingredients into one sauce. It's pointless to make two separate sauces.
Increase the amount of chili oil in each bowl of noodles. If you cannot handle the heat, please don't cook this dish.
Make the stir fried ground pork more flavorful by adding more seasoning. Yes, you can make a great sauce without the preserved vegetables.
Add boiling liquid from the noodles when serving. Very important. When you add a small amount of liquid into the noodles with chili oil and let them sit together for a while, the sauce will thicken and become very rich.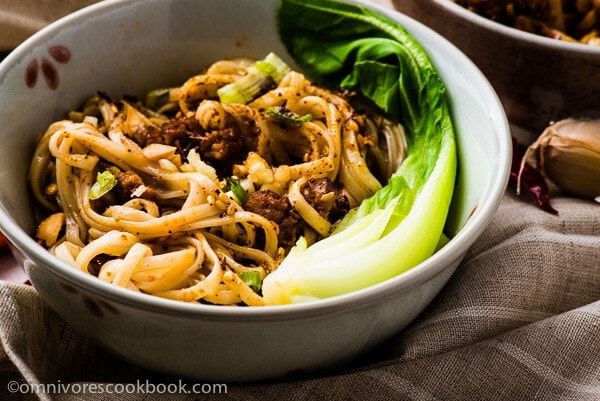 Cooking notes
The ingredient list may look painfully long. However, the cooking process is simple and straightforward.
You only need to:
Chop veggies (only a few herbs, not so much to chop)
Marinate the pork
Fry the peanuts (freshly cooked peanuts have better flavor, but you can just buy peanut flakes if you're feeling lazy)
Cook chili oil (trust me, it only takes 5 minutes)
Stir fry the pork (5 minutes)
Peel and chop the peanuts (A bit tedious, but again, you can get packaged peanut flakes)
Boil noodles (10 minutes)
Use the boiling liquid to blanch the green veggies (if you're using any)
Mix everything together (5 minutes)
If you cook it once, you will feel the whole process is much easier than you thought. I have arranged the recipe in an order such that you can prepare the dish efficiently.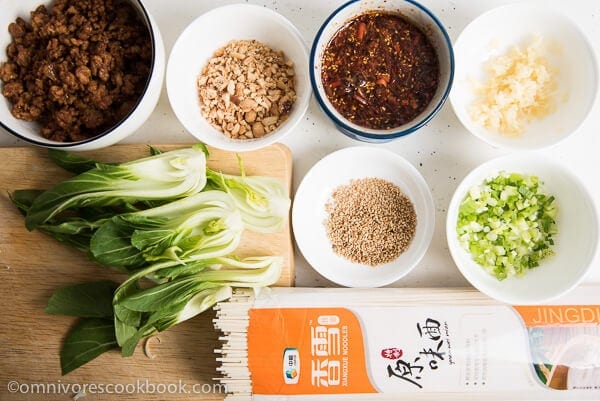 Before you jump to the recipe, be aware of the following:
You really need to cook your own chili oil instead of using a bottled one. It is the most important step and makes this dish taste authentic.
Use both chili powder and chili flakes when cooking the chili oil. Although you can just use chili flakes, the chili powder will make the oil thicker and the noodle sauce richer.
The noodles are very easy to make in a large quantity and prepare beforehand. Both the pork sauce and chili oil can be stored for quite a long time. The leftovers will be just as delicious. If you're having a party, cook the peanuts, pork sauce and chili oil a day before. You'll only need to boil the noodles and assemble the bowls right before serving.
Don't be afraid to add a lot of chili oil into each bowl. Yes, it may add a few more calories, but it is the only key ingredient in this dish and it matters the most. If you don't add enough oil, the sauce won't be thick enough.
Let the noodles sit for a while before serving. Just as I mentioned earlier, the chili oil and boiling liquid will be absorbed by the noodles to create a sticky and rich texture, just like you'd get in a Chinese restaurant.
Serve the noodles in small quantities, just as locals do.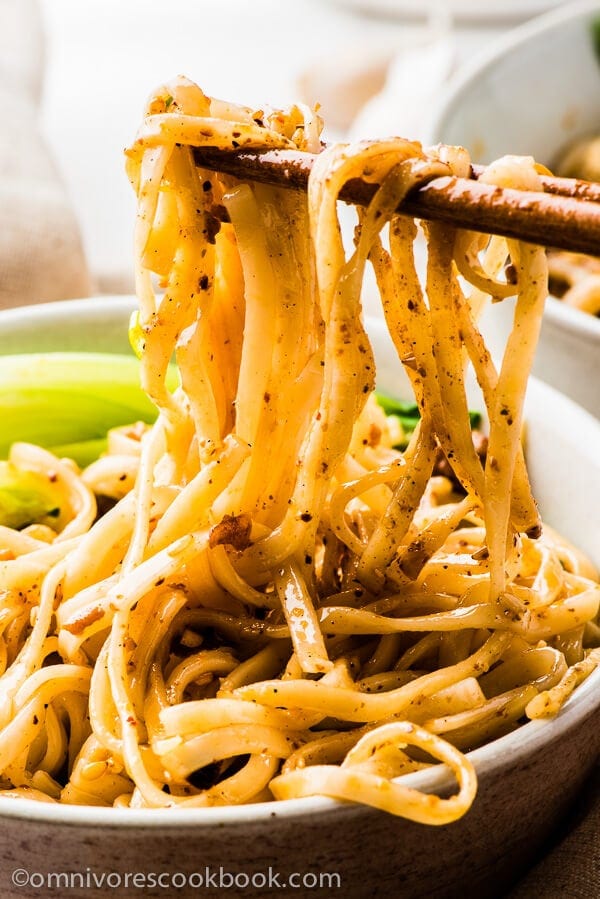 If you cook Dan Dan Noodles, don't forget to take a picture and post it on my Facebook fan page. I'd love to see your photos!


Dan Dan Noodles (担担面)
Ingredients
To marinate pork
200 grams (7 ounces) ground pork (lean fat ratio 7:3)
1/2 teaspoon minced ginger
1 tablespoon Shaoxing wine
1 tablespoon light soy sauce
1 teaspoon cornstarch
(Optional) To cook peanuts (or use peanut flakes)
2 tablespoons vegetable oil
1/2 cup raw peanuts, still in shell
To stir fry pork
1/2 tablespoon vegetable oil
2 pieces ginger
2 tablespoons minced green onion
2 teaspoons dark soy sauce
2 teaspoons light soy sauce
1/2 teaspoon sugar
To mix noodle sauce
3 cups boiling liquid from noodles
2/3 cup homemade chili oil (*see footnote)
2 tablespoons light soy sauce
3 cloves garlic, crushed
3 stalks green onion, finely minced
300 grams dried noodles (or 500 grams fresh noodles)
(optional) 3 stalks baby bok choy (or Chinese broccoli)
Instructions
Prepare vegetables
Prepare 4 slices ginger. Mince 2 of the slices to marinate pork. Save the remaining 2 slices for the stir-fry. Chop green onion. Chop 2 tablespoons for the stir-fry. Finely Chop another 3 stalks green onion and transfer to a small bowl, for the noodle sauce. Rinse bok choy. cut into 4 parts lengthwise. (Or rinse and prepare Chinese broccoli if using any.) Crush garlic.

Marinate pork
Combine ground pork, ginger, Shaoxing wine, light soy sauce, and cornstarch in a bowl. Mix well and set aside to marinate.

(Optional) Cook peanut
Add oil and peanuts into a wok and heat over medium heat. When the oil starts to sizzle, turn to low heat. Stir and cook until the surface of the peanuts turns dark brown, about 4 minutes. Use a colander to transfer peanuts to a plate and allow them to cool. Save the oil in the wok and add more, as needed, to make chili oil.

Cook minced pork.
Heat oil in the same wok over medium high heat until warm. Add ginger and minced green onion. Stir a few times until fragrant. Add minced pork. Stir until the surface is cooked, about 1 minute. Turn to medium heat. Add dark soy sauce, light soy sauce, and sugar. Stir and cook until mixed well and pork is cooked through, about 1 minute. Transfer pork to a plate. Transfer the leftover oil to a small bowl and discard it once cooled.

Bring a large pot of water to a boil and cook noodles according to the instructions. Save 3 cups of boiling liquid from the noodles, to use later (very important). Use the rest of the boiling liquid to slightly blanch the bok choy (or Chinese broccoli).
Peel and chop peanut
When peanuts have cooled enough to handle, peel the peanuts by hand and discard the shells. To chop peanuts, place them on two sheets of paper towel and fold the towel until the peanuts are wrapped inside. Use the a kitchen hammer (or the back of a cleaver) to hit the peanuts until they turn into small flakes. Transfer to a small bowl.

To assemble noodles
Divide noodles evenly among 6 bowls. Add boiling liquid from the noodles to each bowl until it almost covers the noodles. For each bowl, add 2 tablespoons minced pork, 1/2 teaspoon garlic, and 2 teaspoons green onion. Pour 2 tablespoons chili oil with chili flakes, and 1 teaspoon light soy sauce. Mix well. Let the noodles soak in the sauce for 5 minutes before serving.
Mix the noodles again, garnish with baby bok choy (if using any) and top with a teaspoon of peanut flakes.

Serve warm. You can add more minced pork and peanut flakes on top while eating.
Notes
The fresh chili oil is the key ingredient and the one item that matters the most. I suggest you to cook this at home instead of buying the bottled one from supermarket. It sounds a bit intimidating, but in practice, it only takes 5 minutes to finish. I also created a
short video
to show you how easy it is to cook at home.
The nutrition facts are calculated based on 1 of the 6 servings generated by this recipe.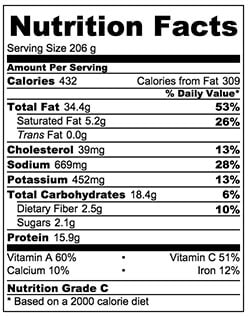 You will also like: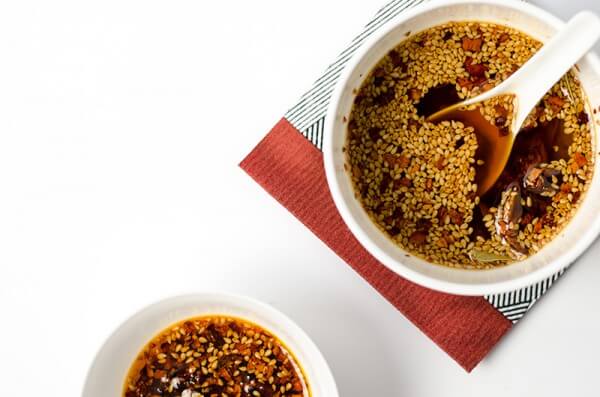 How to Make Fresh Chinese Chili Oil (辣椒油)